How Centennial Marketing Students showed their skills to the world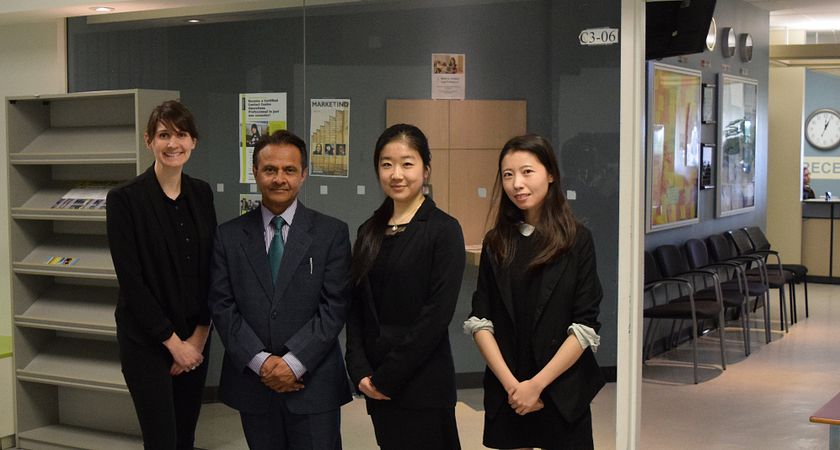 Centennial College works to give its students a chance to practice the skills they've picked up in real-world settings, leaving the classroom to test their abilities as they launch their careers. Such is the case with the Marketing Research and Analytics Program. Offered by the School of Business, this Graduate Certificate program gives business students the skills they need to analyze and predict where the market is going, making them a valuable part of any business that looks to the future.
Not just content to teach the students in the classroom, the program sent recent graduates Angela Ju, Heather Ryan and Alina Wang to a special case study competition held by the Marketing Research and Intelligence Association (MRIA) on May 24. This marks the first time Centennial has entered. The students tested their skills against other Ontario colleges, and in the end achieved second place out of the nine competitors. I had a chance to speak with them a few days before they left for the competition, and they talked about how they got there, and how they'd eventually win.
The Competition
"The competition's bringing together schools from across Canada that have research and analytics programs or market research programs," said Heather. "But this research and analytics program is unique to Centennial, so it's something we're doing a little bit differently. It's the first time Centennial is participating, and so we're really excited to be representing them."
Angela Ju explained the significance of the competition, and how it works. "MRIA is the biggest marketing research association in Canada," she said. "They have their annual conference on that day, so they invite nine teams from different colleges to attend their Case Study Competition. For this year, their topic is "Tell a Story."
Storytelling in business is becoming an important skill for marketing research, as statistical analysis becomes more complicated. Breaking the data down in an understandable and appealing way is becoming an important skill for any market researcher.
Like other marketing-related competitions, each team is given a fictional case study containing a business problem, and then given a time limit to invent a solution, which they then present to the judges. To prepare for the competition, presentation was a skill the team needed to train in.
The Training
"I'm teaching them how to present as a team," said Professor Tulsi Dharel, their coach. "And it's different. When you're a single presenter, you can take all the time, but when there's three, they need to share one presentation."
"We've been practicing some case competitions, really reviewing some of the stuff we learned throughout the year," Heather added. "But a big part of this competition is presentation skills. Really practicing speaking in front of people and going in prepared."
She also cites their program's business communications class as being particularly helpful, because it focused on presentation skills. "They videotaped us, they took the time to correct those things you don't even think about, like me saying 'um' six times in a minute, or how I really like to sway," Heather recounted.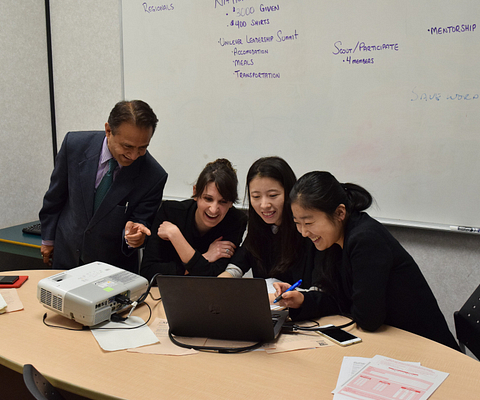 Making Connections
While the team's victory was an excellent opportunity to demonstrate their skills, there were other benefits to the competition, mainly in the form of networking with the research practitioners present. "It's a good chance for us to practice our marketing research skills as well as our presentation skills," Angela said, "and connect with market research professionals."
"One of the most exciting things about this for us is that we just graduated," added Alina Wang, "so it's a great opportunity to have some exposure to professionals, people who are working in the field, to get to learn a little bit from them, show off a little bit of what we've learned, and the potential to make some connections."
"Centennial has done this with other programs in the past," she continued, "and it's great to see that they're investing in this program, and allowing for those real-world connections."
By Anthony Geremia