Lessons learned from the Applied Research, Innovation and Entrepreneurship Symposium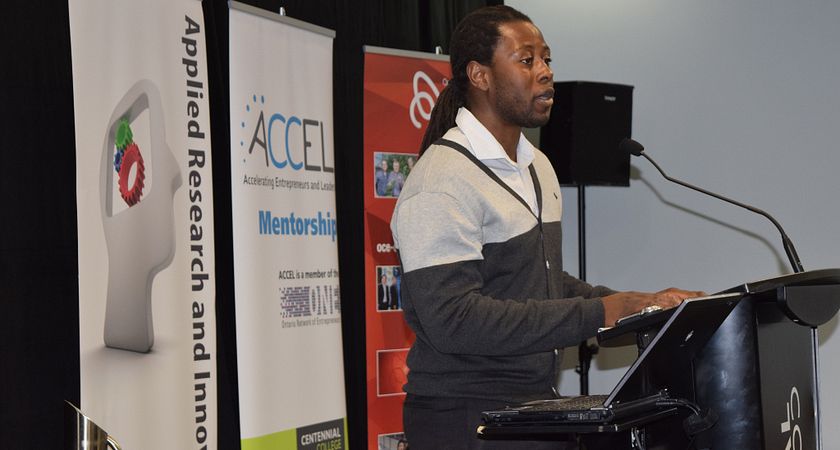 Innovation and entrepreneurship are everyone's possibility
This past week I had the opportunity to hear from some truly remarkable people at the annual Applied Research, Innovation and Entrepreneurship Services (ARIES) Symposium. Most of them were champions of their industry and passionate to no end. They were the thinkers and the doers, the visionaries and innovators. They were business owners and founders, creative leads and project managers. Simply put, they were entrepreneurs.
We heard from alumni, local startups, and those constantly on the edge of breakthrough. They were supremely bright, educated and curious individuals, but what struck me most was the enormous amount of courage each of them seemed to exude. They didn't just go to school, graduate from college and get a job. No, they wondered what was next, faced their fears, and took risks in a never-ending search for greater possibility.
But how does one get to this stage? How do you even become an entrepreneur? The biggest thing I learned from the ARIES symposium is that not everyone is born with the skillset to be an entrepreneur. As the late Peter Drucker put it, "it's not magic, it's not mysterious, and it has nothing to do with genes. It's a discipline, and like any discipline, it can be learned." So here's what I learned:
Make friends: Collaboration is key
Working with others not only helps build relationships that might be beneficial down the road, but being able to learn and grow from one another's successes and failures is critical. "Serendipitous things happen when you put people together who have the same passion and drive," says Valerie Fox, keynote speaker and executive director of the DMZ (one of Canada's largest business incubators for emerging tech startups). A great place to find this kind of collaboration and support is through Centennial's Applied Research and Innovation Centre (ARIC) and the Centre of Entrepreneurship (COE). Help is also available through the College's new Accelerator for Centennial Community Entrepreneurs and Leaders (ACCEL) program, which provides mentorship, consultation and access to a variety of services and resources.
It's not always sunshine and roses: Fail gracefully and learn from it
Everyone will have days when they hit a wall and think, "that's it. I'm done." Your failures should never define you; they should be your driving force to keep improving. An entrepreneur's path is never straight forward, and as Fox put it "there's nothing cookie-cutter about building a business." It's bound to happen, so embrace your failures and move on.
Avoid complacency: Change and innovation are always necessary
You may have worked your butt off to get to where you are at a certain point in time, but if you don't continually think of your customer and how you can better serve them, you might be leaving the door open. Innovation is absolutely necessary for survival because, without it, larger companies might swoop in and take advantage. It might not always lead to success, but there are always lessons to learn, and at the end of the day, you're not succeeding if you aren't innovating. "Success breeds complacency. Complacency breeds failure. Only the paranoid survive," says Andy Grove.
Learn, and learn some more: Invest in broad knowledge and experience
Entrepreneurs must learn to quickly adapt to many unique situations involving various aspects of a business, be it operational, financial, legal or organizational. To stay ahead of the curve, attend workshops, consult with mentors and take additional courses. Centennial's Centre of Entrepreneurship offers a basic New Business Start‑Up Program that's offered completely online. In it, you'll cover the basics of developing a business plan and marketing strategy, as well as essential knowledge of applicable business and tax laws and financial planning. Being able to harness this knowledge will give you an advantage in helping you run your business more efficiently, while decreasing risk and allowing you to exploit the opportunity.
Let your love shine: Bring passion and meaning to your work
Most people will only ever dream of being able to do something they love every day, and that's a scary thought considering we spend a third of our lives at work. But as an entrepreneur, you're the boss – the one with the map, driving the bus, deciding where to turn and what fun things you'll do on the journey. You see opportunity over challenge and dedicate yourself to creating something out of nothing. While the journey might be long and dotted with roadblocks, entrepreneurs see it as a labour of love in pursuit of something greater, so push the envelope, step outside your comfort zone and have the courage to chase your dreams.
By Ashley Breedon