How Centennial College connects you to a career in Accounting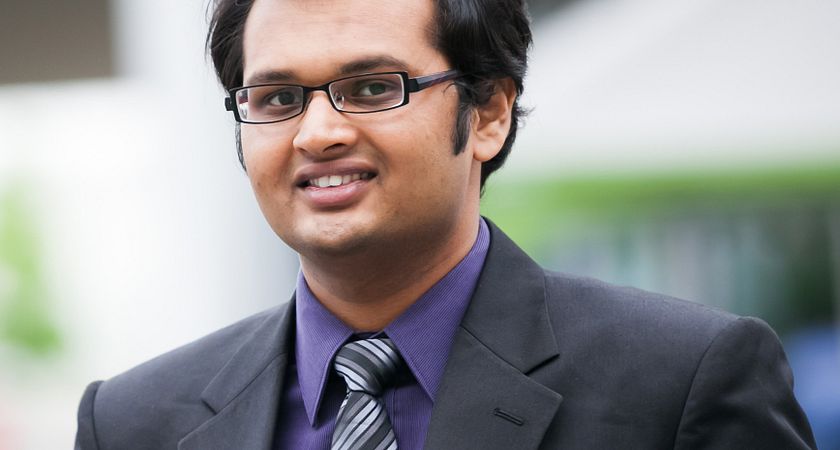 Centennial College creates a pathway to careers through teaching its students specialized skills, and Accounting is one of them. Managing money is an essential and complex skill that's more than just numbers; it's the language of business. Centennial's accounting programs strive to teach you that language. Chartered Professional Accountants (CPA) recognizes our programs' value thanks to the exemptions they can give you. Ruhanul Islam is a graduate of Centennial's accounting cluster, and the program gave him the specialized training necessary to connect him to a rewarding career.
Motivation
Ruhanul entered the world of accounting out of a combination of skill and enjoyment. "I was good with numbers, so that's why I wanted to work with them," Ruhanul says. "Accounting came to me naturally. That's why I learned about the accounting theories and rules that made me the accounting professional I am today."
But there was more to it than simple skill, as Ruhanul has an almost philosophical appreciation for the career. "How do you determine the value of a company?" he muses. "Because it's not only the assets and inventories that are there, not just the buildings and other tangible assets. How do you evaluate the value of the intangible items, like goodwill and the future development prospects of a company? That interests me a lot."
Centennial clears a path
The highest professional designation in the world of accounting in Canada is to become a CPA, and Ruhanul's road to achieving that designation would take him to Centennial College. He'd already gotten a bachelor's in Accounting, but was looking for something more hands-on to help him on the way, something the college eagerly provided.
"Trying to be a professional accountant led me to pursue an accounting program at Centennial College," Ruhanul explains. "I had already completed my bachelors in accounting and finance, and as I was pursuing CPA, I chose the Strategic Management - Accounting program from Centennial College. It helped me learn more about the accounting process, rules, regulations and laws in Canada."
One reason for his choice was that the program made the path to the CPA designation simpler, thanks to the quality of the education. It allowed the students to opt out of some of the courses towards CPA Designation requirements. "I was looking for programs that would not only enhance my knowledge of accounting but also help me advance in the field of accounting towards the CPA designation," Ruhanul continues, "and Centennial College had one of the best programs. The college gave me the option of doing all the "Advanced Study" courses for the CPA curriculum and this helped me get exemptions for all the CPA advanced study courses. That differentiated Centennial from most other colleges in Ontario."
It proved to be a wise choice, as the practical education benefitted him immensely. "The program's specific courses taught me a lot about accounting that I didn't learn from my bachelor's," he explains. "I learned a lot more about advanced finance, taxation, managerial accounting, and the compensation strategies of different companies and economies of scale, which not only enhanced my skills but also prepared me for my professional career."
"Centennial has really good professors, who are knowledgeable and good at delivering the content of courses to the students in a very effective manner," he adds. "When it comes to understanding and determining the value of a company, calculating proper value for a company's assets and making a proper evaluation of the ratios of the company's liquidity, return on asset and return of equity and taxation strategies, the professors make a huge difference in what you learn."
Connecting to a Career
Ruhanul is still working on his CPA designation, but in the meantime, has no issue finding relevant employment.
"Currently I'm working at General Electric Canada as a Financial Analyst," Ruhanul says of his job. His list of tasks is long, and included "supporting monthly closing and reconciliations, ensuring adherence and consistency, proactively monitoring and actioning open items to avoid the occurrence of aged open items, ensuring all transactions booked are recorded in a timely manner to reduce cycle times, support in month-end and year-end closing activities, providing strong controllership, accounting, financial analysis, project management, and operational support to the team and various affiliated GE businesses."
Getting the job was as simple as applying online after graduation, and it's one he wants to keep doing. "I would like to prosper in the same profession and learn and grow within the same organization," he says of his plans.
Wisdom
"Determination and sticking to what you like are important," Ruhanul says to prospective students, recommending focus and goals in their career. "Some people are looking for anything, but if you're looking for anything you won't get anything at all. You have to be very specific about what you want and where you want to end up, so if your career goal is specific and you are determined, then you can definitely become what you want to be. You just have to be very patient and work very hard to reach your goal."
He considers education itself to be endless, and Centennial's education to be a component of a lifelong journey. "Complete your studies," he says. "Determine your best skills and abilities, then look for a job that will enhance those skills and allow you to prosper by utilizing the knowledge you've acquired in the educational field in the professional field."
By Anthony Geremia