Centennial fosters creativity: Kade Davies publishes The Solid Intangibles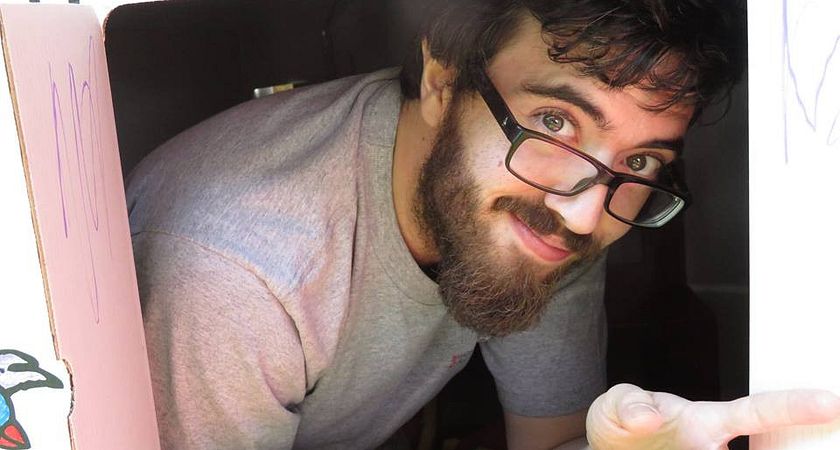 At Centennial College's Story Arts Centre, our students work to make media and art in an environment that encourages creativity. This was the case with Kade Davies. This Centennial College alumni recently published his first novel, The Solid Intangibles, a science-fiction piece about a group of eight travellers exploring a strange world. The main thrust of the story is people and their relationships, with each traveller having their own individual story, and each interacting in surprising ways, making the book a blending of science fiction and psychology. Kade worked on the story while attending Centennial College for a post-graduate certificate in Public Relations – Corporate Communications, and his time at the school shaped the project in some surprising ways.
Coming to Centennial
Kade's had a long, variable career that includes video game testing, music writing, security, public relations and even freemasonry. He came to Centennial College to further expand his skill set. "I was working in Peterborough as a line cook," Kade says, "and then I kind of just decided I wanted to do something different."
Centennial's Public Relations program is for post-grads, meaning it typically requires its students to graduate from another program first. However, exceptions can be made for prior experience. Kade hadn't graduated from a college or university, and instead got in purely on the strength of his writing samples. "I got into the post-graduate PR program based on my writing," he explains. "I didn't actually have a graduate program. I applied on a whim, and I got in. I was really surprised."
Making connections
Corporate Communications and Public Relations has a focus on marketing and on getting messages out to the public, things Kade needed to launch his book and hadn't really considered until that point. "On the creative end, a lot of people that write only write," he explains, "so for me to look at the book from a business end and figure out how to pitch it has been incredibly valuable. It's really helped give me a unique approach."
"It was difficult because it was all new to me," he says of the program. "Any writing I'd been doing before that was just on my end. So coming in and having to do proposals and press releases was a little overwhelming, but neat."
"I ended up doing my internship at Interactive Ontario," he continues, "and they were a huge influence on what I want to do with The Solid Intangible's multimedia component."
Another important connection Centennial gave him was with people, including Yawar Raja, a student in digital animation who would become the artist and illustrator for the book. On a broader level, being surrounded by students at Centennial's intimate Story Arts Centre helped Kade develop the novel's more unique aspects, and figure out how to market it.
"It was a forum for us to meet and share our ideas with the students around us," Kade explains, "and see that there was interest in it, so really it was the first cold marketing."
Working on his novel while attending College was a challenge, but something Kade was used to. "For five years of my life, while I was writing my book, I pretty much stopped using Facebook, and I really cut everything out of my life until I could finish it," he says of the writing process. "I treated it as a job."
To him, it all comes down to time management, just like anything else. "It's about breaking it down into manageable pieces and understanding that it's going to be stressful, but as soon as you embrace what's going to be driving you, it becomes a lot easier," he says. "You have to work with it, and find one thing at a time to do."
By Anthony Geremia