Get a career creating fun with Event Management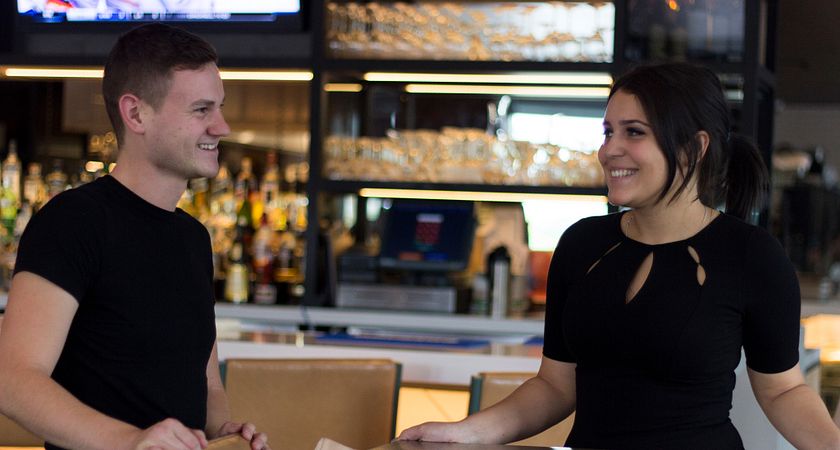 Centennial College's Event Management program gives students practical experience organizing and running special events for companies and organizations. It sounds dry, but these events have to be fun by nature, and can lead to great careers, as was the case with Trisha Ng. Trisha left her desk job behind to come to Centennial. Now, she works with Honda, where she rides motorbikes every day with the kids that she teaches. Here's how the college set her career up.
Trisha originally wanted to be either an art curator or librarian, but found herself burnt out with her career plans, looking for a change. "I wasn't happy, the sedentary lifestyle of a 9-5 job wasn't me and I knew I needed something creative and challenging to stay sane," she says. "The more I researched, the more I knew Events Management was the career path that fit the best with my background, interests and lifestyle."
She'd choose Centennial College in particular because our program supported green, sustainable events. "The course that really solidified my choice in Centennial was called Greening Your Festival, Event and Conference," she continues. "The events industry requires a huge amount of resources that are incredibly wasteful, and no other school offered this innovative learning approach that will be really important in the future."
Learning the trade
"Event Management had a well-rounded, general approach that catered to students looking to graduate into any aspect of events management," Trisha says of the program. "Everyone in our class wanted to do something different - galas, fundraisers, corporate events, so everyone had a different goal."
As for practical experience, her skills were put to use in the class's capstone project, which involved putting a college-wide event on, complete with sponsors. "Our big project was the Centennial Chase," she says, "an Amazing Race-styled event that anyone across the Centennial Campus can participate in at the end of the year. We were taught practical skills on how to coordinate the event –marketing, logistics, AV, staffing and volunteering - it really opened my eyes on how much work it takes to host an event."
The program wasn't without its challenges, but those same challenges would prove to benefit Trisha in the long run. "There were too many cooks in the kitchen! "she says. "You have a lot of strong A-type personalities in events. Put them all in a room working on the same project and we could have had our own reality TV show. There were a lot of challenges, but a lot of lifetime friendships were forged by the end of it."
On the job
"I am the Team Lead of Junior Red Riders, a marketing program at Honda where we teach kids between the ages of 6-12 how to ride dirt bikes," Trisha says, explaining her current position. "It involves managing and hiring staff, coordinating inventory, logistics and travel, creating a marketing plan and advertising schedule, handling registration and budget and coordinating the program at high-profile motor sport events."
While that sounds a bit dry, there's a practical reason that she loves the job. "My favourite thing about it is I get to ride motorcycles every week as part of my job," she says, "and sharing my passion of riding with all these adorable kids that share the same enthusiasm."
While unusual, it was the career she'd wanted from the start. "People go into events management thinking they'll end up doing weddings, galas and fundraisers," Trisha says, "and that wasn't the aspect of events I was interested in. I was interested in large arts and sports festivals." That determination would lead Trisha into her current career at Honda.
Words of wisdom
"School is a place where you make mistakes and really learn about yourself," Trisha says as advice. "Don't be afraid to ask the dumb questions, you paid big bucks to learn about this career path you're taking! Also, volunteer as much as possible. On top of the heavy course load, if I wasn't working my part-time job or working on a group project, I was volunteering to really gain experience in events and create a professional network."
Trisha credits her deciding on the specific career she wanted in advance with helping her finally get the position, and advises other students to do the same. "Know what you want!" she says. "I knew I wanted to be part of the motor sports industry, and it was something I was absolutely passionate about. I would say to really use your professor's networks. What's so great about college is that you have the opportunity to really communicate with your professors, as opposed to the large academic and classroom lifestyle of universities. You can really learn about your industry. Colleges have the best resources, and they want you to succeed as well."
By Anthony Geremia