Centennial fosters entrepreneurship: How two students succeeded in the world of Event Management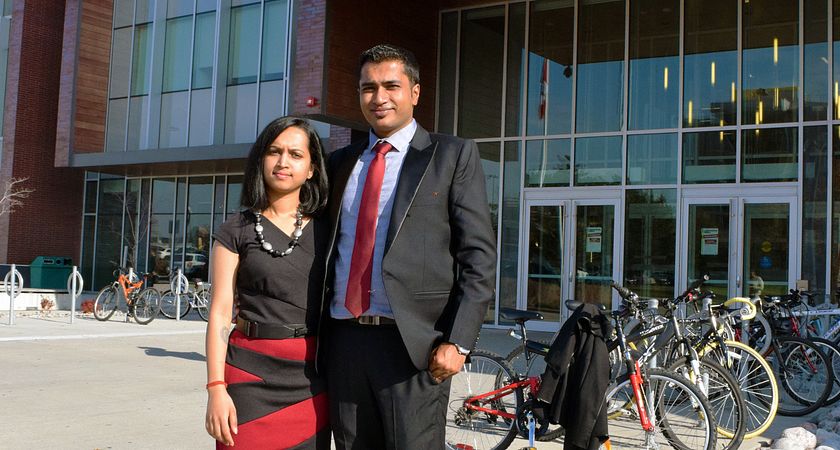 Centennial College fosters career and entrepreneurial success both locally and abroad, providing students with skills and connections to advance themselves in the world of whatever industry they want to enter. Sagar Irakal and Rakshitha "Rax" Suresh are an example of this entrepreneurial success, using what they learned at Centennial to launch their careers.
The couple worked at an event management company in India before coming to Canada to attend Centennial's Event Management program. The program would do more than educate them, though. The connections they'd make would lead directly to their own entrepreneurship, and they'd start their own business, Decor and Decibel. Here's how the college set them up for independent success.
Centennial makes connections
Event Management's practical skills would prove especially useful to Sagar and Rax in their careers. "Understanding how the Canadian event industry works was important," Sagar says. "There are different celebrations that Canada as a country has."
"Risk Management was a big thing to learn, and it was very nice for an international student to learn," Rax adds. "Maybe a local would know, but for an international student, it was most important."
What would be more important was the career connections the program would provide them through instructors like Bob Dallas, program coordinator. "Bob's been a very good support for us because he introduced us to the best companies in the industry," Sagar says. "I went onto one of the best AV companies, Rax went on to one of the best decor companies, and that's what our interests were. So that is how Centennial pushed us up a level."
"Bob takes time to learn more about you, to give you individual assistance, know what your needs are and cater to them," Rax adds. "He realized where we came from, because we'd already had experience in the industry, and we could skip a step and move up, so he directly started introducing us to people in the industry."
He wasn't the only one. Almost every lecturer they had would provide a connection, including Penni Holdham.
"Penni was teaching us, and she had a company of her own called The Display Connection Inc.," Rax explains. "She took us to her warehouse one day as part of the course and she asked if I'd work with her. I decided to work with her because of the knowledge she had." Eventually, that knowledge would lead her and Sagar to strike out on their own.
From student to business
After graduating in May of 2013, Rax would work with Penni, picking up job skills. Eventually, an opportunity would present itself.
"Penni wanted to retire out of her business, and she was looking for a buyer," Sagar explains. "Rax was still with them, and was helping Penni look for that buyer. Then, one day while we were talking, we said, why don't we buy it, because she's already working there, so she has knowledge of all the inventory that's there."
The pair decided to collaborate on the business due to their different but complementary skills. "Rax is already good at decor and visualizing creative things, and my technical and practical skills are strong," Sagar says. "Usually, decor and AV don't get along well as vendors, because they both involve separate knowledge, so we thought we should start something that involved them together. Decor is all about art, and AV is all about lighting it up with technology. You can create beautiful things when AV and Decor go together, so that's why we started Decor and Decibel."
After returning to India to get married, the couple would sort out their permanent residency and register their business in August 2015, to a surprising number of clients, due to the reputation Rax had built up while working with The Display Connection.
"I knew the clients from when Penni was working," Rax says, "because I worked for them, so they knew me and my background, and they knew they could trust me, and so the clients stayed. That was very surprising and very nice. Once you build that bond, once the industry knows you and what you are capable of, they'll let you do your thing."
Moving Forward
Decor and Decibel specializes in themed events, though they're also starting to see a lot of individual requests for birthday parties and smaller events. Rax recalls one of their more important events.
"One of our biggest clients is Sick Kids, and for Christmas, we do stuff for the children," Rax says, "because they can't really go out during the Santa Claus parade and watch it, so we do a similar setup for them inside Sick Kids. We lay a grey carpet like a road, and we have a backdrop that looks like the City of Toronto. We even have Skydome and CN Tower props, which makes them feel like they're outside, and they watch Santa on the big screen. We help them bring things to life."
To future event leaders
"It's very important to not have pre-conceived notions," Rax says of her career. "The more open-minded and accepting you are, the more accepting the industry is. You need to network, be open, talk and mingle. If you do that, they'll be more than happy to welcome you."
"Students should look for opportunities, because opportunities are floating all around you," Sagar adds, "and you need to understand when you've got to grab it."
"Don't run behind the money," Rax concludes, "run behind the opportunity, because if one job is paying you $25 and one is paying you $13 but you can learn from it, you should go that way first to gain your experience, and once you have that experience and knowledge, your value will automatically go up."
By Anthony Geremia