Connect to a career managing money with the Accounting Society of Centennial College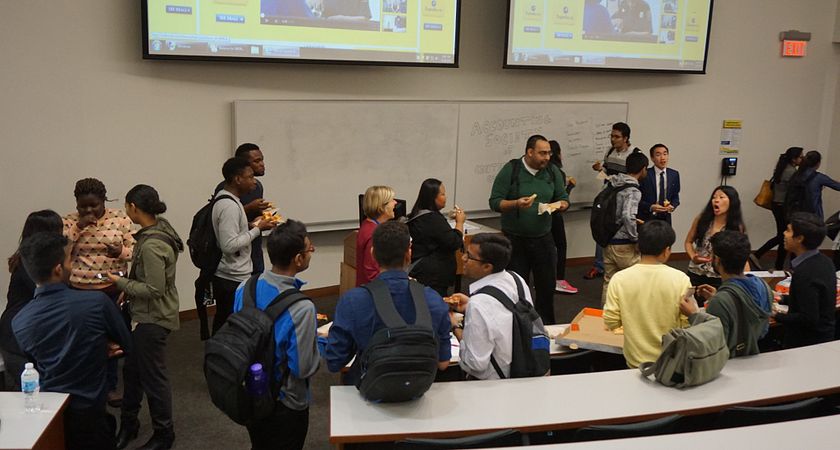 Centennial College's programs are dedicated to giving you career skills, but there's more resources for job seekers on campus than just our classes, and some of these resources were created by our students themselves. Like any other career, success in the world of accounting depends on networking and connections. Ajithra Theiventhiran is an accounting student who finished our two-year diploma accounting program, then came back for the three-year version. While at Centennial, she decided to found the Accounting Society of Centennial College (ASCC), bringing students from the college's accounting classes together and linking them to industry professionals. It's a brand new group, open to accounting students and anyone else from the college that wants to join up.
Filling a gap
"To make the transition, for students to become employees, how does that happen? You need networks," Ajithra says, explaining the core mission of the ASCC. "When I graduated, I was looking for a job. I didn't have any contacts, and I needed that to progress in my career." Finding nothing specifically dedicated to connecting students to employers, she decided to make a platform herself, founding the ASCC.
Of course, Ajithra was in the middle of her accounting program when she set out to do this, and wouldn't have been able to without the faculty supporting her. "I went up to Mary Devine, our Chair of Business, and she was a huge help and was all for it," she says. "She supported me, introduced me to people. She was new too, so we both learned together."
"All throughout when I was in school, my teachers also supported me," she says. "I had one teacher specifically always make sure I was okay, and ask about both the Society and the schoolwork."
Education to Employment
"It's about making connections, transitioning into the workplace, and having basic skills like how to talk to professionals, how to act around them, how to dress, how to make your resume," Ajithra says of the ASCC's agenda. "All the questions you have after you graduate will be addressed."
"We have meetings, we have workshops, I work with TFSA, the Toronto Financial Services Alliance," she continues. "I'm working with the director to come up with other things we can bring into Centennial to enhance that learning curve."
The best way to do this? Put the professionals themselves in front of the students. "We have 'Meet the Pros,'where professionals from the industry come in and talk to us about what they did to climb that corporate ladder," she explains. "We'll take students to the industry, and ask if they can job shadow, because it's really about whether you're sure you want to do this, and get into this specific career."
Another important reason for this job shadowing is to make sure students are on a path they actually want. "Once you finish school and you go into that direction,"Ajithra says, "it's hard to turn around and say hey, maybe I want to be something else. I want to inform students that this is what an auditor does, this is what a senior manager does, this is what a managerial accountant does, or financial accountant."
Benefits for students
The Accounting Society of Centennial College will soon have a website, but currently has a Facebook Page, which you can "like" to join up, or use this Accounting Society Membership Form. "Do join, even if you're not in that program," Ajithra says. "It's good to be educated about what's going on with the industry."
By Anthony Geremia