Meeting the Chief: Police foundations students hear from Mark Saunders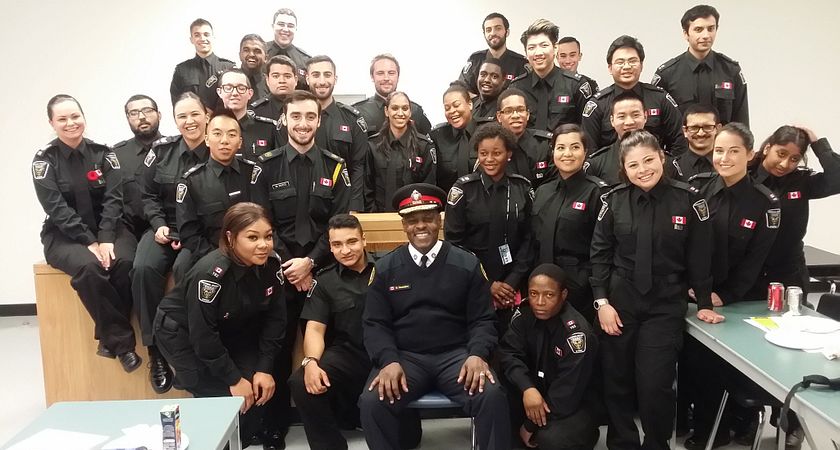 Centennial College's commitment to giving students practical experience involves putting them in front of experts in their chosen career, and for students in the Police Foundations program, there's no bigger expert than the Toronto Chief of Police himself, Mark Saunders, who came to speak to students this previous week at Progress Campus.
It began with a special ceremony where Police Foundations students were given the 2015 Fitness Award in recognition of dedication to personal fitness. Afterwards, the students got to hear Mark's thoughts about his career, and how he got where he is.
"As much as I'd like to say I'm in this seat because of my brilliance, that would be fairly incorrect," he said. "I'm here is because I'm a conglomerate of all the people I've had the opportunity to work with."
Mark also spoke of the importance of education, and how it allowed him to reach the position he has. "First and foremost, and without any hesitation whatsoever, I can easily tell you that I would not be chief of Toronto had I not continued my education," he said. "I wouldn't have been able to be Chief of Police. I most likely would have ended at the rank of Staff Sergeant. Not saying that rank has anything to do with success, as some of the best men and women in policing are constables. It's what you want to aspire to be."
Mark then talked about the multiple roles a modern police officer must play. "Some people love the fact that our job is all about service," he said. "Policing today is so much more challenging. You are the doctor, the lawyer, the psychologist, the law enforcement, you are the guardian of the city." But he stressed that it's not like Hollywood, and that students shouldn't go into the profession expecting car chases and fence-hopping. "The priority of policing is community involvement and interaction," he concluded.
After discussing the issues and changes surrounding Carding, a controversial Toronto police procedure, and the need for national security in the current global climate, Mark joined the Police Foundations students for a luncheon and question and answer session, where he discussed the importance of volunteering while in school. "A lot of it is life-skill based, and the importance of volunteering in post-secondary is that it shows an employer that you are not afraid of dedication," he said. "It shows maturity and commitment."
But there's more to volunteering than helping you get the job. Mark also sees it as essential to a police officer's role in the community. "It's necessarily to understand the importance of building relationships," he said. "So, if you volunteer, if you are engaged in any type of community project that's above and beyond, it says something about you as a person, and more importantly, it says that you understand what law enforcement really is, so come competition time, come interview time, when you get questions about volunteering, it's a behavioural answer."
To him, that's what it comes down to, personal dedication. "You've gotta think like a winner," he said. "If you want it, then you've gotta go for it. Believe in yourself first, and things will fall into place."
By Anthony Geremia