Legal students take it to court with OJEN Mock Trials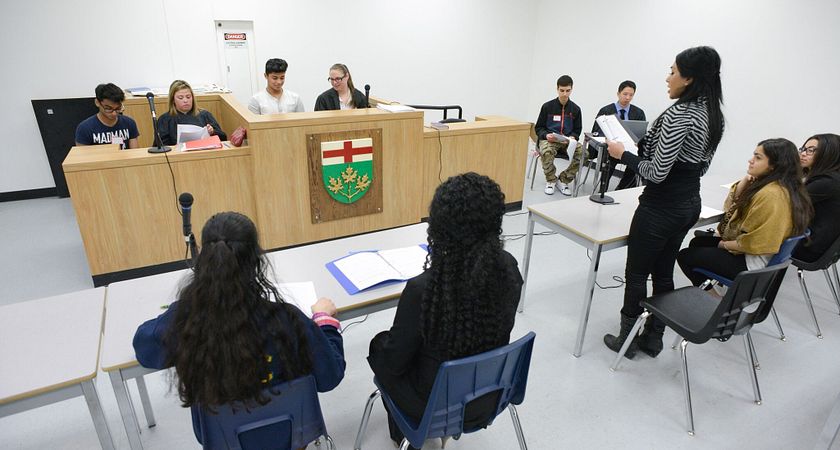 If there's one thing the faculty at Centennial College all agree on, it's that hands-on experiences are the best way to learn. Every program at the school aims to have a component that gets students out of a lecture setting, and has them actively practicing their profession. That's why Centennial partnered with the Ontario Justice Education Network (OJEN) for the Centennial College OJEN Symposium: Everyday Law, a special initiative that links the school's legal programs with several Toronto high schools. A key component of the program is a mock trial, where students from the school's Law Clerk and Court Support Services programs come together with students from West Hill Collegiate Institute and Winston Churchill Collegiate Institute to stage a simulated trial, complete with verdicts. The experience allows Centennial students the opportunity to practice their profession on their feet, while the high school students get a taste of a possible career path and a post-secondary experience.
Partners in (preventing) crime
Scott Tanaka, faculty from the School of Business and one of the event organizers, explains how the collaboration works: "In the legal programs at the School of Business, we have a partnership with OJEN," Scott explains, "OJEN is an education resource for colleges and high school classrooms. So as part of this program, our Law Clerk students from the School of Business spend three weeks going to each high school, once per week, and doing seminars with them. One's a civil law case, one's a family law case, and there's another component called Canada's Top Law; where high school students come up with a new law."
After the three weeks of training, high school students come to Centennial College for the mock trial. "Our Centennial students will be the support staff during the trial, and students will role-play the different parties," Scott says.
The trial
The mock trial performed this time around was a family law simulation, called "Thomas v. Andrews," a case involving child support. Specifically, a mother, Stella Thomas, needs support for her child's university expenses from her father, Christopher Andrews. High school students played the roles of the lawyers, applicants, respondents, and court staff with the support of Centennial students. In the end, applicant Stella Thomas won, and once the trial was concluded, the instructors reviewed the steps behind the trial and explained the law.
A taste of the career
Through this programming, both the Centennial and the high school students get relevant experience, and high school students get a look at the experiential education programming Centennial Colleges' students experience. "Our Law Clerk students do the teaching in high school," Scott says, "and then our Court Support students are helping out for this mock trial in the classroom, because their program is about that actual role of working in the courthouse. The high school students will get to see what our students are training to do. They can feel out the field, and see if they like what's going on."
By Anthony Geremia