How real experience leads to real careers in college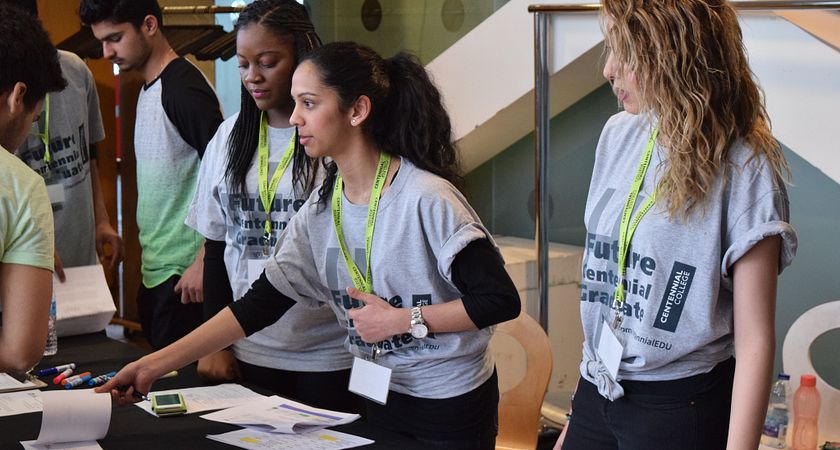 When you're getting your education at College, you want to be sure there's a career for you when it's over. Centennial College's programs work to set that career up. To get the job, you need two things: Real, hands-on skills, and a way to get your foot in the door, via field placement. In our Festival, Event and Conference Management program, you get practical experience organizing and running special events for companies, creating fun programs and activities. This is how graduate Lillian Tieu gained her job at at Ethnicity Multicultural Marketing + Advertising.
Lillian graduated from Hospitality and Tourism Administration at Centennial, before Moving onto Festival, Event and Conference Management as a post-grad. Her educational career didn't start that way, though.
"I actually started off in the Pharmacy Technician program at Morningside but realized it wasn't what I wanted to do the rest of my life," Lillian says. "I asked myself, what do I want to become? I always had a passion to plan events and activities for my family and friends. Slowly, this passion turned into my career." She decided she wanted to enter the hospitality field, and chose Centennial College.
Hands-on learning
 "The program has a lot of practical experience through professors, simulated and authentic projects and presentations," Lillian says. "These projects and presentations allow you to experience what it is like in the real world. They all involved team work, which is extremely important in our industry, as every day you have to communicate with people in order to get tasks and projects done."
"Many of the professors brought industry leaders into the classrooms and gave talks on different sectors and aspects of the event industry," she continues. "These industry leaders were extremely happy to give tips about the industry, like what to do in order to get in the door."
On top of the networking opportunities, the peak of their practical experience was creating Centennial Chase, a school-wide Amazing Race-style event. "There were many roles, and the class had to work as a team in order to execute the event." she says. "This was an experience where we were able to use all we had learned during the eight months and applied it to a project, which was, in essence, our first event."
"If there was one challenging thing, it would be initially adapting to 19 other people and be able to work together as a team," she says. "At first, it was difficult as everyone had their own perspective on events, coming from different fields. It helped me understand that people in the event industry not only need excellent communication skills, but also team-work skills in order to accomplish tasks and projects."
On the job
"I'm working at Ethnicity Multicultural Marketing + Advertising, a multicultural marketing agency," she says, "where I assist in marketing projects and research, and occasionally plan events within the company or for clients. My favourite part is still the events I plan. It gives me the satisfaction of seeing colleagues or clients smile at the end of the day."
She got this job directly through her program, thanks to a placement that went well. "Through Centennial, I got to intern at The Lightning Group, the agency which organizes Taste of the Danforth," she explains. "It was an amazing summer experience. Ethnicity is co-founded by Howard Lichtman, the President of The Lightning Group, who led me to where I am currently. Ethnicity brought me on board with their amazing team."
The Industry
"If you are interested in the event industry or looking for practical experience, this would be the program," Lillian says. "It's a good umbrella program for all the different sectors within the event industry, and a quick eight months to see if you enjoy the industry and to gain valuable experience."
"I would advise anyone pursuing a similar career to note all the tips and experience from industry leaders, find networking sessions to meet these industry leaders or fellow colleagues, and talk to alumni from different event programs," she concludes. "It is important to ask questions and find out what sector of events you want to be in. Everyone has their own preference and without knowing what is out there, it is hard to decide where you want to get to."
By Anthony Geremia