Watching and making election news: Centennial Journalism goes behind the scenes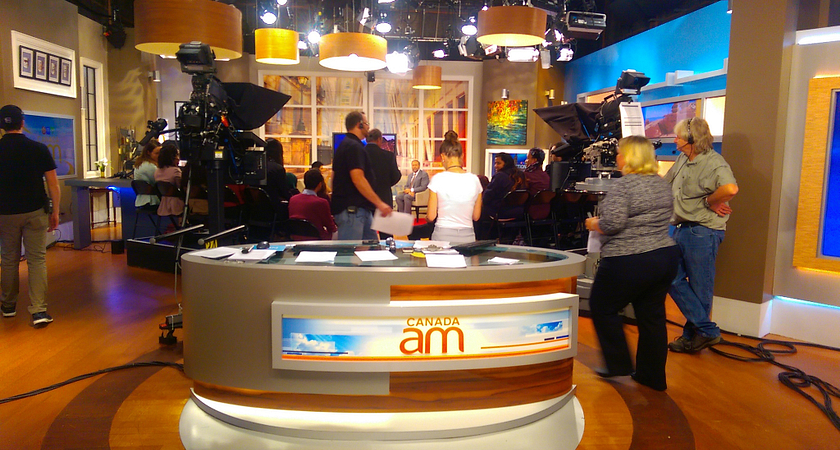 Centennial College's Journalism program gives students as much real-life experience as possible. Whether it's producing content in both digital and print for the Toronto Observer, or creating radio and video demos, the programs put students in the real situations their career will take them to. Centennial's Journalism programs also tackle current events as they happen, and give students a chance to analyze how the media handles them from behind the scenes.
With the federal election coming up soon, it's a prime time for aspiring journalists to learn how news media is made. That's why Centennial's students were invited to attend the live television broadcast of the news program CTV Canada AM last Tuesday, September 29, featuring NDP leader Thomas Mulcair. They took part in the live broadcast by asking questions. Videos from the show, including the questions, can be watched on CTV Canada.
Tim Doyle a Journalism professor and coordinator of the Journalism programs at the college, helped set up the trip after Canada AM reached out to them. "We were asked last week by Lis Travers, VP and executive producer of Canada AM," he says, "if we wanted to visit when Thomas Mulcair would be interviewed on the show. Easy answer - yes."
"The opportunity would be to see how the show came together," Tim continues, "be part of the audience and, perhaps, have a chance to ask a question or two of a federal party leader in the midst of a tight election race. As I said, easy answer - yes."
"We took one section of journalism students from the fast-track and joint journalism programs who are in their first month at Centennial," he explains. "In class Monday, they prepped, watching video of a previous visit by Mulcair to Canada AM and thought about some appropriate questions for the party leader."
On the day of the taping, students got the chance to participate in the show by asking Mulcair questions in front of the camera. "On Tuesday, we met at 7.30 AM at CTV's Canada AM studio in Agincourt," Tim narrates, "where the students were greeted by a couple of producers who asked them to write down any questions they might want to ask. Then, they were ushered toward the studio where they briefly met Mulcair before being taken to their seats in the audience. Three of our students had the chance to ask Mulcair a question on live TV."
Following the show, the students were given a tour of the CTV News studios. It wasn't over, though. They had been assigned a story based on Mulcair's comments and had to complete it by end of day Tuesday.
Emily English, Story Producer of CTV Canada AM said "It was a pleasure to have the students from Centennial College visit the Canada AM set and be part of our live audience. They came well-prepared with questions to pose to NDP Leader Tom Mulcair & were very enthusiastic about participating in the Q&A segment."
This is typical of the Journalism programs at the college, where professors make sure students get the maximum exposure to the world they're going to work in, and also make sure they get to participate in and contribute to it. This is all part of Centennial's mission to give its students real work experience, which is an attribute all the college's programming reflects.
By Anthony Geremia