Lugei Juma, and how athletics can turn your life around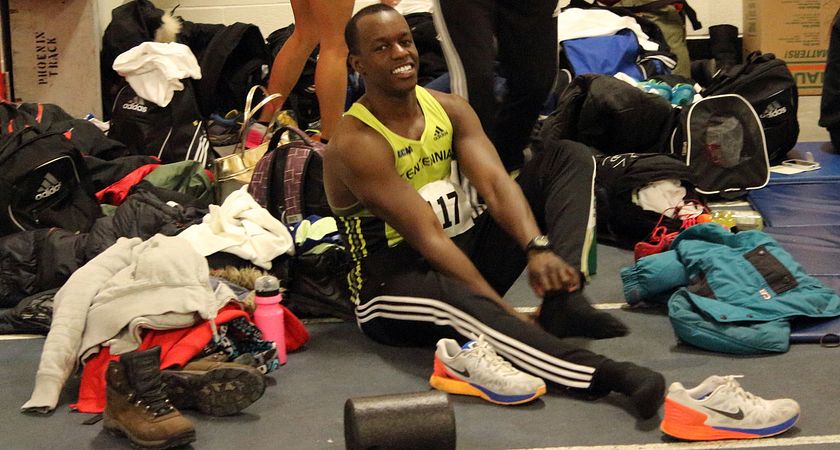 There's more to college than learning life skills. Coming to college can be a way to turn your life around and put yourself on a healthy life path, while picking up new skills. Lugei Juma was living a self-described unhealthy lifestyle, and had been a smoker for ten years before coming to Centennial as a mature student to get into marketing. While here, he joined the school's Cross Country and Indoor Track teams, and found himself changing for the better. Now, he's become a captain for the Men's Cross Country team, that will be selected at this Saturday's tryouts, which you can register for here. Here's how he improved himself, and how you can, too.
Coming to Centennial
"It was a lot of labour-intensive jobs, living a really unhealthy lifestyle, being really low energy and having no real idea of what I wanted to do," Lugei says of his life before returning to school. "But then, I decided I'm going to Centennial College, I'll join the cross-country team, and I'm going to quit smoking to prepare myself for a good future."
He'd pick Centennial because of its Toronto location (perfect for someone looking to get into marketing), its athletics facilities, and the fact that it had a running team. "When I was in elementary school," he explains, "I had a bit of an athletic background when it comes to running, so I wanted to get back in touch with a skill I used to have."
Getting in shape
"I quit smoking August 31," Lugei says, "and we had the tryouts on September 8. I quit a couple weeks before I tried out, and I'd been smoking a pack a day for probably over ten years."
It was the chance to join a varsity team at the college that motivated him to make this healthy change. Over time, participating in the Track and Cross Country teams itself would give him the willpower to stay away from the habit. "What would also help me was being around athletic and healthy people," he continues, "because there's no real excuse to say after practice, you're going to have a cigarette."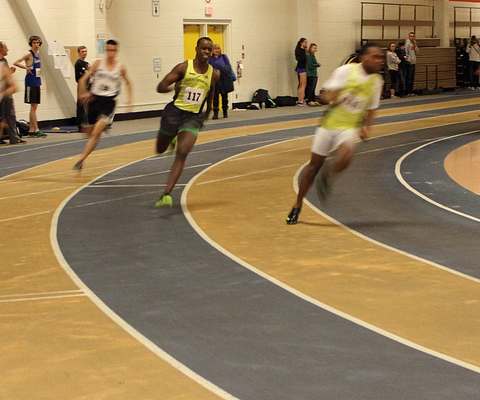 On the team
Centennial College has an Indoor Track and a Cross Country team. Lugei spent his first year on both, and speaks highly of his experiences on them.
"It involves lot of running, a lot of meal preparations, time management and a lot of team building," he continues. "You go to these competitions around eastern Ontario, and you're seeing all these schools. It was a really cool experience to get out there on a tour bus, stay in a hotel, then go in the competition." All of the work would pay off as well, as the team would make it to the provincial championships, and three individual runners would progress to the nationals.
For Lugei, the best part of the experience was the sense of teamwork. "Competing side by side with people who I didn't know at first, but grew to build a relationship with," he says. "Being able to share that mutual respect and growth. Having that bond will last a lifetime, and the memories will last a lifetime. Every day I spend with them is a really good feeling."
Skills for life
"Our coaches let us know that academics are the priority," Lugei says. "You're a student first and an athlete second. Get the schoolwork out of the way first, then train, rather than do the training first and be too tired to do anything."
"It was a lot of hard work balancing school and putting in 50 to 80 kilometres a week of running, pushing yourself physically and mentally," he continues. "I think in the end, it's going to make us stronger people."
"I've learned about living a healthy life when it comes to what I eat," he says. "It's also made me better at time management, and a better person in all aspects. I used to live a totally opposite lifestyle, and now I see more potential in myself, because I've overcome obstacles."
Participating in athletics at Centennial gave Lugei a host of skills and knowledge that will help him both in his marketing career and in life. "It will transfer over by being able to get on a more personal level with a diverse group of people," he says, "and being able to overcome obstacles as a team, and reach a combined goal together."
This year, Lugei returns to the varsity scene as the captain of the Men's Cross Country. He credits the choice to him being a mature student, and having leadership abilities. "I'll be a lot more involved with my team and my coaches," he says of his duties. "I'll take it on myself to be more communicative with my teammates. I'm also planning on making a YouTube podcast for my team to demonstrate stretching exercises, running techniques, nutrition and other helpful hints."
Lugei will be at tryouts this Saturday. If you're still interested in trying out, complete the Athlete Registration Form on the Colts website and come to the Ashtonbee Campus fields for 10 AM on Saturday, September 12.
By Anthony Geremia