Raise Your Voice with Centennial College's music program, even if you're a newcomer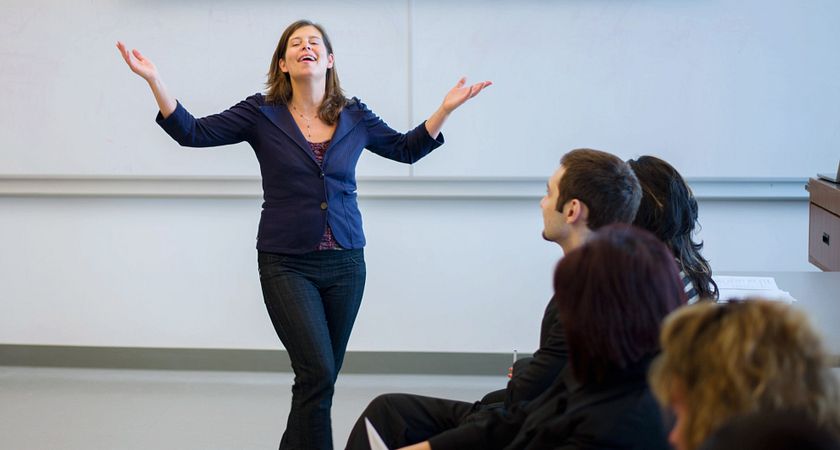 Continuing Education can be used for more than career advancement. It can also be used for personal advancement, or just for fun. This is the case with Raise Your Voice, a musical program at the Story Arts Centre designed to enhance your singing skills. In 12 weeks, students learn between 15 and 20 songs, as well as everything from breathing control and pitch to projection. It's an easy, affordable way to hone your singing skills. Best of all, no previous experience is needed and everyone is welcome. It's also taught by Kristin Lindell, a veteran of the musical world.
Real-world experience
Kristin has been singing since she was two, and would go on to sing with choirs and musical theatre before studying voice at York University. She now has a broad range of experience in pop, blues, folk and jazz music, something that benefits her as the program's instructor. "I can provide music that appeals to a wide range of people because I have a pretty diverse experience with music myself," she says. "I can appeal to people who like pop, or jazz, or blues or world music."
In her career as a teacher, Kristin she's taught in both Ontario and British Columbia, and at the Royal Conservatory of Music's Learning Through the Arts Program. She also teaches Centennial College's Music Industry Arts and Performance program. But it was her writing and releasing her own material for the past 15 years, including a pair of albums, that led her to create Raise Your Voice. "I was invited to put forward a music program at Centennial," she explains, "and at that point, I'd seen a lot of interest in singing from people coming up to me at shows and saying, 'do you offer singing classes for adults?' So it was perfect timing. I went forward with Raise Your Voice to provide people with an opportunity to sing in the community."
Helping you
There's more to singing than just a love of music, as Kristin herself is quick to point out. "First of all, singing can boost your mood," she says. "It actually raises endorphin levels when people sing as a group together. Second, singing actually connects the two hemispheres of our brain, so it increases cognitive ability. Thirdly, it's uplifting and social for people to get involved in singing together. Everyone leaves with a smile on their face, especially with the material we're singing, it was designed to be feel-good music."
And she really does mean everyone, as the program has attracted a variety of students, helped by the fact that no prior singing experience is really necessary. "That's the beauty of this class," she says. "Anybody can join, regardless of their experience. And I develop a way of including everyone, so my more experienced singers, if they want, can sing solos, and the newer singers can be part of our group and blend in and not feel singled out. It's very inclusive and supportive to people who are new to singing, but it also gives people a challenge who have been singing for a while."
"We've had a wonderful show of interest from a range of people," she continues. "We've had people who just love to sing karaoke, we've had people who were once singers and want to get back into singing, we've had a lot of teachers join our class actually, also people interested in joining choirs who want to hone their skills. We've had a wide mix of ages and backgrounds as well."
See for yourself
Still on the fence about the course? You can try it for free on September 22, 7:00 - 9:00 PM, at the Story Arts Centre in room 251. "It's our first class," Kristin explains, "and we always do a mix. We start with vocal warmups, and then we move on to basic technique, and then we sing repertoire." If you like what you see, the final date to register is a week later, September 29.
"The fundamental thing I want people to go away with is confidence in their ability to use their voice," Kristin says about the course. "I give people a foundation of singing skills, I give them an introduction to repertoire, new songs, and I give them a solid experience of singing in a group. And, of course, I want them to have fun."
By Anthony Geremia