Noah '40' Shebib gets real with Centennial College HYPE students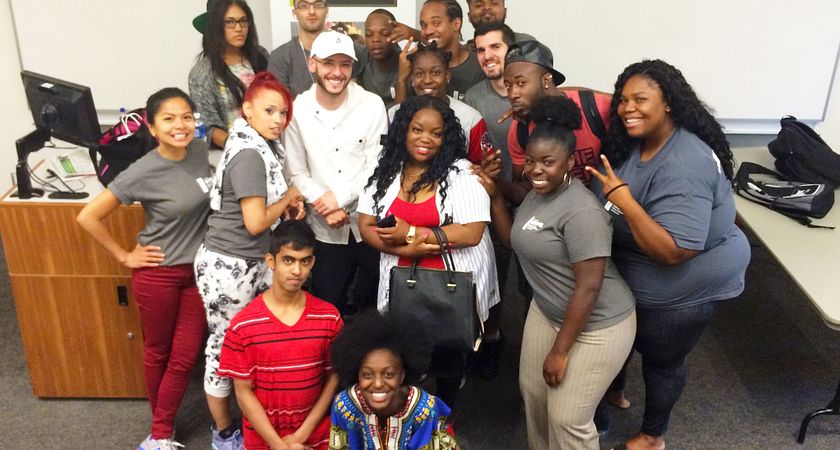 When I first started working at Centennial College last year, one of the programs that really resonated with me was HYPE (Helping Youth Pursue Education). HYPE is a six-week, tuition-free, inclusive learning experience for students between the ages of 17-29, living in underserved neighbourhoods of Toronto. Students participate in an intensive six-week learning experience. This experience consists of a series of workshops hosted by an array of successful influencers who are meant to further enhance the student's interest in education. Upon hearing about the workshop, I had a feeling (although I am not even directly affiliated with HYPE) that I knew someone who would be a perfect influencer for this. It was someone I knew growing-up and I just had to have him come to Centennial and chat with the HYPE students. I knew in my gut that if anybody could excite this particular student demographic, it was certainly going to be him. You're probably wondering just who this someone is. He's nobody really. Just, you know, this guy who played a major role in developing Drake as an artist. He helped create his sound, multiple albums and essentially he helped put Drake on the map. This guy, a Grammy award winning dude from Toronto's west end, is Noah "40" Shebib.
Months later with this idea in mind, I reached out to him on Facebook. I asked 40 (or "Bibber" which is what you called him if you knew him in the 90s) if he would be open to inspiring a group of individuals, by being a guest speaker for the 124 students of HYPE. His immediate response (and I mean immediate) was yes. Sure, we had to work out scheduling, but his heart and intentions were in the right place and ultimately, he made it happen (high-five).
For those of you who are unfamiliar with the hip-hop scene, 40 has worked with your regular, unknown, up-and-coming artists. Performers like Beyoncé, Alicia Keys, Sade, Nas, Usher and Lil Wayne. Just your obvious little nobodies (cue the sarcasm). Noah also developed and mastered Drake's audio persona, put him on the map as a performer and even played an integral part in getting him to the top of the charts. However, the most sensational thing about 40 isn't the lights, the glam, the music, or Drake. The best and coolest thing about 40/Bibber/Noah is who he actually is. His mentality. His outlook. His drive. His thirst to achieve. He's done extremely well and saying he is "successful" is quite frankly the understatement of the year.
Most of Noah's success came into fruition after facing some pretty serious adversity. Noah was diagnosed with multiple sclerosis at the age of 22. I'm pretty sure if I were in his shoes, I would have painted the town black, dug myself a hole and buried myself in it with some chocolate bars and Netflix. Instead, this wizard (yeah, I think he's a wizard) persevered. He didn't allow anything to define him, except for himself and his work. Who else would be more fitting to inspire a group of young adults who've faced some sort of adversity? Right?
We had arranged for 40 to join our HYPE students in August. The kicker? Nobody had any idea, including the students, and actually even most of the staff, that he was coming. It wasn't a "thing." It wasn't for exposure. It wasn't for anyone's ego. It was for the students. Their experience was meant to be authentic and publicizing it, we felt, would compromise the integrity of what the end game was meant to be. We wanted the students to genuinely relate, connect and be inspired.
The morning of the workshop, 40 met me at the lobby of Centennial's Progress Campus, in Scarborough. I hadn't seen him in around 8 years. We perused around the hallways as if no time had passed and caught up with each other a bit. We discussed regular day-to-day things and then Noah mentioned an interest in enrolling in school. With his large, regular, Tim Horton's coffee in hand (keeping it real obviously), he conveyed that he was interested in going back to school and learning something new (I'm not going to spill the beans on what exactly he wants to study…but if he does go back I am sure you'll hear all about it). It was cool. He was exactly the same dude he had been in high school; kind of nerdy, humble, quirky but cool, and sweet.
Shortly after our jaunt around campus, it was time for 40 to meet the students. We entered the auditorium, introduced him and, well, he just hit the ground running. I've been working in education for almost 10 years now and I have yet to see an individual captivate a group of students as well as he did. He discussed his involvement with the Remix Project and how he got started in music, or more specifically, engineering. The greatest part about seeing someone who has been surrounded by what youth perceive as glitz, fame, and celebrity life, was the fact that he was focusing on the engineering component. He conveyed with conviction that it wasn't his musical abilities or producing that got him where he is, but rather his background in engineering. He spoke of the fact that he's honest with people who present their music to him, albeit good or bad. Many might believe that perhaps it's unkind and rude to tell someone that their music or tracks need work, but to him, it's constructive feedback that will be beneficial in the long term. He shared many tales from the studio and even some secrets. He admitted that it's typically the sounds and tracks they don't perceive as "the best" that actually make it big. Most of the tracks at the bottom of the sample pile actually become hits, which is why they now review samples by "Starting From The Bottom" (ahem ahem).
There were a few aspiring musicians and music aficionados in the audience that really took advantage of the plethora of knowledge 40 could offer them. They asked what they could do, what they should do, how they should go about doing it, when he thought the right time would be to record, and who they should listen to when it comes to critical feedback and/or support pertaining to their music.
I sat back and watched how Noah mindfully, patiently and passionately responded to every query the HYPE students had. He highlighted the significance of education and employment and even noted that he advises the fresh and new artists he works with to have a source of income outside of music, because the reality is, they'll need one. He acknowledged that it isn't easy to make it big, given that music is so subjective and stressed the importance of having and/or developing a skill or service that society needs. His honesty and transparency resonated with everyone. It was just incredible to take in.
When the discussion concluded, the students were given an opportunity to take pictures and casually chat with Noah. He took a lot of pictures with them. I'm pretty sure the group now has profile pictures to last them a lifetime (#40rules). He was with the students for a total of…wait for it…3 hours! If it weren't for lunch (which is provided daily for all HYPE participants), he would have kept going, sharing and conversing. They just loved it and they loved him.
It's really admirable, you know, that a person can still be just a person even after conquering the music industry, something very few people actually do. It's nice to see someone doing something that they love so much and that they're so passionate about. On top of just the sheer joy he receives from working, he's also made it to the top with his successes. By the end of the discussion, the students understood that it wasn't necessarily music that got him where he is; it was his ability and talent as an engineer that played a pivotal role in launching and growing his and Drake's career.
It was great for them to see that he uses his experiences and triumphs in a positive way and that he hasn't let his head completely inflate. By keeping things real, he was able to keep their minds and attention spans on high alert. Both Centennial College and HYPE were thrilled to have him here. All of the students, the school and in particular myself, were ever so grateful. On the Thursday of August 6th 2015, we officially became FORTY-fied.
By Guest Blogger: Christina Grivas