Get your Continuing Education downtown with the Eglinton Learning Site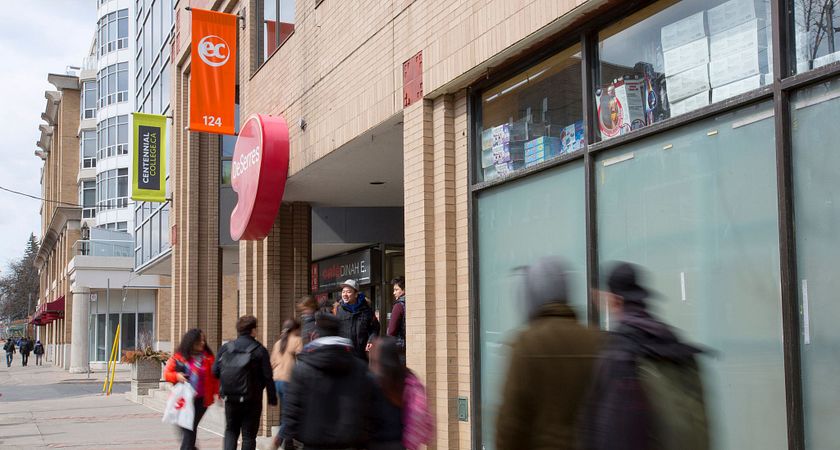 An important goal of Centennial College's School of Continuing Education is to offer potential students the ability to learn in a way that suits their schedule and life, particularly if they're working or have other responsibilities. This is why we have evening, weekend and distance learning. But there's an important factor that tends to be forgotten by students when planning their continuing education: Location. Centennial College's campuses are generally Scarborough-based, which is good if you live nearby, but presents a problem if you don't. Transportation can add a lot of time to your journey, time you perhaps don't have.
That's why Centennial College has worked to create a better way in the form of the the Eglinton Learning Site, specifically created to give Continuing Education students a campus they can easily access. The Eglinton Learning Site is located in the midtown of Toronto's, at walking distance from Yonge and Eglinton and the Eglinton subway station.
Location, location, location
Tim Roy is a Chair for the School of Continuing Education, and manages some of the programs at the campus ever since it was established last year. "It gave us a new location, a whole new area to serve," Tim explains. "Our existing campuses are in Scarborough, which is great for our students based there, but some of them might live or work downtown."
"Not only is the location convenient for those who live there," Tim continues, "Because it's on the Yonge and University lines, it's convenient to get to. We're just a five minute walk from the subway station, so it's right there."
A personal experience
There's more to the campus than just a convenient location, though. It's a small site, and that means students can receive personal, guided instruction. "It's a small facility relative to our other campuses," Tim says, "so when you're there, it's a very comfortable environment for studying. It's quiet, we've got plenty of computers and there's never any issue about using them, so it's a nice intimate learning experience. It's much different from the hustle and bustle of a campus."
"It's got 16 classrooms and lots of space," he says about the classes. "The classrooms are fairly intimate, they're not the big lecture halls you sometimes get at some campuses. Instead, they seat about 20 or so, and you're going to be in a class with about 10 to 20 students, so again, intimate learning."
The same learning
The Eglinton Learning site offers Continuing Education programming, including Teaching English as a Second Language. 
"Currently, we run our ESL courses there," Tim says. "They're for if you want to become an English teacher here in Toronto or overseas. We're also running some of our business courses, specifically our Compliance in Governance courses on evenings and weekends."
Regardless of the course, students get the same quality learning as they do at Centennial College's main campus, in a format that fits your time (and location) needs. "Though the site is small," Tim concludes, "everything is brand new, including the software and technology, so it's a very current learning experience."
Students still interested in taking Continuing Education have until September 26 to register.
By Anthony Geremia