Ask the experts: Community and Justice students learn about their career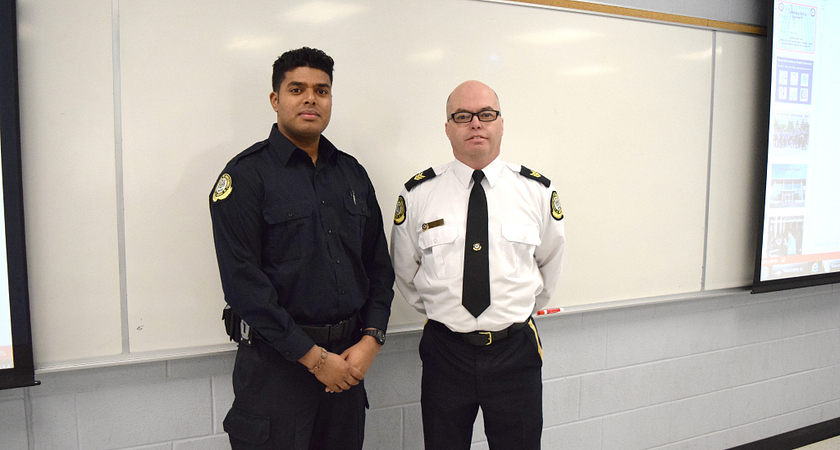 If law and criminal justice are your areas of interest, and you're looking to help vulnerable people and populations, then Centennial College's Community and Justice Services program is for you. It helps you gain the knowledge and skills you need to work with at-risk populations that are incarcerated or in the justice system, and help rehabilitate them.
A common career outlook for a student in the program is that of a corrections officer, someone that works in a detention facility. Students in the program are given a chance to connect with the professionals themselves, who come into the class to talk to students about the practical aspects of getting and holding a job as a corrections officer once it was all over.
Joel Gardiner is a Centennial College alumni, who now works as the staff training manager at the Toronto East Detention Centre. With him was Ragunath Jayasrikanthan, a more recent graduate of the program, who was hired at the same facility as a correctional officer within the last few weeks.
Joel spoke to the class directly about how to get into a career as a corrections officer, about placements, and about how the job is changing. Meanwhile, Ragunath talked about his positive placement experience and how it led him to a job.
A changing career
"You guys are coming in at a great time," Joel said to the class about the profession. "You start out at $26 and change an hour, and after three years, you're up to $30, or $32 an hour. Right now we have unlimited overtime, so there's money to be made."
"It's interesting to see the diversity of the candidates," Joel added. "It's not just a bunch of young guns. We had a tour yesterday, and a lady who just went through the program is 55 years old." That diversity is important, and is something the corrections industry is trying to encourage.
"We are trying to diversify our candidates," Joel said. "We're at gay pride events, we're diverse, we represent all cultures, communities, sexes and genders. Why? Because that's who's in jail. The big message is that we, as corrections, want to represent the population we're supervising."
Another important aspect of the career? Respect. Ragunath noted that it actually made his time on placement at the Toronto East Detention Centre rather pleasant.
"The culture and staff are really good there," he said. "Even the inmates are nice, because the staff create that culture. Respect them, and they respect you. You're taking positive energy into a negative space, that's your job."
On placement
Speaking of that placement, Joel singled it out as an important part of Centennial's program.
"Ninety-Five per cent of people you're competing against won't have an opportunity to do a placement, and showcase how brilliant they are," Joel said.
"I did an intense four months," Ragunath said about his placement. "It was a great experience, I met a lot of people out there. "Toronto East was an amazing place, the staff there were very nice, and I learned a lot. It made me ready for corrections."
"You can't squander it,"Joel warns. "All we're ever going to remember when we get that phone call and recruitment asks what you were like is how you were at the placement. That's going to be tattooed on you for life."
That doesn't just apply to your placement, but in class as well. "You could be sitting next to the superintendent of the detention centre," he added. "It's a small world."
On getting the job
When it comes time to find a career, Joel advised the class to head to ontario.ca/jobs.
"That's the one you want to keep an eye on," he said of the government jobs website. "When you see it, you'll feel overwhelmed at the hundreds of jobs."
Joel also cautioned that upon getting a position as a corrections officer, there's a good deal of checks you have to run through, including, strangely, a credit rating. "If your personal affairs aren't in order, there's a chance your professional affairs won't be in order," he said.
There's also a test of personal ethics, that ties into the philosophy behind the job, where you're encouraged to avoid unnecessary force, and to de-escalate conflicts.
Another thing to clean up? Your online profile. "You have to have an honest look at your personal internet pages," he continued. "Are employers allowed to look at that stuff? You can tell them no, it's not your business, but you're not going to get a job with that. I told that story to my son, who's a pretty tech savvy guy. I asked him for his twitter name, he gave it to me, and I just put it in google images and every picture he'd ever put on twitter came up."
A worthwhile career
"It's not just about the value of this course, and how it's respected in the field," Joel said of Centennial's long-standing program. " I could tell you all day about that. We have living walk-and-talk proof today of how respected it is in the field of corrections."
By Anthony Geremia