Environmental Tech students win big with clean water at the Global Academy Awards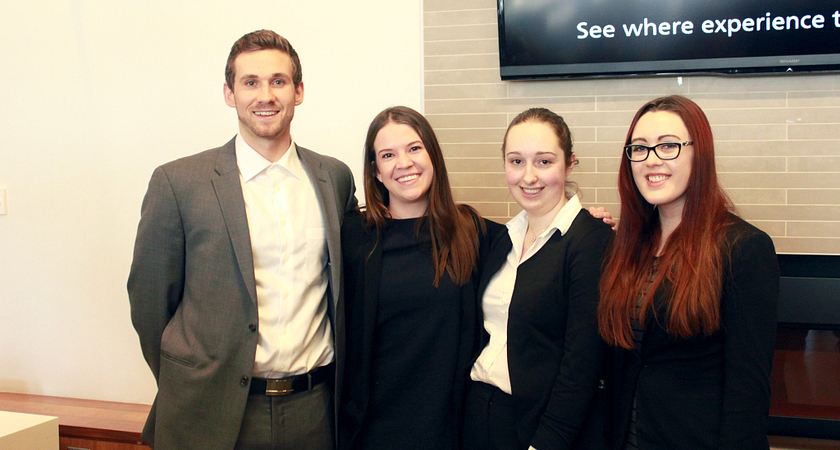 Centennial College encourages and inspires its students to use their education for global change, to solve the great problems of our time. We help students do this by integrating global citizenship concepts into our academic programs and co-curricular activities, which provide room for students to innovate for social good.
Held at Progress Campus on April 8th, the 4th annual Global Academy competition gave an opportunity for teams of students to propose initiatives to advance social good. The theme of the event was environmental justice, and six student teams pitched ideas that would help solve global environmental issues to a team of industry and academic judges for a grand prize of $5,000 to make their proposals a reality.
The winning team called themselves the Biocharizards, and consisted of Environmental Technology and Environmental Technician Fast Track students Mark Diestl, Madelaine Gardiner, Danielle Marcoux-Hunter and Caitlyn O'Reilly. Their proposal was for an affordable, portable water filtration system that could specifically be used to treat water on Indigenous reserves in Canada. This water filtration system was initially developed by the team for their classwork in Environmental Technology.
"We had a final project where we had to design a water treatment system," Danielle said. "However, to decide our social justice issue, we took a look at what was important across Canada, and we noticed that Indigenous issues are not getting better."
The Presentation
"As environmental students, we realized we had both the background and technical knowledge to succeed in today's competition," Mark said to the audience, before going on to discuss how Indigenous communities undergo a disproportionate amount of environmental degradation, singling out drinking water as an issue. "The people physically, historically and spiritually connected most to the land are suffering from degradation the most," he continued. "Our goal was to design a fully renewable and fully sustainable mobile drinking water treatment system that will eliminate this environmental injustice on Indigenous reserves."
The team got into technical detail about how the water filters work, the research they did, their budget, implementation and challenges. Their team name name comes from their use of Biochar in the system, a unique, environmentally friendly filtration resource.
"Biochar is made from up cycled biomass, including agricultural and food waste," Danielle told the audience. "Biochar is extremely sustainable compared to activated carbon, because it's cooked at a lower temperature and activated carbon can be made from coal, which is a non-renewable resource. Biochar can also be made on site."
"In regards to Flint, Michigan, a lot of Canadians insisted it could never happen in our country," Mark said. "To that, I say it not only can happen in our country, it is happening in our country."
After the Win
"It's an honour to represent the Global Academy as this year's winners," Mark said afterwards, "especially in environmental justice, as we have backgrounds in Environmental Science. Environmental issues are becoming increasingly important in this day and age and with the pushes towards renewable energy, clean drinking water is going to become one of the greatest and largest obstacles we have to overcome as a society."
Their next step with their win will be to create a prototype of their system. With the $5,000 they won, the team also plans to engage in a strategic partnership with the Aboriginal Water and Wastewater Association of Ontario.
By Anthony Geremia