Become award-winning for fun with Recreation and Leisure at Centennial College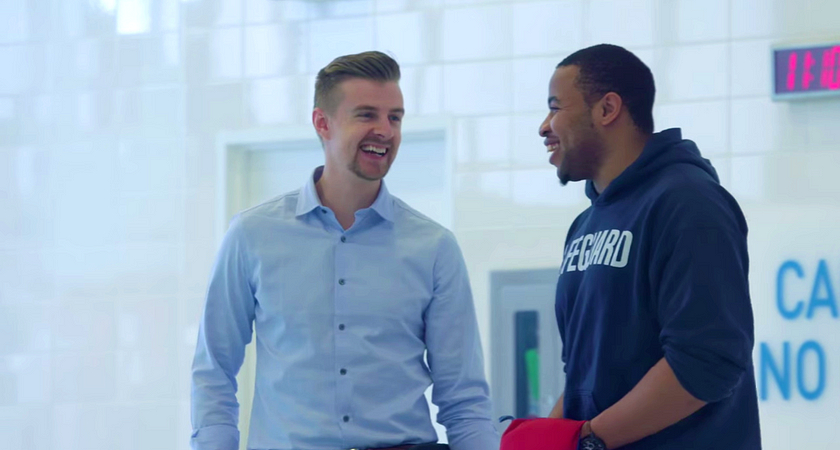 Recreation and Leisure Services teaches students how to develop healthy communities and improve their quality of life through events, programming and services devoted to wellness and culture. The program has a strong focus on real-world experience and fieldwork, and it's a field with a wide variety of job prospects. Centennial's Program, established in 1967, is highly regarded, and consistently produces award-winning alumni, like Alex Malmsten, winner of this year's Parks and Recreation Ontario (PRO) Emerging Leader Award, recognizing the achievements of people that contribute to the development of parks and recreation community. Here's how he got to where he is, with Centennial's help.
Coming to Centennial
Alex was a mature student when he came to Centennial, having decided to pursue his passion after spending time in the workforce.
"I took a job as a camp counsellor when I was 18 years old, and I fell in love with it," Alex says. "I was doing summer camps while I attended university for economics. When I graduated, I took some time and thought long and hard about what I really enjoyed, and it was the summer camp recreation piece instead of economics."
"I did some research and talked to some colleagues and professionals in the field, and the majority of them pointed me in the direction of Centennial College," he says. "I was working for the town of Ajax at the time, and our manager and one of my supervisors were also Centennial grads."
Despite being a mature student, he fit in perfectly with the students of the program.
"The classroom itself was a diverse crowd, young and old with different backgrounds, so I didn't feel out of place," he says.
"The Rec and Leisure program makes you do a lot of interpersonal group work, group dynamics and things like that," he continues. "It's easy to say this would be easier if I could do it on my own, but in reality, what you learn is once you get out into the field and start working, almost everything you do is group work."
"The most rewarding part of the program was the placement aspect," he adds. "The Rec and Leisure program has a pretty robust curriculum in terms of what they want you to accomplish while in placement. The good thing about that is that it forces you to get out there and try different things, by being able to take risks and try different projects in the placement."
Career Connection
"I'm currently working for the City of Barrie, and my title here is Recreation Supervisor," Alex says. "I supervise a full-time staff team of four that overseas all the programs that happen within a community centre here within the city." These programs include fitness, sports, aquatics, general arts and community programs. Alex credits his career success to the connections Centennial College provided him with.
"In Recreation, it does help to have a good professional network. It's not a giant industry in terms of municipal recreation, which is the stream I went into," he says. "In the Centennial College program, I got to be the beneficiary of a couple of opportunities. One was volunteering at the Parks and Recreation Ontario conferences, they happen each year. Through those, and through different placements, and through connecting with different teachers who were employees in the field and actually taught at Centennial part time, I really had a chance to build that network up and make a name for myself in the industry."
The Award
The PRO award recognizes the outstanding achievements of young professionals in the recreation industry. Nominees are selected based on their potential to hold a leadership role.
"In recreation, once you get into it, you pick up leadership experience pretty quick," Alex explains. "The upper management has been great in letting my crazy ideas turn into real events. They've really given me the opportunity to think outside the box, and as a result of that, it built up a strong case for me as a candidate for this award."
"I was honoured just to be nominated," he says of his win. "This award puts you on the map in the industry, and it was such a pleasant surprise, because all the previous award winners are really well-recognized people in the field, so it's an honour to be added to that list. I've got a lot to live up to now."
"This award isn't something you win on your own," he says. "This was a team win. This was a result of supervisors and team members I've worked with to create some of these projects that we're able to speak about in the application."
For future students
"For the two years you're in the program, give it all you've got," Alex offers as advice to future recreation students. "When you come away from it, the knowledge and experience you can gain from the program is what's going to separate you from the rest of the field."
"What you can do to separate yourself is take the extra step when you're in the field and you're in the classrooms," he continues. "That's where you need to take on some of the projects that are more aligned with what full-time employees are doing. So, get as invested in it as you can, and you'll come out successful."
Watch Alex in action in our Recreation and Leisure Services program video!
By Anthony Geremia