From Class to Classy: Publishing graduate Odessa Parker joins the Globe and Mail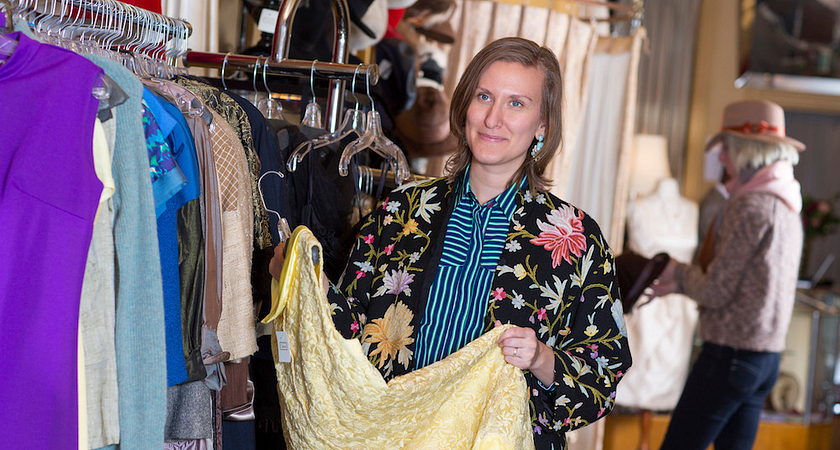 If you're either a fiction or nonfiction writer, it's worthwhile to learn about the business and practical side of getting your words out there. In other words, publishing. Being skilled in the publishing world is much less common than simply being skilled in writing, and it will put you in demand. That's why Centennial College offers its Publishing - Book, Magazine and Electronic program. This award-winning postgraduate program teaches you the skills you need to enter Canada's literary and cultural landscape in just two semesters. You'll learn the practical skills behind publishing printed and electronic literature, through classes, publishing the bi-annual On the Danforth magazine, and through a six-week field placement.
More importantly, though, the program has a proven track record of graduate success, producing alumni like Odessa Parker, who was able to use the skills she learned at Centennial to land a position as the Fashion Editor for the Globe and Mail.
University to College
"I wasn't totally sure of what I wanted to do as a career after high school," Odessa says, "but I liked writing, so I did my undergrad at U of T. I did a double major in English and Semiotics. After graduation, I worked in retail for a year and ran an online Toronto-focused publication." Eventually, she decided to pursue further practical education, and enrolled in Centennial's publishing program.
"I felt like Centennial offered an opportunity to learn a varied set of skills, all of which have served me well in different aspects of my career," she says of her decision to come to the college. "I liked that the campus was central and the classes were a smaller size."
Book and Magazine Publishing
"The assignments were all very engaging and in some cases really challenged students if they were learning something for the first time," Odessa says about the program. "It was great because the industry relies on practical abilities, and the only way to get a feel for that is by doing something over and over until you can do it well. Since all the instructors are industry professionals, you learn in a mix of styles depending on who your teacher is for a particular class."
Towards the end of the program, she also had the opportunity to participate in a field placement. "I interned at a lifestyle magazine," she says. "It was really fun - the team was quite small so I got to help in a lot of ways: Writing, editing, working at events, producing photo shoots and more."
Odessa considers her editing skills to have been the most useful thing the program taught her. "I write and edit a lot of work that goes into my section, in addition to coordinating photo shoots and reporting on runway shows," she says.
Career Connections
"After graduating, I got a job at a stylist agency doing their marketing because I had the design, marketing and writing skills they were looking for," Odessa says of her career post-college. "This was my first real introduction to the fashion industry, and many of the contacts I made in that job are still relevant today. After that, I started my own print and online magazine, Plaid, which I ran for three years. Then I worked as a freelance stylist for a year, and the Globe was one of my biggest clients." Eventually, that would lead to a position working with them as their fashion editor.
"As fashion editor, I'm responsible for assigning and handling (editing) all fashion and beauty related content in our Saturday Style section and our subscriber publication, Style Advisor," Odessa explains. "I produce written content (profiles, interviews and reports) and produce our photo shoot content. I also style most of our fashion photo shoots. I help coordinate branded and sponsored events, often doing on-stage interviews. And I also produce digital content (videos, photo galleries) for The Globe and Mail's website and the iPad version of Style Advisor."
"The best part of my job is that I get to support amazing designers and other creative talents across Canada and the world," she says of the position.
Advice for Students
The publishing industry is extremely diverse, and Odessa advises students to take a good look at everything it has to offer before choosing your exact career path.
"Don't come into the program necessarily thinking you know for sure what you want to do in the publishing industry," Odessa says. "There is so much opportunity, and you really get a good sense of that in this program. Leave your eyes open to what's out there." Another important bit of advice? It's a very unstructured career field, so you have to be someone comfortable with constantly switching your day-to-day schedule.
"My job is different from day to day," Odessa says, "and I have to be flexible and able to pivot and work on something new at the drop of a dime."
By Anthony Geremia