Students invent new ways to keep warm and cool with Heating and AC Capstone
It's finally starting to heat up outside, meaning air conditioners, and the professionals that know how to install and run them, will soon be in heavy demand. At Centennial College, we create those professionals with our Heating, Refrigeration and Air Conditioning (HRAC) program.
But there's more to the career of keeping cool than just building and maintaining machines. There's a creative aspect as well, which students in the program get to show off as part of their year-end Capstone project. Students take everything they've learned, and use it to, simply, make something special.
Each class has their own set of Capstones, and we looked at the ones created by David Archer's students.
Archer is a veteran of the industry, and makes sure his students demonstrate not just how to create a product, but how to market and sell it, since he comes from a business background. There's frequently a green angle to the projects as well, with many of them offering environmentally friendly ways to heat or cool.
"The point of it is to come up with an idea, put together a project, and see how far you can get," he said to his students.  "Today, we're here to bring to a close everything we thought of, what our creation was, how do we put our project management together, how do we put our budget together, and what market do you think this thing will serve? I've seen some fabulous ideas, and I'm really proud of you." Here's what some of the students created: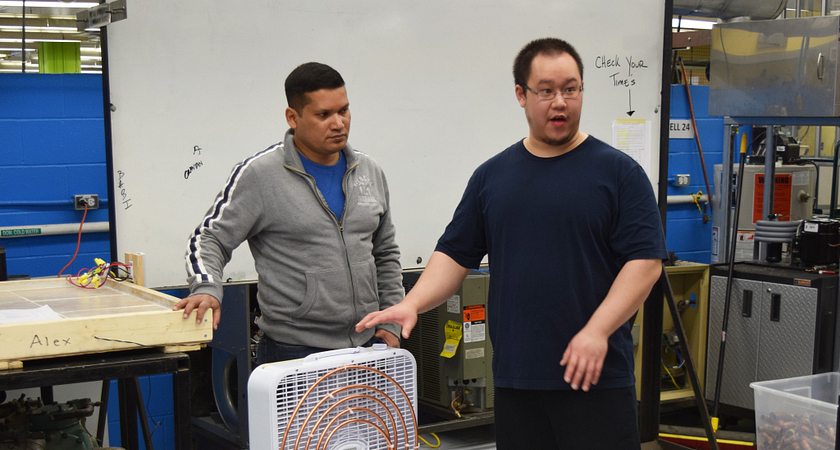 The Portable Cooler / Heater by Jason Situ & Mohammed Moinul Islam
There was a theme for a lot of these projects: Inventing ways to keep your drink cool on a summer day. This team, though, came up with something better: A machine that can cool or heat drinks. It used a small submersible pump, hooked up to coils and a fan, and is designed to work with a battery or generator.
"We tried to make it multipurpose," they said to the group. "The basic concept is, instead of using refrigeration, we used chilled water."
"The advantages of this are that it's very portable," they continued. "There's a handle to carry it around. It's also environmentally friendly, because it doesn't run off of many volts."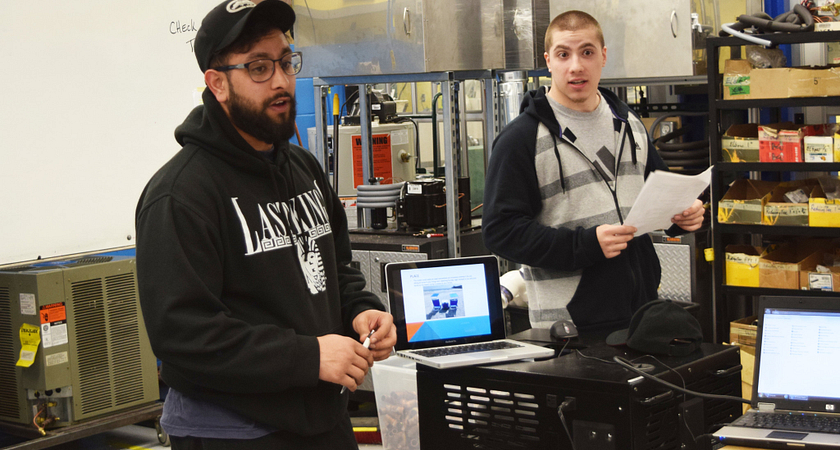 The Drink Cooler by Chris and K.P.
The second team hadn't made a physical product, but presented their own idea for a portable cooler.
"It's not just any water cooler," they explained. "It would have cooled cup holders that you'd be able to take anywhere. The purpose of the cooler is to hold beverages, and also keep the top part of the cooler cold, so you could bring it anywhere, bring it to the beach, bring it to a party, a baseball game, a soccer game, anywhere."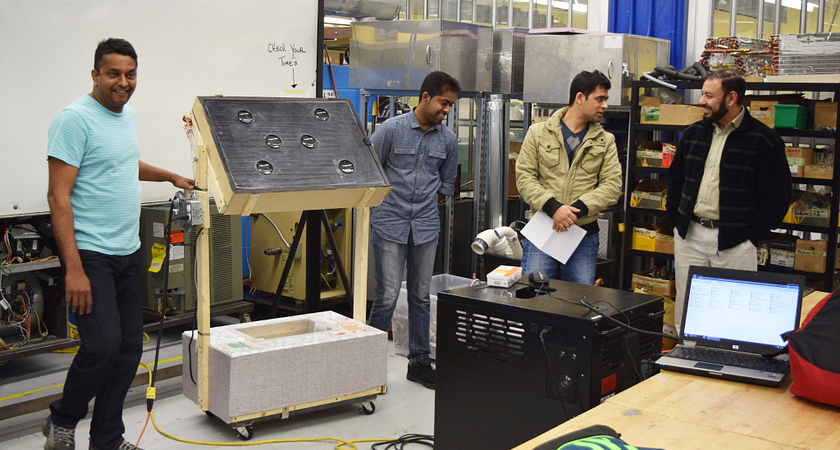 The Solar Powered Pool Heater by Riska, Mohammad, Suki, and Nazeer
This team had an additional claim to fame: Their creation had already won first place in the HVAC category at Centennial College's Tech Fair, an exhibition of our various hands-on programs and what the students in them can create.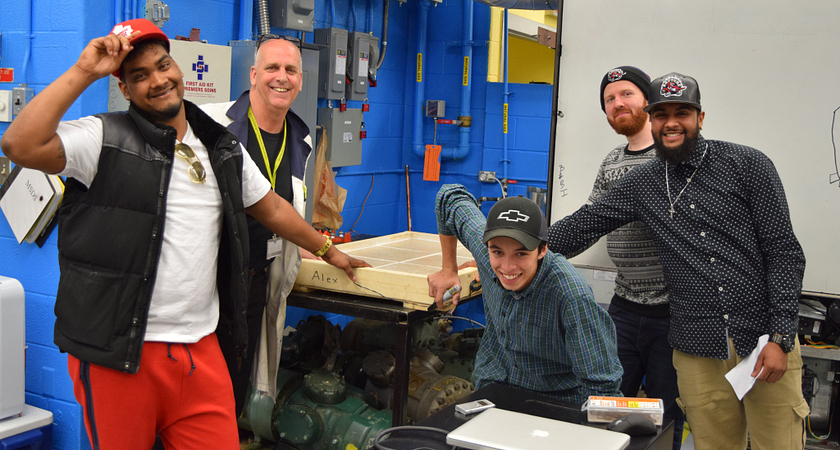 The In-Floor Heating System by Alex, Clayton, Ryan and Johnathan
This team created something a bit different: A heated floor mat, which students were invited to feel, designed to keep you warm on a cold morning. It could be set up in your bathroom, or any floor where you walk barefoot. Besides the bathroom, the kitchen is a favourite of many.
"We created a design for a heated floor, made up of electrical coils under the tiles," they explained. "So we have a dual voltage thermostat attached to it, that can be set to different temperatures at different times, seven days a week, including when you first wake up in the morning. It provides enough heat to heat your body up quick from the feet up."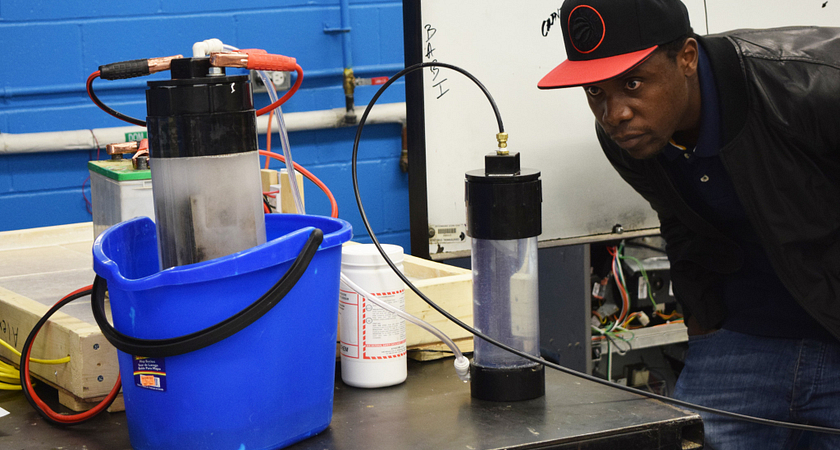 The Hydrogen Fuel Cell by Mohammed Omar, George and Collins
"Our project was to find an alternative, clean-burning energy source so gasoline could be replaced," this team explained.
"This is a tool that converts water into something to fuel cars," they continued. "It's non-toxic to our environment, it's low-polluting, and it's low-risk to our children. It creates hydrogen gas, it's kind of like oxygen, but a bit less stable."
Their prototype is small, and can only power small things, but they want to eventually make it large-scale. The team also gave a brief demonstration, pictured here.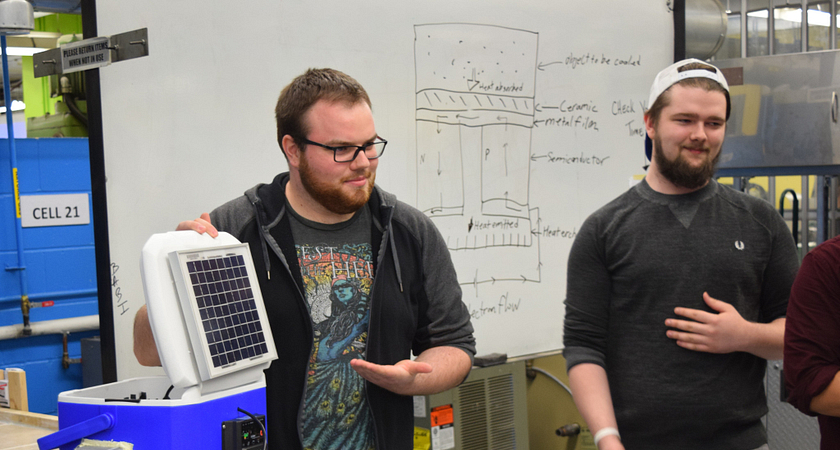 The Portable Solar Powered Battery Back Up Bicycle Cooler by Patrick, Patrick, Zach and Hamid
"Ever been riding your bike, and wished you had a cold drink? Now you can, with the portable bike cooler," this team said, opening their presentation.
"It mounts on a bicycle, and provides refrigeration without the use of ice," they continued. "The solar panel is connected to the top of the cooler, and will energize thermoelectric heating and cooling pads installed inside the cooler."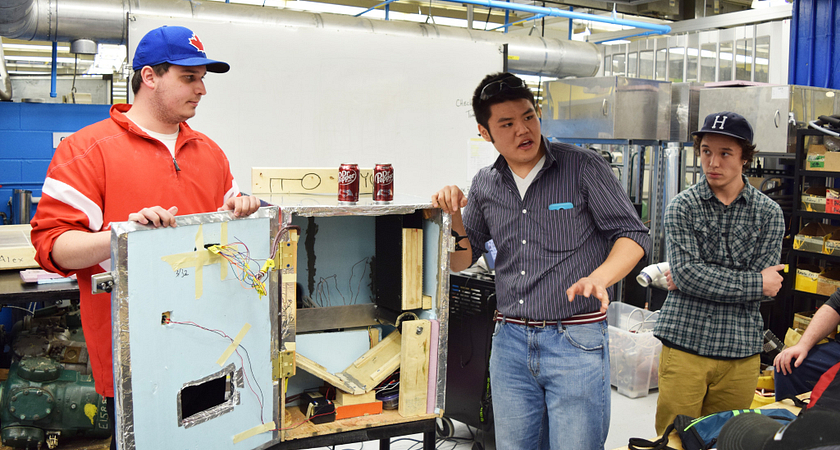 The Dispenser, by Nelson Chak, Michael Gour and Shane Loken
Also called the "Boxtron <3000> (as seen on YouTube)" this group created a portable, cooled vending machine, that even had a working computer in it, which they demonstrated by having it drop soda out with the press of a button.
By Anthony Geremia