An international student's life at Centennial College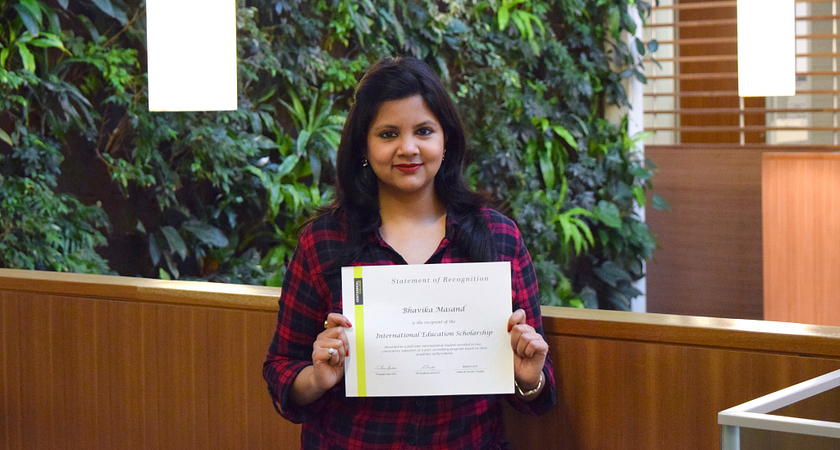 Centennial College, despite being based in Canada, is a school of the world. We're located in Toronto, a cultural hub of Canada, and we welcome a variety of international students into our programs with open arms, ready to support them throughout their education and their careers. Bhavika Masand is one such student, who came to Canada from India, where she'd worked in education. At Centennial College, she'd take our Marketing - Corporate Account Management program, as well as a diploma in Office Administration. For her efforts, she'd land a scholarship, and come to work for the College as an International Student Support Officer at the International Education Centre. Here's her story.
Coming to Canada
Bhavika's journey begins in India, where she worked in the education industry. "I had a career, I was doing fine, but every time I was seeking a promotion or growth opportunity, there was always post-graduation education required," she says. "That's when I decided I should get a post-graduate qualification. My parents and grandparents had always wanted me to have that international education."
So, why did she choose Canada? "Between the US, the UK, Australia, I'd heard many stories of the student experience which weren't very positive," she says. "Everything I searched about Canada was so positive, it is so diverse. Every culture is so respected here, and that's something that really attracted me."
That diversity also led her to make Centennial College her school of choice. "When I was searching colleges, I was looking for how diverse the college is," she continues. "There's so many groups that Centennial College has from different cultures. Centennial College has a group for Japanese students, for Indian students, for other different cultures and that diversity was really interesting. Every culture has an identity here."
Transitions and Challenges
Though she was prepared for her journey to Canada, Bhavika still encountered many challenges upon her arrival in the country.
"There are emotional challenges, because you leave your family, your friends, the country you've been living in for 20-plus years," she admits.
Additionally, she arrived in 2013, from her plus-30 weather back home, to a minus-40 Canadian ice storm. "I was literally skating on the road. I didn't even know what an ice storm was."
"Your parents aren't there to support you," she adds. "You have go home, you have to cook, you have to make sure you're working and you make some money. All of these challenges affect an international student more than a domestic student."
As for coping with these challenges, the students and faculty at the College provided solutions. "It's about networking and getting engaged, that's what really helped me out," she says. "The international department has resources, and I got engaged with them as a student volunteer. I took a workshop with them, and connected with a lot of people, and made a lot of friends. So I think the answer would just be connecting, networking, volunteering and getting engaged. You have to get out of your shell, get out, and talk to people. Share your problems, because you never know who can help."
"The department that deals with students think a lot about international students," she says. "They have so many activities and events, so you feel engaged and important."
She also recommends carefully budgeting due to the difference in exchange rate between countries, and making sure you understand how Canadian academic structure works, as she found it different from her homeland.
Education and Awards
"I wanted to pursue a career in the education industry," Bhavika says, "since that's what I'd done back home, and that's what I wanted to do in Canada."
After graduating from her Marketing program, she'd do further research about what kind of the Canadian education industry favoured, and decide to take a diploma program, Office Administration.
"I wanted to do something that could back up my profile, to work in the sector," she said. "I was looking at job listings, and realized that a lot of them required a diploma or degree in Office Administration or Business Administration."
Eventually, her performance in her diploma program would quite literally pay off, in the form of a scholarship.  
"I received International Student Scholarship, given to students pursuing two semesters consecutively, and based on their academic achievement," she says. "I was very sure that I would get it, considering I got a 4.5. So if they're giving it out on the basis of academic achievement, that's the highest GPA I can get."
Getting to work
"The very last day of my Marketing exam, I was looking for a job," Bhavika says. "After completion, I went to the cafeteria with my friends. I was waiting in the Tim Hortons line, when I saw a missed call on my phone from the College." It was from International Student Services, and they wanted to hire her on as a student worker.
"I started as an employee while I enrolled in the second program, so I went from being an international student ambassador volunteer to becoming a student worker, to becoming a part time support worker, to become a full time employee." She's been one since September, working in Services and Global Experiences, and intends to keep working at the College, since she's now a permanent resident in Canada.
Benefits of a global perspective
"The benefit of international education is that you're not just recognized in your own country, but in other parts of the world," Bhavika says as advice. "Coming from a country where multinational company culture is so big, and import export is big, it's always good to have that international experience."
In other words, it's a thing worth doing, so long as you have the right mindset. "It's about dealing with attitude," she says. "You really have to be strong from within that you want to make this happen, only then can you survive."
By Anthony Geremia