A new generation of professionals: Centennial congratulates its first Samsung Tech Institute graduates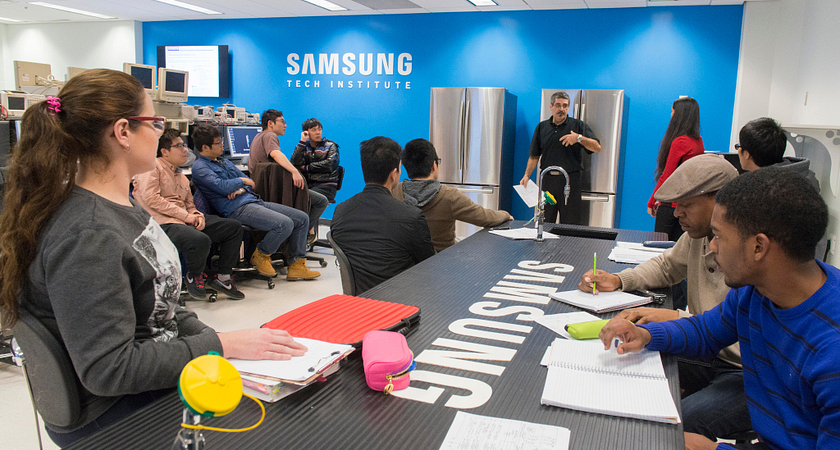 Centennial College is always creating new programs and initiatives to connect students to sought-after careers. That's why in September of 2015, we partnered with Samsung to open the Samsung Tech Institute, designed to give Electronics Engineering Technology program students a set of useful, hands-on skills that would turn them into in-demand professionals. And the first group of those professionals is now ready to enter the work force, with 13 students being the first graduates from the Samsung Tech Institute, including Emilly Silva, an international student from Brazil.
Coming to Canada
"I'm from Brazil, and I moved to Canada in 2010. I didn't speak any English, and came to study it," Emilly says. She'd initially come to Centennial College for biomedicine, but decide to change programs.
"I was actually in biomedical engineering," she says, "and electronics is just where my passion lies, and the college said, why don't you change to electronics? So I switched. Last semester, the Dean came to class, and he talked about Samsung, and to be honest, it was a no-brainer. A company like Samsung, offering this course with the electronics engineering program?"
Filling a need
Students enrolled in the Electronics Engineering Diploma program can choose to take the Samsung Pathway later in the program, which consists of two courses that are strictly dedicated to Samsung. The big draw is that they're taught in the Samsung Tech Institute at Centennial's Progress Campus, fully furnished with modern home appliances.
"At the beginning, they taught us about basic electricity, customer service, and most importantly, safety," Emilly explains. "The second semester, they had us opening and disassembling the appliances, finding faults and fixing them, and if we didn't know what to do, the professor was there, guiding us."
The Samsung Pathway was designed to train candidates for a job the market is actively looking for, since there's a shortage of home appliance technicians in the industry overall. In reality, it's a skilled trade, like plumbing, or electrical, or drywall installation.
Post-graduation
As for the future of these graduates, they're now going to be in demand. These students will be looking at jobs with industry leaders like Best Buy, or Leon's, or the Brick, as well as opportunities with smaller service centres, as well. Not only that, but Samsung itself will be looking to recruit some of them, taking two students as paid apprentices, starting in September, with Emilly being one of them.
"Samsung selected two students for a co-op position, and I was one of them, along with my friend Marvin," she says. "We're starting in September, and I'm really excited. The hard work has paid off."
As for the future, she wants to continue working with Samsung, but is also eventually looking to make her own way in the business world.
"I see myself at a company like Samsung," she says, "working maybe as a technician with appliances, or in the electronics department. Maybe after that I'll apply it to my own business."
By Anthony Geremia