Practical science for a practical career: Daniel Soerensen and biotechnology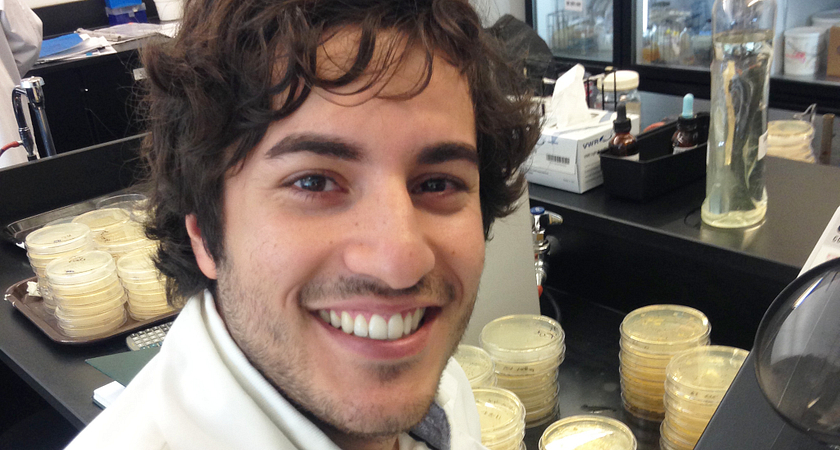 It's practical experience that separates college from university, and that's particularly important in the science field. You can study the periodic tables all you want, but nothing can compare to time spent in a lab, with the equipment you'll use on the actual job you want. Daniel Soerensen found this out after going to university for biology, but finding that it couldn't compare to the practical experience he'd get at Centennial College's Biotechnology program, with its laboratories and co-op terms. This is his story.
Pursuing a passion
"My interest was always in biology, the mechanisms of how things like cells and microorganisms work, and I always wanted to work in the lab, using lab equipment," Daniel says. "I'm more of a hands-on guy, and I like working with precise and accurate things."
Daniel's love of biology first took him to university, where he got a B.A. in science. However, after graduating, he still found himself lacking something important: Practical experience
"I couldn't find a job, because what they had taught me at University was more theoretical stuff, rather than the practical that I needed in my field," he explains. "I didn't have enough experience in a laboratory." He looked into college programs in Toronto, close to him, and would come to to Centennial for our two-year Biotechnology program.
Learning real skills
"There are six different labs in the microbiology side, and more in the chemistry side," Daniel says, explaining the facilities at Centennial's Morningside campus. "The program combines chemistry and microbiology. In the microbiology side, for example, they teach you how to analyze food samples for microbial content."
"It's a very hands-on program," he says. "You get to do dilutions, play with the centrifuges, learn about incubators, basically use all the equipment you'd find in a regular microbiology laboratory in the workplace. From beginning to end, you're spending a lot of time in the labs, and that's where you get all the practical skills. In my first year of Centennial, that's what helped me succeed in my co-op, which happened between my first and second years."
Outside of the program, Daniel stayed active in the College community as well, serving as the president of the Biotechnology Student Society, and working on a special research project with Applied Research, Innovation and Entrepreneurship Services.
On the job
"A co-op course is included in the program," Daniel explains. "In one semester, they teach you how to write resumés, cover letters, how to search for jobs and they help you in finding a placement."
"I did a co-op term at Maxxam Analytics," Daniel continues. "It's a food analysis co-op position where you were trained to handle food products from different companies. They'd bring samples in from them and we'd have to analyze for microbial content, doing enumeration and dissection of pathogenic microorganisms, mainly for food safety." It's an important job, because companies use it to detect problems in their food, and issue recalls if they need to. It's also a job Daniel excelled at.
"I brought my A-Game," he says, "and the supervisor there, after a month and a half of my first co-op term, already offered me a second co-op position, which was very unusual because they don't offer two positions. But because I was really into it, putting my heart into it, they saw my potential, and offered it to me. For the second co-op term, they put me in a position they normally do not offer to students, and I had the privilege to learn more skills." He credits the skills the college gave him with his success.
"Centennial gave me the experience I needed to apply my techniques to the work world," he says. "Everything I did in my first year at Centennial I ended up using in my co-op terms at Maxxam Analytic."
Looking to the future
Daniel's wrapping his final semester up right now, and is already applying for jobs with his new experience. "These are jobs I never would have been able to get without this program," he says, thanks to its focus on practical experience. "I now had all of that experience, not just from what I did academically, but from everything I did outside school as well." He might even find himself working back at his co-op position.
"Maxxam wanted me to stay there after my second co-op term," he says, "but I told them I wanted to go back to school and finish my program, so they said the door's always open to you, if you want to come back."
By Anthony Geremia