Centennial supports student innovation at ARIES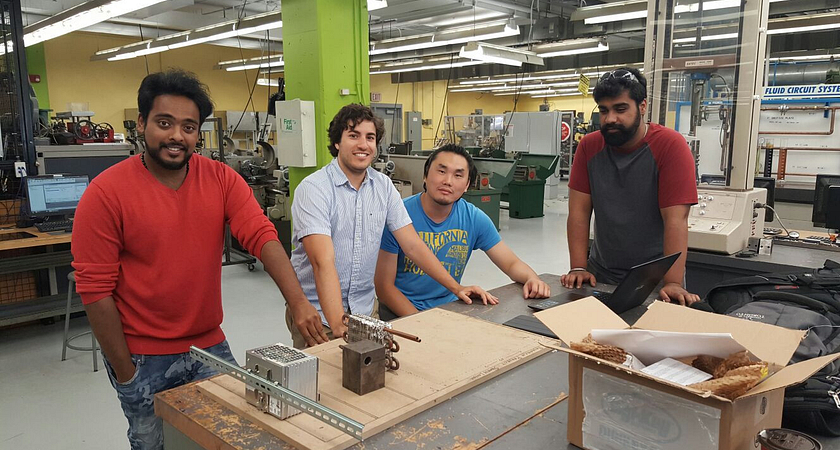 Applied Research, Innovation and Entrepreneurship Services (ARIES) at Centennial College helps business overcome challenges, and supports student-driven research and development projects by helping people with ideas find funding, staff, and resources to make those ideas into a reality. If you're a student with an idea, they can help make it happen. One such student is Daniel Soerensen, who currently has almost finished a Biotechnology program at the college. He's working on an innovative project funded by ARIES called "Designing, building and testing a portable and programmable media solidifier for bench top laboratories," which he himself initiated, based on his experiences in one of the program's co-op positions.
Filling a need
During the Biotechnology program, students gain practical experience outside the school by participating in co-op terms. Daniel held a co-op position at Maxxam Analytics, a food analysis company, which tests food products to ensure they're safe. It's a line of defence against bacteria and disease, and prevents companies from having to make recalls. While working there, Daniel noticed a problem, and devised a solution.
"When you're testing food, you have to wait for the little samples to solidify in a medium, before intubating them," he explains. "I saw there was an issue, because the fastest way to solidify them was just leaving them at room temperature, so I came up with an idea to bring something cold they could use to make things solidify faster. I introduced my idea to a scientific specialist at Maxxam, and he loved it, but said there would be no time to work on it."
"I really just wanted to help efficiency in laboratories," he says. "I came up with this because we were dealing with massive volumes of samples, especially in a large industrial biology laboratory like Maxxam, so efficiency is really important. Samples need to get analyzed that day, so if we can speed up the process in any way, then people can go home early, and results will come faster."
A collaborative project
"After I finished my second co-op term, I decided to apply for the research fund," Daniel says. "It's a $10,000 student research fund, enough money for me to hire students from Centennial College, and put the equipment together."
"I applied (for ARIES) with the help of Dr. Marina Loselevich from Centennial College, my biology instructor and mentor," Daniel explains. "So another colleague and I sent our application, and were successful."
"I wound up hiring four students from three different departments," he says. "One's from HVAC, two are from Mechanical Engineering, and the fourth one is from Biomedical engineering. These four students are working on putting this equipment together."
A secret project
As for the exact nature of the project, we know the problem it's trying to solve, that it's going to help cool and solidify laboratory samples, but as for how it works, Daniel's keeping it under wraps.
"I don't want anyone to take the idea, because it's a design that's very important to have in laboratories," he says. However, we'll know soon.
"Right now, we are in the process of gathering all the different parts for the equipment, then in a few weeks we're going to be putting it together," he says. "We're aiming to present this project at next year's technology fair at Centennial."
"The applied research people really liked it," Daniel says. "It's truly an innovation, because it's something that surprisingly doesn't exist, but it's such a simple idea and concept that it's really not hard to develop."
Practical experience
"Putting the equipment together is pretty hard work," Daniel says admits, "because it does take a lot of components, especially when we're dealing with electrical and cooling components." Still, he enjoys it, and finds the experience he's gaining to be a valuable addition to his Centennial education. He also credits the supportive environment of the school with helping the project succeed.
"It's an environment that really helped me as a student," he says. "Everyone here wants you to be successful, and I really appreciate it. That's my kind of environment."
By Anthony Geremia