Working while you're in school: Five things to consider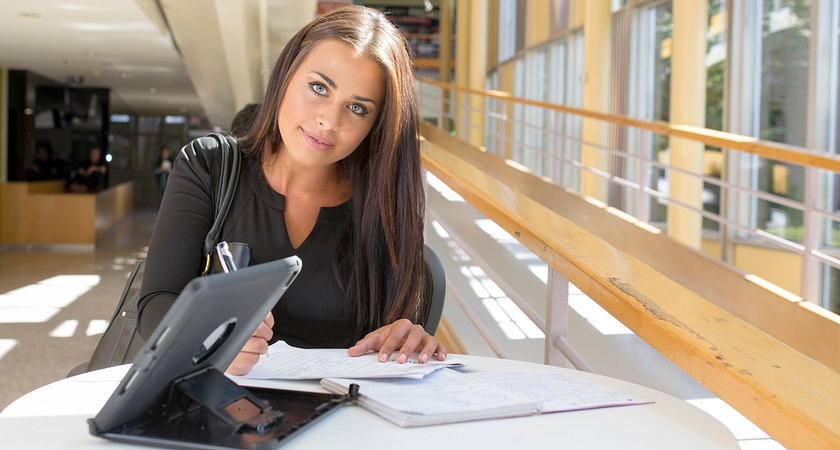 We're less than a month away to the start of our fall semester at Centennial College, and a lot of students will be attending college for the first time, and taking the time to get to know their fellow students. Years ago, when I started my program, and I was meeting everyone, the subject of jobs came up. Not what we wanted to be, but what we were doing now. It turns out, almost everyone in my program who worked part-time had quit their jobs when school started up, because they wanted to focus on their studies. In contrast, I'd decided to keep my retail job, working weekends, and the occasional weekday evening.
Now that you're starting another semester, you might find yourself in the same boat. Maybe you managed to find a part-time job before you came to college, or maybe you're thinking of looking for one. Either way, whether you keep working during school's an important question. There's challenges to holding a job, but there's also good reasons not to quit it. Here's a look at the ups and downs of working while in school. While it is true that holding that job in college will represent a time management challenge, and possibly isn't for everyone, there are benefits to navigating that challenge.
1. You'll have more money
Having more cash is never a bad thing, especially since your money will probably be pretty tight in college. Some students need to earn money while they're in school, and some don't. Even if you have a scholarship, savings or family support, it's still good to have a steady source of cash. Money doesn't buy happiness, but it does help on the days when you forget to bring your lunch, or need some school supplies, or a cup of coffee so you have energy to finish your assignment, or even the cash to go out and socialize with your classmates. Managing your money is important, too, and college is the perfect time to learn financial responsibility with the cash you're earning.
2. But you'll have less time
The reason most of my classmates quit their jobs was time, and there's truth to that. I'd gotten lucky with my job, and was able to get the hours I could realistically work. Not every workplace has flexible or negotiable schedules, and you shouldn't be skipping class to do a shift at your job. If you're working, it means you'll be balancing your school time against your work time, cutting into time to study and do assignments. That doesn't mean you can't make it work, though. You just need to be organized enough to schedule your life, and make sure the shifts you take leave you enough time to get your schoolwork done. This can be a positive thing, though, because…
3. It's valuable life experience
The time management that comes with working in college is actually going to be a useful skill as you get older and enter the workforce. If you can start learning to pull it off now, you'll be stronger for it. Adult life is all about time management. That's not the only skill you can develop by working while in school. A common complaint about the kind of part-time work you do in college is that it isn't relevant to the career you actually want, but that isn't necessarily true. Working retail, or at a restaurant may not seem relevant to writing, art, engineering or medicine, but there's still skills to be transferred. Almost any career is going to involve a bit of front-facing customer service, teamwork, responsibilities and bosses to report to. No matter the job, there's things to be learned and retained.
4. It keeps your career continuous, and keeps you financially stable
Getting part-time work can be a challenge, so don't assume that getting a job is something you can automatically do. Quitting your job, assuming you can return later, or pick another one up exactly when you need it, isn't a good strategy. Sticking with the job you currently have while you get your career started makes for good insurance, and also means you don't have a "resume gap," where you aren't actively employed. It's easier to get the job you want when you're graduating with a solid history of work experience. The modern job market is challenging. At Centennial, we connect you directly to a career through field placements, co-op, and apprenticeships. Despite that, you have to be ready for you career to take time to get moving, and you may have some career downtime straight out of school. If that happens, it's better to have a job to fall back on, even if it's a part-time position while you work on getting your career going.
5. There are jobs at Centennial College, too
One thing you can do to make working in school easier is to work AT school. Whether at the book store, at one of our campus restaurants, in residence, or as a tutor, there's work to be found on the campus, too. myCentennial will post jobs under their "News and Events" section, Career Services has a special HireCentennial job board, as well as career fairs to advertise available positions, and the Centennial College Student Association Incorporated hires students for their job listings. As the fall semester begins, you'll see a wave of hiring taking place, and if you're looking for a job, it's a great place to start.
By Anthony Geremia