Four ways to build a career in Accounting at Centennial College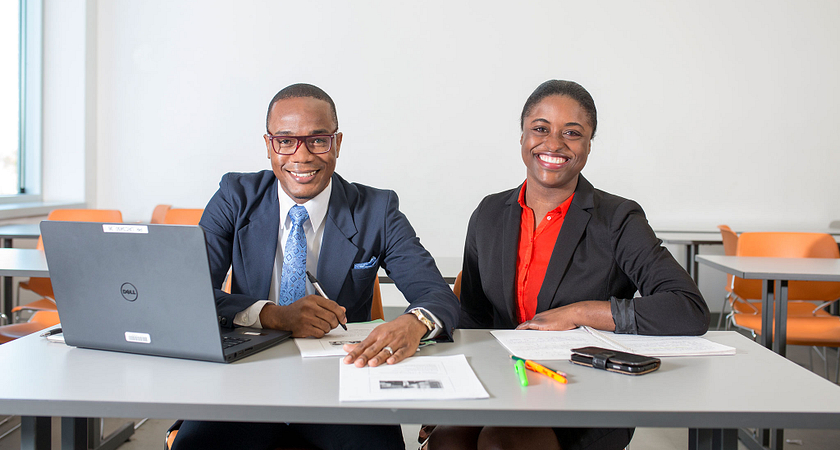 Everyone needs to know how to manage their money, but true in-depth financial knowledge is something a lot of people lack. That's why they turn to accountants to handle their finances. Whether it's tax season, time to get a loan, or time to start a business, accountants help with every large financial change. Becoming one of these experts will put you in heavy demand, and is a surefire way to a successful career. Accounting has been called the language of business, and at Centennial College, we teach you that language. Here's how you can work with us to succeed in the world of accounting.
1. Pick the path that fits you best
Before you even begin, there are multiple pathways offered into accounting by our School of Business, each designed to fit your specific needs. Firstly, there's the two-year postgraduate Business Accounting program, for students who want to learn the raw skills, then get straight out into the job market. The program focuses on employability and how to use the tools of the trade, including accounting software. From there, you can head into the workforce, or put the credits you earned towards getting an additional degree at a partnering school.
For a more in-depth program, there's Business Administration Accounting. It deals with more than just the numbers of accounting by teaching you how to apply them to business. There's also a three-semester Fast-track version if you have previous credits, and a Co-op version, which gives you a chance to get true real-world experience by spending a term at work as a paid employee before you even graduate.
If you complete one of these programs, and you're interested in learning more about the advice and guidance portion of accounting, there's also the Strategic Management – Accounting Specialization graduate certificate program. It teaches you how to become a manager in the accounting world.
2. Earn practical experience
Regardless of the program, you pick, you're picking it at a school that believes in practical experience, not about simply reiterating Powerpoints on a board. Teachers interact with students and give them hands-on experience with tools like accounting software.
In addition, as mentioned above, a number of our accounting programs feature co-op positions, where you get to use these skills in a real-world setting, which you can also use to network your way into a career.
3. Join the Club
Speaking of networking, your fellow students will make excellent contacts. That's why Centennial student Ajithra Theiventhiran founded the Accounting Society of Centennial College (ASCC), bringing students from the college's accounting classes together and linking them to industry professionals. It focuses on the transition from college to the workforce, using meetings, workshops, and presentations by contacts within the industry to educate students and help them forge career connections. If you're a member of an Accounting program at Centennial, joining the ASCC is a must.
4. Get Certified
Move onto bigger and better things! There's a number of professional accounting certifications you can get, depending on where you want to take your career. Centennial's programs can prepare you for them. They include:
Becoming a Chartered Professional Accountant (CPA), the top credit you can receive in the accounting world in Canada. We can help prepare you for the exams. Our Strategic Management – Accounting Specialization, for example, lets you take "Advanced Study" courses for the CPA curriculum, which can help you get exemptions from CPA advanced study courses.
The Advanced Certificate in Accounting (ACAF), an alternative credential, done by Centennial College in partnership with the CPA, designed to get you into the workforce faster. Getting into the CPA can take up to five years, whereas the path for someone looking to get the ACAF credential is two years of classes, then one year of ACAF, and then a job.
Take your business to the international stage with Centennial College's unique partnership with the Association of Chartered Certified Accountants (ACCA) the largest international accountancy designation, recognized in many countries worldwide. The partnership gives graduates of a three-year Advanced Accounting Diploma with several course exemptions towards the academic requirement for the ACCA Designation. The ACCA designation will give Centennial students a solid foundation and head start with their Accounting careers in Canada or abroad.
By Anthony Geremia