Four easy ways to stay healthy in college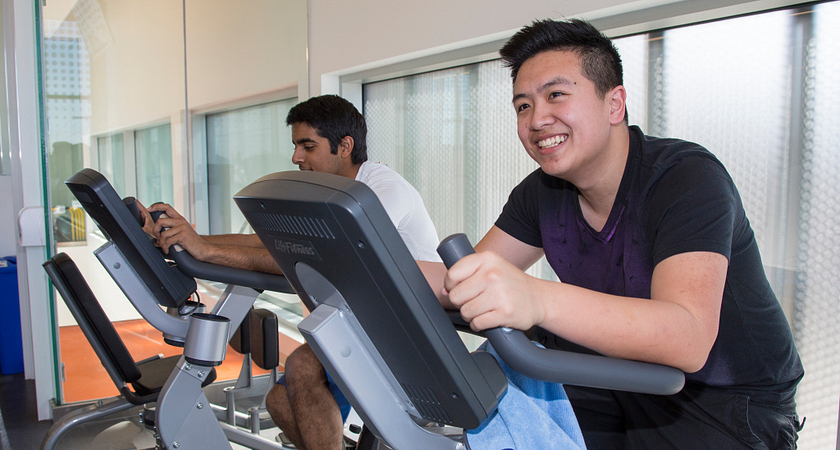 College involves a change in lifestyle, particularly in your first semester. Your schedule becomes irregular, life itself becomes unpredictable, and if you live on campus, it might even be your first time living away from home. It's an unfortunate truth that if you're not careful, your health could start declining because of a lack of exercise and poor eating habits. But it's important that you stay healthy.
It's not about being skinny, or buff, or any other body type. It's about health. Exercise is always good for you. Eating right is always good for you. Doing both will give you more energy, and keep your mind sharp, something you need in order to succeed in college, meaning it's just as important as going to class. It doesn't have to be hard, either. Here are some easy strategies:
1. Get enough sleep!
Bragging about how little sleep you get when you're working on assignments isn't something to be proud of, and it will affect you negatively in the long run. You could suffer from a loss of focus, poor memory, and a general decline in health, all of bad things while you're trying to get educated. If you're attending college, you should be aiming for 7-9 hours of sleep every night, and playing "catch up," won't work, while consistency will. Some other sleep tips: Don't use anything with a screen before bed (it keeps you awake), alcohol doesn't actually help you sleep, and taking a shower and cleaning yourself up will put you in a sleepy mood.
2. Make your own food
When the going gets tough, don't start living on takeout, frozen meals, and cafeteria food. It's better and healthier to cook your own food. Groceries are cheaper than takeout, it's an important life skill, and even something unhealthy is better for you when you make it yourself.
3. Go for a run
It's important to stay a little bit active in college, since you could be spending a lot of time glued to different seats. Luckily, keeping active doesn't have to mean hitting the gym every day, or running a marathon. When I was in college, I found that the simplest thing to do was go for a run. At Centennial College's Progress Campus, for example, you have free access to our Athletic and Wellness Centre, which, aside from a 65,000-square-foot gymnasium, an indoor track, a weight room, and a climbing wall for the adventurous, has a cardio area full of treadmills if you just want to have a quick run. Just 20 or 30 minutes a day (or every other day, let's be realistic), it'll have an effect on your health and wellbeing.
4. Make some friends
Mental health is just as important as physical health, which is why joining a club or organization, or participating in some of our college's activities will benefit you. On top of keeping you happy and healthy, it'll help you academically, by giving you people to study with (teaching others helps you remember the facts, after all). On top of that, no matter the career, social skills are a benefit, whether it's with getting the job, building your network, or just interacting with customers. Knowing how to interact with the people around you is an important element to success.
By Anthony Geremia