What does "Practical Experience" actually mean? Here's four reasons it'll put you on the road to success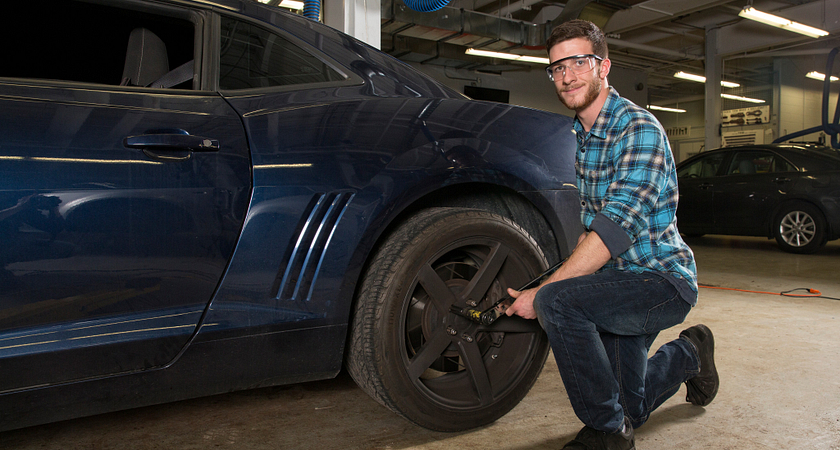 If you're registering for courses and programs at Centennial College, or any college, really, you'll probably read a lot about "practical experience," "real-life learning," "hands-on learning," or something similar. It's something colleges make a big deal out of, and that's because it's not just a buzzword. It means something important to your education and your career, and it's something colleges in particular specialize in. Here's a look at why it's so important to your education and your career, so you can understand why we keep talking about it.
1. Learning by doing is always better
Whatever the job, the theme in college is teaching "how to do." Instead of reading about it, you'll roll up your sleeves and actually do the thing you want to do.
To use a very basic example, when you're getting your driver's licence in Ontario, there's a book you can read that will teach you the rules of the road, what all the street signs mean, and how to best operate a car. You can read that book cover-to-cover, but when it's time to take your test, if you haven't spent any time behind the wheel, you're not going to get your licence. Practical experience happens when you get behind the wheel, be it with a family member, friend, or a driving instructor.
It's one thing to read about it, and another thing to do it. That's what happens at college. We put you behind the wheel. If you're a nurse, you're working in our nursing labs on simulated patients.If you're in automotive or transportation repair, we have cars on-campus you can work on. If you write or make art, you'll be writing or making art in our studios.
2. It means you have something to show employers
It's not just important that you know what to do in your career, it's also important that you can prove to employers that you know what to do. You can say you know the most about a subject, but you'll need some evidence to back that up. That's why a portfolio is important. It's proof of your skills. If you're a writer or artist, then a portfolio consists of what you've written and created while you're at college, the sum total of what you've been doing.
But a portfolio isn't just limited to the creative fields, like writing, design, animation or arts. Any major project you take part in on-campus can be recorded in one, from the car you successfully repaired, to your performance as a nurse in our Mock Disaster event. To use the driving metaphor, it's like driving with a dashcam, or your instructor giving you credentials that you completed their program.
3. You have time logged in your career
Anyone that's spent time job-hunting knows that a lot of professions want you to have a certain amount of years of experience, usually measured in years. Well, since the practical experience you get in college has you actively doing the tasks you need, you can count it towards those years of experience.
For example, if you're in the Journalism program, you're producing content for the East Toronto Observer, or On the Danforth. A year spent in the journalism program working on these is a year of Journalism experience you can put on your resume. Pretty much any hands-on program in college can be adapted into your resume this way.
4. Job inroads
A lot of college programs have co-op and placement opportunities that spin out of that "practical experience" factor, where you travel outside of the school to practice your career in the setting you'll eventually want to be working at. Essentially, you learn those hands-on skills in school, and then move to the real world to practice them. Going back to learning how to drive, it's like leaving a closed course for the highway, and is the last step towards your road to a career.
By Anthony Geremia