Centennial supports Entrepreneurship: Mubin Vaid and TDot Performance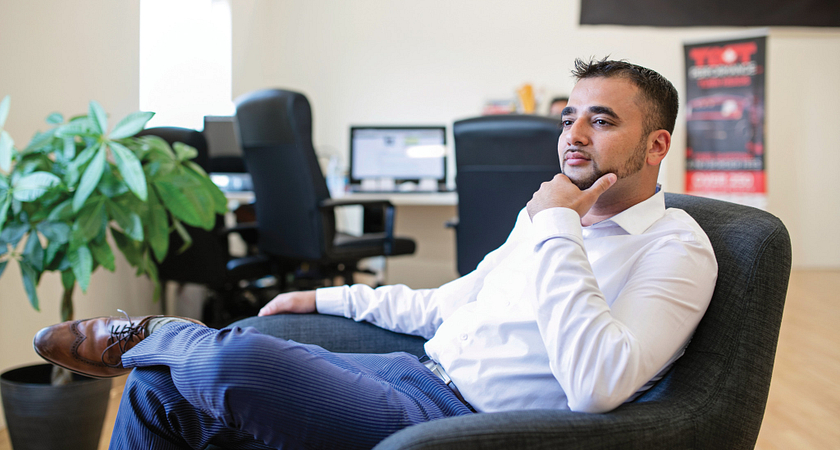 Mubin Vaid is the CEO of TDot Performance, an online retailer of performance auto parts. The company has come a long way from its humble beginnings. In 2013, it was ranked 12th in the Profit Hot 50 list. Mubin himself later appeared on CBC's Dragon's Den, making a successful pitch and receiving a one million dollar offer from dragon Michele Romanow to enhance his company.
Before that, however, he was a student of Centennial College's Business Administration - Marketing program. Here's how he got there, and, as a school that supports entrepreneurship, how we helped him get his business into gear.
A born entrepreneur
"I was always passionate about selling products for a profit," Mubin says about his childhood. "As I grew older, I started to realize that I wanted to try new ideas on my own and take risks which ended up being really beneficial to my success."
"I've always been business-minded," he says. "That's why I decided to take Business Administration - Marketing, as it was related to my field of interest."
"The program was really interesting," Mubin says of his time at Centennial. "We learned about operational management, professional selling and accounting, and even how to advertise goods and services. I was able to apply a lot of this knowledge to my enterprise."
"The professional selling course was really useful," Mubin adds, speaking about what the college helped him most with in his career. "It helped me train employees on how to sell over the phone, for example, always asking customers if there is anything else they want to add to the purchase."
Creating his career
"After graduation, I started working for Future Shop, and I was developing my own business part-time," Mubin says of his post-school career marketing auto parts. "However, working part-time was showing a slow growth. The business started taking off when I went at it full-time with my business partner, Charith Perera."
Since then, TDot Performance has grown and expanded, with Mubin leading the way as the CEO.
"TDot Performance provides Canadians with the highest-quality performance parts, without the headache that comes with ordering from the US," Mubin explains. "Our customers are never charged any customs duties or brokerage fees, as is the case when ordering from the States.
"Although my tasks consistently change, right now, I'm taking care of our pricing strategy along with managing existing staff," Mubin says. "I also take care of interviewing new hires and training staff. In terms of the growth end, I'm taking responsibility in continuously improving our order management system, and improving company processes."
Looking to the future
"More and more retailers are realizing the potential of the online market," Mubin says about the future of his company. "Although competition is still really limited in our industry in Canada, we see more competition from USA making entrance to the Canadian market."
As for anyone looking to follow his own career path?
"A lot of people hesitate in starting their own business, because they fear failure or worry about having to create the business on their own," Mubin says as advice. "Most successful business owners will tell you they could not have accomplished their goals without help. Likewise, I couldn't have created TDot Performance without the help of my business partner and the talent of our staff. It's important to not let other people tell you that your ideas are bad. If it fails, keep trying until you succeed, because every single business existing today started with an idea."
By Anthony Geremia