How to give back to your community: Stephen Linton and Social Service Work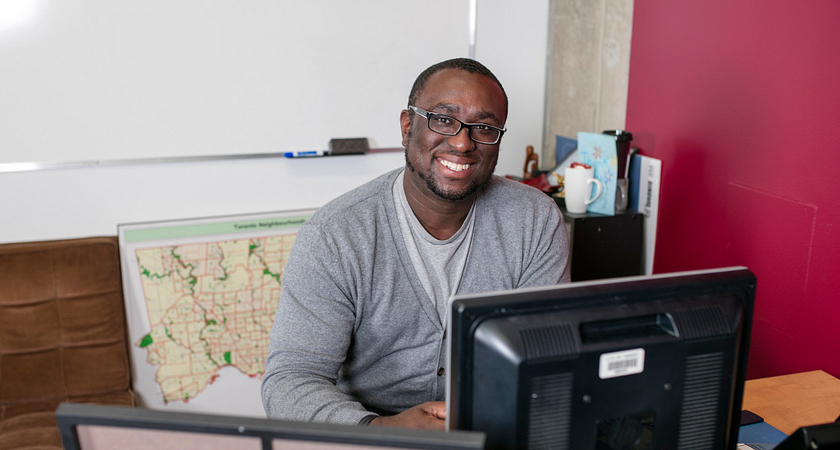 "I was mentored by someone in the community, and they always stressed the importance of education," recalls Stephen Linton, who had grown up in Toronto's Malvern neighbourhood and had direct experience with gang violence. That tutoring would lead him to research post-secondary education options with a career goal of helping his community, and he'd conclude that college was the best route for him to achieve his goal.
"Even my learning style is a lot more hands-on and theoretically-based," he says, which is why he decided to take the plunge at Centennial College, enrolling in our Social Service Worker program and turning it into a career that would take him all the way to his current role with the City of Toronto, where he works as the Supervisor for the Community Crisis Response Unit.
Grassroots knowledge
"The biggest thing about the program was that it made sense of some of the grassroots thoughts and knowledge that I had," Stephen says, discussing what he learned in Social Service Work. "There was a course, for example, called power, privilege and oppression, which really spoke about the system, the hierarchies of power balance and how it affects our community, but also how our communities take that power back, and could be empowered. That was extremely important for me to know and understand, so when we live in a community that is underserved, we can understand the power, privilege and oppression."
"There were some really influential people at Centennial," he adds. "There were some challenges I had, and Anne M. was successful in identifying those challenges and ensuring that I didn't give up."
"What's been the most useful is understanding each level that's involved in a challenge," he says. "Understanding the political level, understanding the bureaucratic level, understanding an organization perspective, but also understanding the grassroots perspective."
A long career
A co-op work placement would be another essential aspect to his education, and it would help give him valuable real-world experience.
"I did my placement with Victim Services of Toronto, and I was able to open my mind and perspective about various organizations and agencies across the city, and their role and mandate," Stephen says. "One of the things I was able to learn was how to hold people accountable, but also how to work in partnership." He would take the knowledge from his placement with him during his varied, productive career.
"I basically went from Centennial to Operation: Springboard, and then from a residential counsellor to a youth employment counsellor," he says, explaining his career path. "From Operation Springboard, I went to Youth Assisting Youth, and from there, I went to the Toronto District School Board, and then I went to the City of Toronto."
Serving Toronto
In his current position in Community Crisis Response Unit at the City of Toronto, Stephen is responsible for responding to violent and traumatic incidents by providing immediate support to community members impacted by violence.
"In my current role, I supervise the Community Crisis Response program that's mandated to respond to violent incidents, mainly shootings, stabbings, swarming and gang-related activity," Stephen explains in more detail. "The way we work is on three main pillars: Crisis Intervention, being able to be responsive to the community when there have been incidents; Crisis Prevention, to look at communities and at how to prevent violent incidents from taking place; and Crisis Preparation, to prepare communities to utilize existing resources and to add resources efficiently within the community.
As for what he finds most rewarding? "Working with communities to bring ideas to life. It really is the grassroots approach. At one point, I didn't feel that the community was listened to enough, that a lot of good ideas were being swept under the rug. But this is actually now coming full circle, where we can have those conversations with community champions, and bring those ideas to fruition."
"Take the time to understand each other, and use it to come to common ground," he says to anyone else looking to follow his path. "Be mindful of your experiences, they are valuable. The challenges I had, others had similar challenges, so be confident in what you bring to the table."
By Anthony Geremia