Follow in the footsteps of Centennial College's Cross-country winners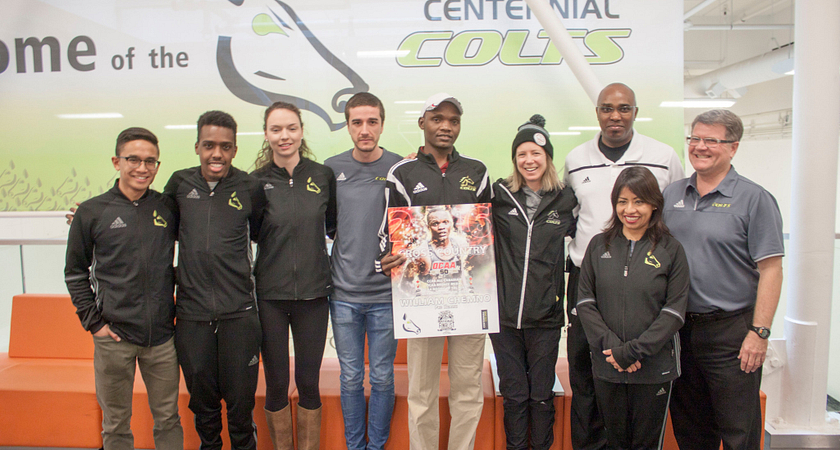 If you're athletically inclined, or just looking to fulfill a New Year's resolution to get more fit, Centennial College's Colts can give you the opportunity to push yourself to your limits. You'll get exercise, you'll have the social experience of joining a team, and as our Cross-country team proves, we'll turn you into a capable champion.
Cross-country runner William Chemno came in second place at the Canadian National Championship finals, beating 120 other competitors from across Canada to take the silver medal, while setting another personal best record. He was also Ontario's Cross-Country Male Rookie of the Year, due to it being his first year competing, on top of additional records that include an OCAA Bronze, being named as a CCAA Cross-Country All Canadian, an OCAA Athlete of the Week, and a Centennial Colt of the Week. The win is also notable because the Cross-country program at Centennial College has only been around for three years, and yet has already produced champions. To celebrate, William was honoured at a ceremony at Ashtonbee Campus.
At the ceremony
"All of these runners took the time to train with us on a regular basis to achieve the goals they set for themselves at the beginning of the season," Kwame Nelson, one of the team's coaches, said to the assembled friends, family, and teammates, "and we continue with that year-in to year-end, so they continue to train with us for indoor and cross-country."
"We're just taking a moment from all of our busy lives to thank the members of the cross-country team, the staff, and to acknowledge the significance of having a national medalist," added Darcy Brioux. "To all the team members, we appreciate their value and their dedication to athletics, and representing Centennial College so well."
"To my class, to my friends, my teammates, and all of the staff at Centennial, I only managed it because of each and every one of you," William said to the assembled crowd, after receiving the special plaque created for him. "In my class, with my classmates, I feel like they're really with me."
Become the next champion
"I've been a runner since I was eight years old," William said after the ceremony. "I was always running to the shops, the stores, anything." He emphasizes the fact that others can (quite literally) follow in his footsteps, and win like he did.
"Running is something you can nurture," he explains to anyone else wanting to join cross-country. "If you like running, you can become a runner. Anybody can do it, it's just training, it's like classwork. If you study, you'll pass your exam."
"Everybody on the team ran personal bests," said John Stevenson, the team's head coach. "William saved it for the last race."
"If you come from high school and you're a track runner or a cross-country runner, then it's an extension of what you've done already," he says, explaining how joining cross-country can do more than just make you fit. "If you're a soccer player, track and field is said best sport for what I call physical literacy, so it helps you. For example, if you want to be a basketball player, you jump, and we do long jump and high jump. So those physical literacy skills, like that jump, can apply to basketball."
For those looking to begin their own athletic journey, the Colts will be looking for new recruits come January, so stay tuned! In the meantime, enjoy this look at the team in action at the Cross Country Provincial Championship. 
By Anthony Geremia