Centennial Gives Back: Syrian children receive holiday care packages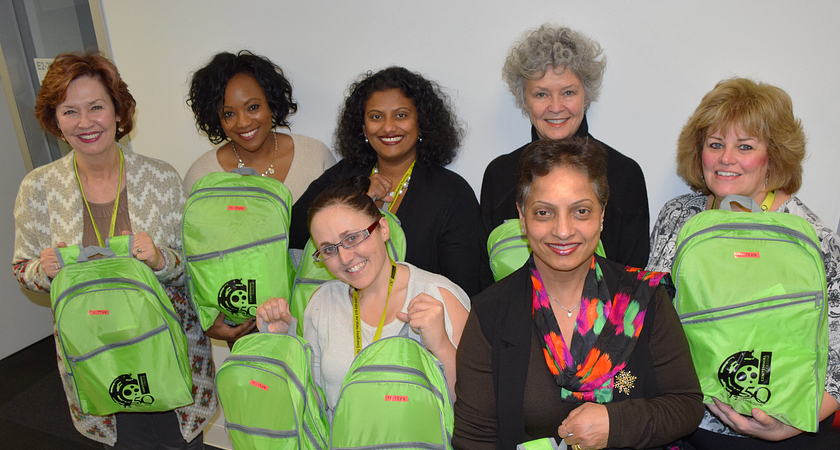 Over the holidays, everyone gets into the spirit of giving. Centennial College is no exception, which is why we have an annual Holiday Drive for a special cause. Arranged by the School of Advancement, this year's drive, in cooperation with Humanity First Canada, saw 50 backpacks full of items for children, including hats, gloves, school supplies, and gift cards donated to the children of Syrian refugees. The donations were made in person on December 11at the Humanity First Food Bank, an emotional moment for everyone involved.
We spoke to Meera Mather, Mark Johnson and Mubashir Khalid who are School of Advancement staff and Holiday Drive Committee members. Mubashir Khalid has been a volunteer with Humanity First for ten years at the national level and made this partnership possible.
Setting it up
Meera Mather, Chair of the School of Advancement, who founded the Holiday Drive committee, also volunteers to oversee the organization of the annual Holiday Drive.
"We started this holiday drive committee six years ago, and both Mark and Mubashir have been in that committee since its inception," Meera says. "Mubashir is also a very active volunteer at Humanity First, with whom we partnered for this particular initiative, to provide assistance to Syrian children." Centennial has partnered with Humanity First twice before, to help out Centennial College students who are in need of food, a program that has continued to this day.
"As a team we meet, usually in the summer, to identify our initiative, and this year we decided we wanted to help children of Syrian refugees," Meera says. "But then we thought about our 50th anniversary, and that's where the whole idea of supporting 50 Syrian families, 50 backpacks, 50 of everything came from."
"Humanity First has sponsored over 200 Syrian refugees since last year," Mubashir says, "and we've been working with various groups that have sponsored them as well."
"Mubashir was the one who was able to coordinate and organize the event, and he was our spokesperson who communicated between the organizations," Meera says.
"It's very useful for us," Mark says about Humanity First's organizational efforts. "It provides an infrastructure and contact to communities that would be difficult for us to access otherwise, and so we can get our work out there much faster."
Fundraising
"Primarily, we fundraise through raffle tickets, and we had fabulous prizes from fantastic, generous donors," Meera says. "That's how we were able to purchase things and support the communities we support."
Appropriately, the committee had about 50 prizes this year, including an iPad Mini, a television, a bicycle, a Keurig coffee maker, a mini fridge, a Samsung tablet, and a number of gift cards, both for external places and college services, like our SASS Spa and The Local Cafe and Restaurant.
"Since we started this drive six years ago, it's become more widely known throughout the college, and more people are participating and investing in it," Mark says.
The results
The end result of the fundraising was the backpacks provided to Syrian children.
"Each backpack included school supplies, school books, winter gear, hats, mitts, socks, those sorts of things," Meera says. "In addition to that, we were fortunate to be able to give a gift card for Wal-Mart to the children, so they could buy themselves a toy or whatever they like."
"Humanity First has been telling us the needs of the Syrian families which helped us identify the contents of the backpacks," Meera adds. Many of the donations were donated by individuals who were internal and external to the college," Mark states.
And the best part of the process was: "What happened on Sunday. The Giving!" Meera says. "It was fabulous to see the families and the children, and we're thankful to Mubashir for giving us this opportunity." It wasn't an opportunity that we were expecting to have.
Why do we do it?
"The success of this drive is largely due to the strong support of our College employees. We could not have done this on our own," Mark says.
Mubashir concludes, "It all comes down to one thing, and that's the Canadian way of doing things, giving back to the community, and sharing what you have with those who are less fortunate."
By Anthony Geremia