Experience Toronto in the winter: Things to do on your break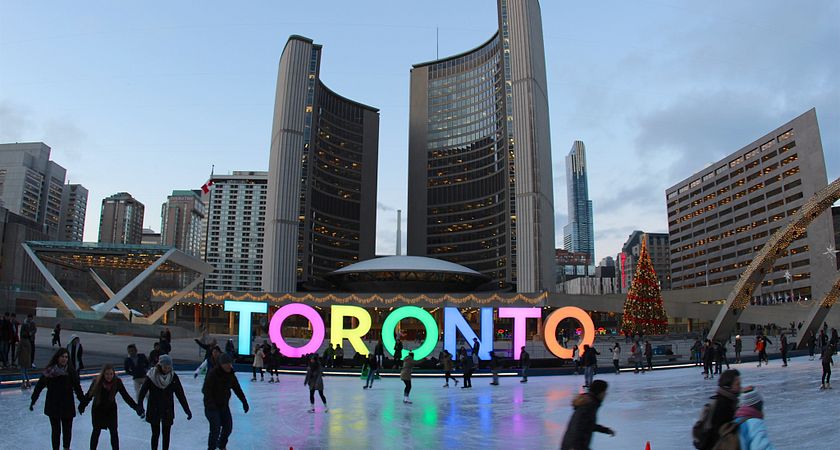 Well, school's almost out for the winter. Have you thought about what you're going to be doing during the downtime? Certainly, kicking back and relaxing is important, but Centennial College is located on the outskirts of Toronto, a bustling, multicultural city. As a student at our college, there's a good chance you're not from the area. If so, it's the perfect time to explore the city, as long as you're willing to brave the cold, and snow. It's worth the experience to understand and see the place you're living in, particularly if you bring some classmates and friends. It's easy to get around Toronto; three dollars gets you a lift on TTC busses and subways, letting you hop on the line and explore the city. There's a lot to see in Toronto, but here are a few ideas, especially for newcomers.
See Some of Toronto's tourist attractions
Most of these Toronto sights are open all year, but since you have some time off, you can actually go and see them. Obviously, the biggest thing to visit in Toronto would be the CN Tower, if only to get a unique view of the city, and literally experience life on the edge. A short distance away from that is Ripley's Aquarium. If you're into the ocean and marine life, it's a really unique experience, including a tunnel inside a giant aquarium as its central attraction. Aside from that, if you're in the mood to learn things, you can visit the Royal Ontario Museum, which is even having a special New Years' event, if you need something to do that night. Similarly, you can visit the Ontario Science Centre, not just for the science, but for the beautiful films you can watch in its special immersive theatre, the Imax Dome. Speaking of movies, you can see a show at the TIFF Bell Lightbox, which continues to screen movies when the Toronto International Film Festival isn't on. Here's what's on in the coming months. Finally, if you want to learn about Canada's best-known sport, be sure to visit the Hockey Hall of Fame.
Hit the Ice
Speaking of hockey, what could be more Canadian than hitting the ice and going for a skate? Here's a list of rinks that are open throughout the GTA, but there are two special ones worth mentioning. Right in the middle of Toronto, you can find a rink in Nathan Phillips Square, in front of City Hall, featuring a free open skate from 9 AM to 10 PM, with skates available for rent, if you don't have your own.
There's also winter skating at the Harbourfront Centre, including special Saturday-only DJ Skate Nights, featuring music. You can rent skates at $8 a pair if you don't have any, too!
Get some Food and Drink
Ever heard of Winterlicious? This food festival runs from January 27 to February 9, and lets you experience the finest dining in Toronto for a price you can actually afford. Top restaurants in Toronto offer tickets for fine meals at cheap rates, giving a sampling of everything they offer. Check it out, particularly if you're a student in one of our Culinary Arts programs.
Looking for something that's happening a bit sooner? Experience culture through food at one of Toronto's farmer's markets. Delicious, fresh food that's healthy and affordable means you can stock your fridge up before school starts again. Here's a list of what's open during the winter. I recommend the St. Lawrence Market myself, located just near the King Station subway stop. It was chosen by National Geographic as the world's best food market!
More to discover
Toronto's a city of variety, and there's more to do than just what we talked about here. Here's yet another list of winter activities, but really, the best thing is for you to come down and discover the city yourself.
By Anthony Geremia