The most common New Year's Resolutions, and how we can help with them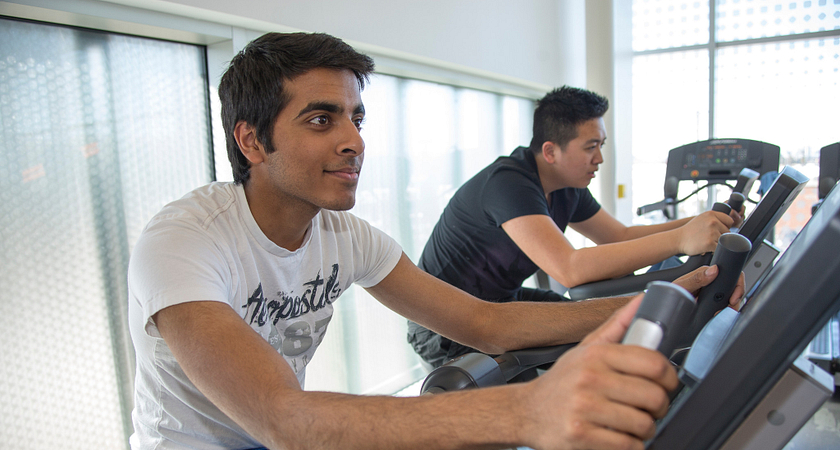 Well, 2016 is almost over, and most of us are looking for a fresh start. Have you made a resolution for the new year yet? If you have, there's a good chance Centennial can help you out, either by offering services to assist you or by giving you the chance to study something related to your resolution. Nielsen measured the most common New Year's resolutions, which you can read here, and based on those, here's how the college can help you out with whatever you decide to improve.
Learn something new, or get a new hobby
This is the easiest one to fulfill. What better way to learn something new than to come to college? Not only will you expand your mind, but you'll also get useful, practical skills.
Stay fit and healthy
If you're at Centennial College's Progress campus, you have free membership to our Athletic and Wellness Centre, perfect for keeping in shape. It features a 65,000 square foot gymnasium, an indoor track, a weight room and a climbing wall for the adventurous, or a cardio area full of treadmills if you just want to have a quick run. And if you've never used a gym in your life, it also features personal trainers who can show you the way and help you develop a fitness plan. Luckily, you don't have to come to Progress to use a gym, as we have workout facilities at Morningside Campus and the Story Arts Centre, also free for students to use.
Lose weight
Aside from working out, what you eat is also important, particularly for losing weight. That's why the CCSAI lets you sign up for Good Food Boxes, delivering you cheap, fresh, locally-sourced food to heel you healthy. Meanwhile, if you want to study the subject and turn it into a career, you can take part in our Nutrition and Food Service Management program, where you learn nutrition, and use it to fulfil a social good. There's a growing need for professionals who know nutrition to help hospitals, homes, and healthcare organizations meet the needs of their clients. Someone needs to make sure everyone's fed properly, and this two-year program is the longest-established of its type in the Greater Toronto Area.
Enjoy life to the fullest
If you're a student, you can make this happen by taking part in campus life, going to events or joining clubs to meet people, and have new experiences. Here's a list of clubs from the CCSAI, and here's our event calendar to keep track of upcoming things you can go to. Meanwhile, if you'd like to learn how to help other people live life to the fullest, you can take part in our Recreation and Leisure Services program, one of Centennial College's longest-running offerings. There will always be a need for people to organize, plan and run our leisure time, and that's what you'll learn, letting you earn a rewarding career making people happy and active.
Spend less, save more
Centennial College's student financial services can help you manage your money, with services to help you plan and budget your finances at college. In fact, since managing money is an essential, complex skill, you might want to learn about it, and become an accountant. After all, you'll be the one everyone turns to when it's tax season, when a loan is needed, when you're investing, starting a business, or anything else that's financial and complicated. Accounting has been called the language of business, and in Centennial College's accounting programs, you'll learn that language, with multiple ways to get into the profession. There's the two-year Business Accounting program, for students who want to learn the raw skills, then get straight out into the job market. For something a bit lengthier and more in-depth, you may want to give Business Administration – Accounting a shot. It's three years long and deals with more than just the numerical aspect of accounting. Finally, if you complete one of these programs, and you're interested in learning more about the advice and guidance portion of accounting, there's Strategic Management – Accounting, a grad certificate program where you gain a deeper knowledge of managerial leadership, and the procedures that go with it.
There are more resolutions than just these, and more solutions we can offer, so be sure to check back on the 30th!
By Anthony Geremia