The Mass Casualty Exercise: Behind the Scenes of a (simulated) Disaster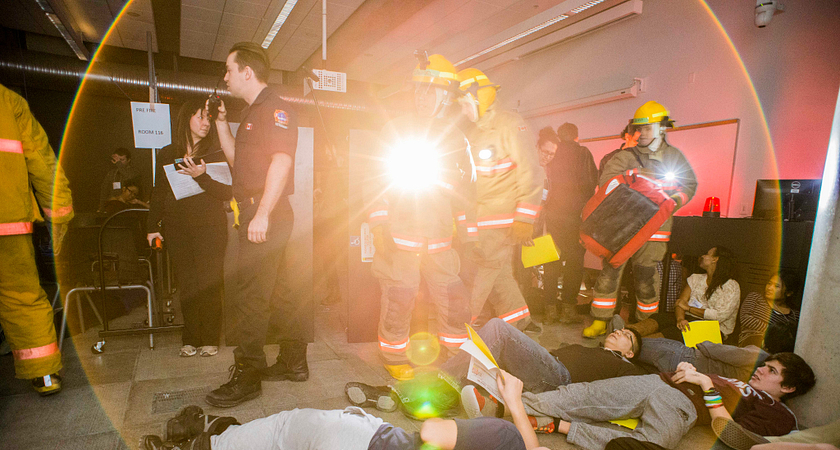 Once a year at Centennial College's Morningside Campus, a special event occurs that gives students from the School of Community and Health Studies a chance to test their skills in a realistic setting: an emergency exercise, which is a simulated disaster and, in this case includes a Mass Casualty Incident (MCI). The details change from year to year, but the idea is the same: A simulation of a major, disastrous event takes place, and students from Centennial College's Nursing, Pharmacy Technician, Paramedic, Firefighter, Police, Social Services, Developmental Services and Personal Support Worker programs have to use the skills they've practiced as they would in a real emergency.
The event was made possible by the support of the School of Community and Health Studies staff and faculty, the dedication of the school's lab staff, long hours of effort put in by many hands over the two weeks leading up to the event, and all the student volunteers who worked to make it the best professional experience possible.
This year, the theme was to be a subway crash. Teams of students played "victims," and donned moulage (simulated injuries) in the schools' Esthetics labs, spending an hour to get realistic burns, cuts, and even broken bones.
"There's so many more of us than last year," one student said. "There were maybe 20 at the most." In fact, more than 100 patients were sent to the hospital throughout the day, making it the largest simulation of its type in North America.
At 10:00 in the morning, an air horn sounded. It was time to start the disaster.
The Crash
Centennial's Morningside Campus was transformed into a part of a community complete with hospital, police, fire and EMS stations, pharmacy and a recreation centre. The day began with each student working a normal day at their job, be it the hospital, fire station or pharmacy. But then, a 911 call came in: There had been a subway crash.
A room on Morningside Campus's first floor had been converted into the crash scene, a mangled subway car being created with walled panels. The victims screamed, hollered and yelled with distressing realism.
The entire event was managed and overseen through a simulated 911 dispatch centre and municipal emergency operations centre. Police, fire and paramedic teams rolled in, communicating with radios, using the proper terminology to identify 62 victims in total, as the emergency teams arrived to move victims, assess injuries, offer comfort, treat what they could on-site, and bring them up to triage. As part of the scenario, the Fire teams even did a rope-rescue, transferring patients on stretchers upstairs to the Nursing labs.
At the nursing lab, patients suffered from every imaginable injury, internal and external, and the medical students had to treat them. Students from the Social Services, Developmental Services and Personal Support Worker programs worked with the victims and their families as well, trying to help them process the trauma.
Things get worse
Adding another wrinkle into the proceedings, the pharmacy was "robbed," and medication stolen, forcing the Pharmacy students to deal with that situation while they provided patients with medication. But that paled in comparison to the final challenge.
In two classrooms several floors up, there was a simulated mass shooting, bringing in a new wave of injured victims, and even a downed police officer. Police, Paramedics, Fire and Nursing students now had to deal with a second set of victims, to test how well they dealt with multiple crises. In a final bit of experiential learning, the overflow of patients meant that some had to be transferred to a field hospital, set up in the campus parking lot by EMAT. Administrators from several regional hospitals were on hand to witness the entire simulation and make notes for their own emergency plans.
Experiential learning
The Mass Casualty Exercise was a challenging, complicated event, that made use of all of Morningside Campus's laboratories, and pushed students to their limits in real-life scenarios identical to their eventual careers. It's messy, loud, and challenging, and one of the best ways for students to use what they've learned in a real-world setting.
By Anthony Geremia