Three ways modern Graphic Design has changed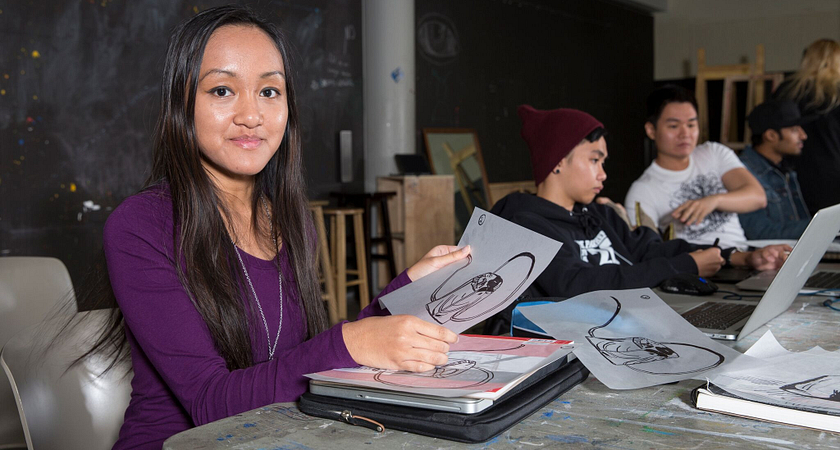 We live in a world where visuals are important. Ever since print media existed, demand that it look slick and eye-catching has put talented graphic designers in demand. As the world moved into web publishing, graphic designers went with them. The industry is now tied to technology, and as technology advances, the field of graphic design changes along with it. At Centennial College's Graphic Design Program, we teach students the skills associated with the field, and we're aware of how much the career changes and advances from year to year, updating the program as necessary.
"We've made a lot of significant changes, so it feels very new," says Derek Lea, program coordinator. "We changed it from a two year to a three year, and rebuilt the curriculum."
"It's important to enlighten people that graphic design is a lot different from what it used to be," he continues. "What makes us unique is how our curriculum has developed to meet the changing needs of the industry." Here's how it's changed, and how the College has altered its programming to stay ahead of the curve.
1. It's all about mobile development
As smartphones have become more and more commonplace, every bit of media with an online presence now needs to keep them in mind, and in many cases, think of them first.
"In the last seven, eight years, if you're not designing for the platform that everyone looks at first, which is mobile, then you're designing for the past," Derek says. "When people make a website, we teach them how to make it responsive, because that website's going to be viewed on tablets and mobile."
"We have an emphasis on interactive design, because that's where the jobs are for young people," he continues. "Many colleges teach theory for design, but interactivity seems to be an afterthought. We're teaching interactivity all throughout the theoretical level. Traditionally, you'd have print design for magazines and books, but we're teaching people how to adapt those to work on tablets."
2. Being a diverse creator is important
The field of graphic design itself has diversified, and a successful modern graphic designer now has to master a broad range of related skills, something the college incorporates into its programs.
"Designers nowadays wear a lot of hats," Derek says. "We still teach you everything you need to know about print, software, theory and things like that, but there's emphasis on interactivity and what people are looking at."
In addition to the technology, Graphic Design students also learn creative art skills, so they can produce their own original content.
"We also teach a bit of illustration and photography," Derek says, "so students can be content creators as well. Students can even come in and design their own typefaces in the third year."
3. Networking is essential
Like many other current careers, who you know can be just as important as the skills you have when it comes to breaking into the Graphic Design field. Fortunately, Centennial's program offers numerous ways to expand your professional network.
"We have a robust alumni network," Derek says, "and we have a very personal vibe, with small class sizes, so it's easy to generate friendships with your classmates."
"We also teach business, in addition to design and creative skills," he says. "You need to know how to conduct yourself in an interview, network, all of those things, so there's a lot of business communications development in the program, learned to apply for a job, or start their own business, or even freelance. It's a flexible career model."
"We are affiliated with the Ontario Registered Graphic Design Organization," he adds. "All our students become student members at no extra cost to them, and what that does is connect them to the industry right off the bat."
On top of those connections, students also have a two-month field placement as part of the program. "They spend two months working on a job getting course credit for it, and we're seeing more and more students getting hired from the relationships."
The field of Graphic Design continues to advance. Mobile development is more important than ever, you need a diverse skill set, and being able to create a professional network is key to getting employed. Centennial's program advances to keep up with the times, and will continue advancing as the field changes.