Cooking for a Cause: Culinary Arts students make Soup for Syria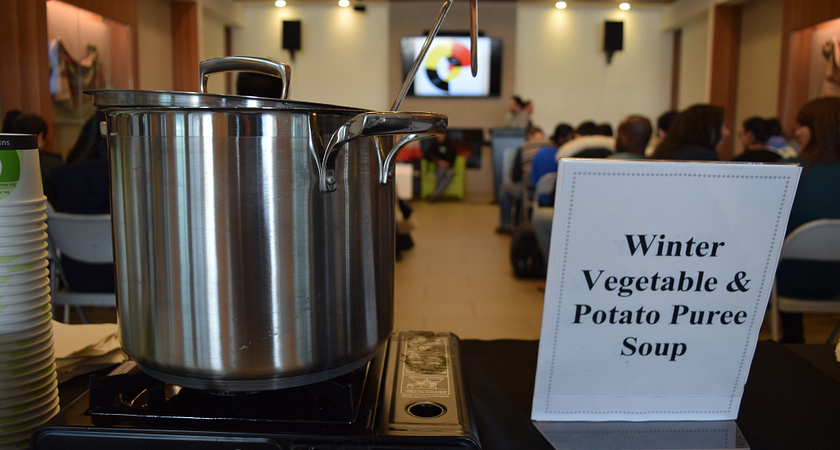 We've reached the end of Displaced Persons Awareness week at Centennial College. Inspired by Syria, the week contained a series of projects around our campuses designed to raise awareness of the plight of Displaced Persons in Canada, and provide students with resources to begin helping out.
Students were an essential part of the week, both as behind-the-scenes volunteers and as participants. These events also provided room for students to learn about their careers while working in a real-life setting, sometimes in unique ways. Centennial College's School of Hospitality, Tourism and Culinary Arts features culinary programs taught by professional chefs, and get students on their feet in our restaurant and kitchen labs. But there's always room for further real life experience. Yesterday, Hospitality students Rija (Helen) Huang and Kshitij Patel got the chance to practice their skills outside of the classroom as part of the Soup 4 Syria & Conversations for Social Change Panel.
Food for thought
The main purpose of the panel was to listen to the thoughts and experiences of a group of experts in Displaced Persons, as they discussed the role of Canada and Canadians in addressing issues of global displacement. During the event, participants were invited to taste a pair of soups prepared from traditional Syrian recipes, prepared by Culinary Arts students and served by Hospitality students.
Chef James Smith worked with the college's Global Citizenship department to make it possible. "Food brings everybody together, and food can help give somebody who doesn't have a lot some kind of sustenance," he says. "We thought it would be a great way to get students involved."
"The culinary students worked with Chef Rob Rainford and myself to put together this Syrian recipe," James explains. "We went through the process of preparing and making it, and then we got up to this point, where we worked with Helen and Patel. We taught them how to set up a design and layout, and I'm leaving them to take responsibility for it. I'm just here to mentor it, and now I'm going to let them do their thing, and put them into a challenging role."
Skills for life
The main purpose of Soup 4 Syria was to give students a taste of Syrian culture while they listened to the speakers, but giving the participating students real-life experience served as an additional benefit.
"The soups were all made by our students in our Culinary program," James explains, "and are being served by students in our Hospitality program, so we're supporting our community, supporting our college, and supporting people in need, but also giving them experiential learning opportunities. It's a moral thing we like to put out to our students, saying we support this, and so should you, but this is also a learning opportunity, a chance to reinforce their skills on what they do, which is hospitality."
By Anthony Geremia