How to balance school and a career with Flexible Practical Nursing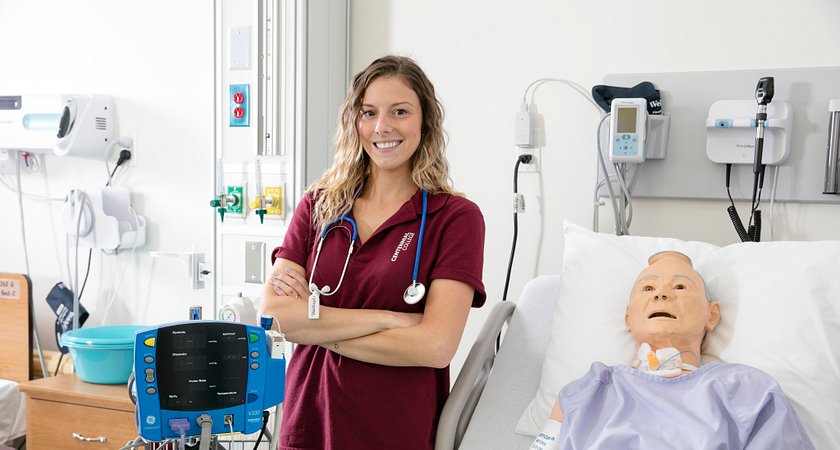 Today's college students come from a variety of backgrounds, and many may find themselves strapped for time when it comes to their education. Students hold down jobs, have family to support, or simply have other responsibilities which can become barriers to education. At Centennial College, students looking to become nurses can get their education without having to give up their jobs and other responsibilities thanks to the flexible version of our Practical Nursing program. It's designed to help students that are handling life responsibilities like jobs and family. It takes place over six semesters, with a reduced weekly schedule, giving you more time to manage the rest of your life.
Angele Bayouk was one such student who'd been in the workforce for a long time, and wanted to become a nurse without giving her job up. The flexible program would connect her to a nursing career, and even motivate her to give back to the college as a teacher in her down time.
Combining work and school
"I wanted to help people, so I figured nursing would be the right path to take to try and make a difference," Angele says." I really liked the science of it as well." This would lead her to Centennial College's practical nursing program, which she took because of the flex option.
"I'd been working since I was 15," she explains. "I'd taken a year off to work after high school. I was so used to working that it became something I had to do to pay my phone bill, and to just have spending money. Flex allowed me to go to school and work at the same time."
Balancing work and school was challenging, but ultimately worthwhile. "It was difficult, but much easier than if I'd taken full time," she adds.
"If you have a family, if you have other responsibilities, if you work part-time and you need to work for any reason, and you still need to do nursing, Flex Nursing is a perfect way to go about it," she says. "It takes the same amount of time. You go through the summer, and it's actually better because it's a continual education, you don't go through a three-month gap where you forget things. It continues, so your knowledge is always being refreshed."
Career Connection
The practical experience and placement opportunities available in the Flex Nursing program would eventually connect Angele to a career.
"In my third semester, I was placed at North York General Hospital," she says. "I am now working there. I've been there for three years now, and full-time for the last year. I've gained great knowledge from the courses I've taken, my clinical has allowed me to get my job that I'm in now, and I've met great people along the way."
Giving Back
Eventually, Angele would be motivated to return to Centennial College, and pass her experience onto the next generation of flex students. "We had clinical instructors coming onto my floor that I work at in North York General, and I've always kind of wanted to teach," she explains. "A couple of the instructors, after helping students by being their "buddy nurse" for a day or a week, asked me if I'd be interested in teaching."
She now teaches clinical and lab courses in the second semester of the flex program. "I teach them the skills related to their knowledge gained from other courses and show them how to apply those skills on actual clients," she says. "We're actually at a placement, Providence Healthcare, and we work with patients, so this is their first hands-on experience. I have to walk them through the steps of doing head-to-toe assessments, doing vital signs, assuring that they're doing them correctly."
Angele Bayouk was looking to become a nurse without giving up her job, and Centennial's Flex Nursing program provided for her. She advises anyone in a similar situation to her to take the program, but warns that it has the same challenging education as Centennial's standard Practical Nursing program.
"Just because it's flex, doesn't mean it's easier," she says. "It's just divided differently."
By Anthony Geremia