Making the Video: Behind the scenes at Children's Media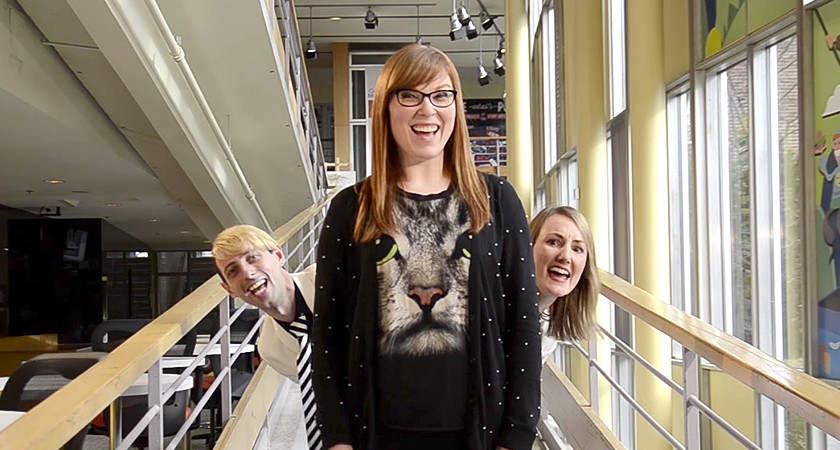 Centennial College's programs provide their students with opportunities to practice what they've learned in a real setting, and create content they can use to show off those skills. And sometimes, students get to have fun with that.
Children's Media is a truly unique postgraduate program that teaches students to become creators and producers for the shows, books, and other media that will guide the next generation of children. Students will produce real media during their three semesters in the program, including this promotional video created by students Catherine Francis, Scott McGuirk and Stephanie West. It takes the over-the-top tone of modern children's media, and applies it to promoting the program.
Why children's media?
Each of the three makers of the video came to the Children's Media program for very different reasons.
"I was interested because there were so many areas of the industry to learn about," Catherine says. "Beyond television, you also get a sense of what digital media is, and how book publishing works."
"I was actually working on a live stage show for kids," Stephanie says, "and that's when I discovered I really loved making content for kids, and I was interested in working in a different medium."
"I have a business school background," Scott says. "However, I was teaching kindergarten kids in Korea for about five years, and I really liked it, but I didn't have a lot of job security there. So I came back, and I realized I still really like working with kids, but I didn't want to do the classroom thing anymore. In an existential moment, I decided to Google this stuff, and I found this program."
Making the video
The final video was created as an assignment for their Television Production class. The three of them would learn television production, lighting, camera and green screen work one day, and go behind the camera for green-screen and editing work the next day.
"Here are your basics, go have fun," Scott says of the mantra behind the project.
"This was our first assignment in this class," Catherine says, agreeing. "We got introductions on how to use the camera, how to use the software, and for our first assignment, it was a really steep learning curve."
"A big thing we really wanted to highlight was a tongue-in-cheek atmosphere for the video," Scott says. "It demonstrates that there's lots of strength behind the programs, but the video is so light because we wanted people to know the programs are also very fun."
Challenges and skills
"For the pre-production, we had lots of grand ideas, and none of us had ever met before, or done anything like this, so it was very new to us, and it was interesting coming up with these ideas, and doing the storyboarding," Scott says. "Being able to adapt on the spot and changing things was really key to success in the video."
"There's that process of capturing what you think is usable material," he continues, "but then you put it on the computer, try to fit it into the story, and it's just not working. That's why we needed adaptability. The collaborative safe space we were in allowed us to say when things weren't working, and have a good dialogue with our colleagues."
"We all share the same flexibility and sense of humour, and we're all hard-working students," Stephanie says. "When we thought something wasn't going to work, we'd adapt the idea, or try something else. We pushed ourselves to make it work and we're really proud of the final piece."
"A huge reason as to why our video turned out the way it was is that we had the opportunity to work with a student from the music program, Ben Vandergaast, and he actually brought his own mike and gear into the school, and recorded us singing the song," Scott adds. "Without him, the audio would not have been what it was, and truly without the audio the video would not have been as appealing."
Looking to the future
Each of the trio has a different path they plan to take in the future, though they all involve Children's Media. Catherine wants to learn more about digital media, Stephanie is looking to get into story development, while Scott wants to become a producer. Thanks to Centennial three of their careers are off to a great start already, with a strong portfolio piece they can show off.
By Anthony Geremia