Four ways to get the most out of a College Open House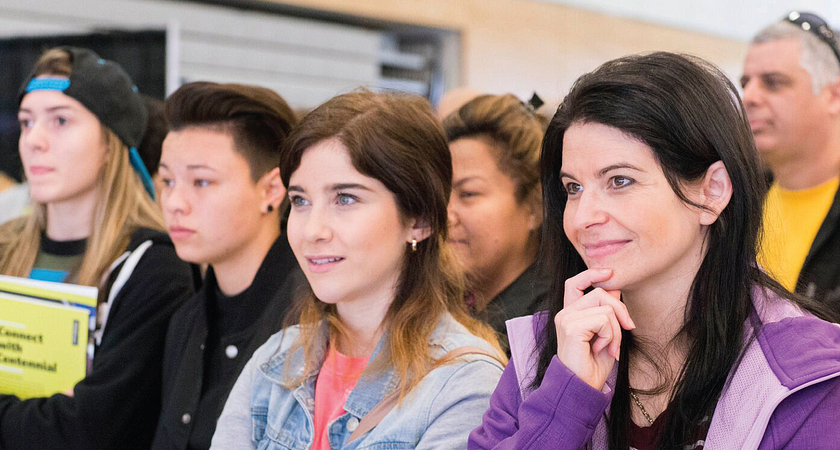 Still trying to choose your college? You've probably been doing your research online, or with a guidance councillor's help. Being informed is great, but there's more you need to be aware of than just what you see online. That's why colleges hold open houses, so you can get a preview of the place you'll be getting your education. Centennial College's open house is called Connect With Centennial, and it happens on Sunday, March 6, across all of our campuses. Here's what you can learn by going, and how to make sure you learn it.
1. Get a feel for the location
Where you're taking a program is just as important as what program you're taking. You're going to be spending a lot of time on the campus of the school you go to, so it's important that it suits you.  You'll want to know about the facilities (do they have a gym? How good is their library?), the campus culture (how's the student association? Do they have any special events?) and even the neighbourhood that the campus is in (is there anywhere good to go for lunch?). You'll also want to know about the people, both students and instructors, that you'll be surrounded by, too. If you like everything, the program will go a lot easier.
Some additional ideas for attending open houses are to arrive early or even depart from the tour to do some exploring. Find some students to chat with, and find some hidden spaces on campus, so you can really feel what the environment is like. Even have a look around the neighbourhood before you go home.
2. Learn about both the campus and the specific program.
Aside from the culture and locale, there's something a bit more practical you'll want to look into while you're on campus: The services available to you as a student, especially if they're already being covered by your tuition. This includes the athletics facility, the spa, the library, and even stranger things like legal advice and clothing stores. Many of these services don't get used a lot, so orientation is the best time to find them.
Meanwhile, time will be given during the open house to meet up with students and staff from your specific program. When this happens, you'll get to see who could be teaching you, and who you could be learning with.
3. Take the time to ask some questions
You're at an open house to compare and contrast colleges, and make sure you pick the correct one. It's our job to impress you, but you need to make sure you're asking the right questions. Here's another list from About.com about what to ask. It includes:
To your potential teachers, ask them:
What's the typical class size?
If my grades are slipping, what type of academic support is offered?
How available will you be outside the class?
What's the most difficult thing about the program?
How will you be handling internships and placements?
To any students you find, ask:
Do you live on residence, or do you commute to school?
If you commute to school, how busy is it?
If you live on residence, what did you do for fun last weekend, and how often do you go home?
Why did you pick this school?
What do you know now that you wish you knew when you started?
What was the most difficult thing to get used to here?
Where do you study?
4. Get some free stuff!
Another great thing about open houses is that there's plenty of free stuff, and the chance to win greater things. I personally won an iPod from an open house one year. At the very least, there's going to be free branded swag you can use. There's even a chance to win $2,000 off your tuition, one of the best prizes a student can win, giving you an even better reason to go.
Connect with Centennial starts this weekend. If you're still trying to decide which school you're going to, or you just want to learn more about our campus, come visit us and learn more.
By Anthony Geremia