Automation and Robotics: Gena Slabodnik makes things work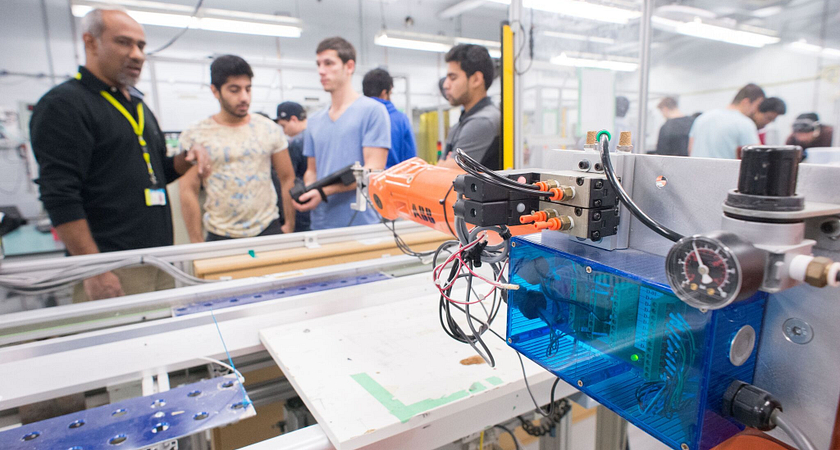 If you love to tinker with technology and are fascinated with how machines work, then Automation and Robotics at Centennial College can give you a career that satisfies those needs. You'll get hands-on experience in the world of technology, learning about how to build, manage and maintain automatic systems. And for your career? You can end up employed in industries as diverse as the automotive world, food, pharmaceuticals, packaging, aircraft and communications. The important part of the program is how portable your skills will be, since automation is used in virtually every modern industry.
An international student, Gena Slabodnik came from Israel, immigrating to Canada roughly a decade ago. His love for the inner workings of technology would lead him to take Automation and Robotics to enhance his already-moving career, leading him to further success.
Coming to Canada
As we get over Canada's current cold front, it's easy to forget that some people enjoy that sort of weather.
"It was too hot over there," Gena says of his former home in Israel. "Before that, I lived most of my life in Siberia, so I like cold weather, I don't like the sun too much. It was the main reason I moved here."
"I studied college over there, and then I went to the army for three and a half years," Gena continues. "I worked in the field in the army, so it was more troubleshooting. I then came to Canada, and my first job was machine and electrical assembly." A few jobs later, he'd work in equipment assembly for metal fabrication machines, but desired to get into work as an electrician.
"I needed to upgrade and get a Canadian licence," he said. "My uncle, who was an electrician, recommended Centennial to me, because he went to this college, did this program, and said they gave you really good basics, and you should check it out."
Starting from Scratch
"What's good about the program is they start from the basics," Gena says about Automation and Robotics. "Totally zero if you had no idea about it before. If you want to learn, the program will give you a lot."
"We have half theory, half lab, so it's more hands-on," he continues. "That's one of the main reasons I didn't go to a university. I got accepted to one, but only theory doesn't work. I needed the hands-on, that's why I chose this program."
Career Connections
Not only would Automation and Robotics connect Gena to a career, but he'd manage to start his career while still in school.
"During my studying, I was always doing random jobs to stay afloat," he says. "But I kept in contact with people I'd worked for before I went to school. So January of semester six, I contacted those people again, and said I'm looking for a job, I'm going to graduate, I can work part-time."
"I worked part-time during that semester," he says. "So, full-time in college, 20 hours at work. It was a crazy time, with lots of nights and weekends of study, but as soon as I graduated, they gave me a full time job, and I'm still working at the same company."
Gena now works at Summer Fresh Salads, as a Maintenance Supervising Manager, upgrading equipment and managing projects.
"Now, I am hiring the Centennial College students," he says. But he's giving back in more ways than just that.
When he's not working, Gena teaches at the college's Automation and Robotics lab, and works with the Program Advisory Committee (PAC) to keep the curriculum cutting edge, because technology is always changing.
"I graduated almost six years ago, and a lot of things in the field have changed," Gena says. "I'm on the PAC, and each year, we add new things to upgrade the program. We elevate the program higher and higher because of demands. We're always upgrading."
Advice for students
"You really have to decide if this is what you like," Gena says about his career. "If you like the field, the college will give you a lot. If you're not a hands-on person, if you want to sit in an office, you have to decide if this is the field for you."
It's definitely the career for Gena, and if you enjoy working with your hands, it could be for you, too. "It's always been interesting to me to see how things work, and how they're made," he says. "I really like troubleshooting work, and this is why I went into the Automation and Robotics field. I wanted a hands-on job. I hate sitting in an office."
By Anthony Geremia