Learn your trade hands-on with Electronics Engineering at Centennial College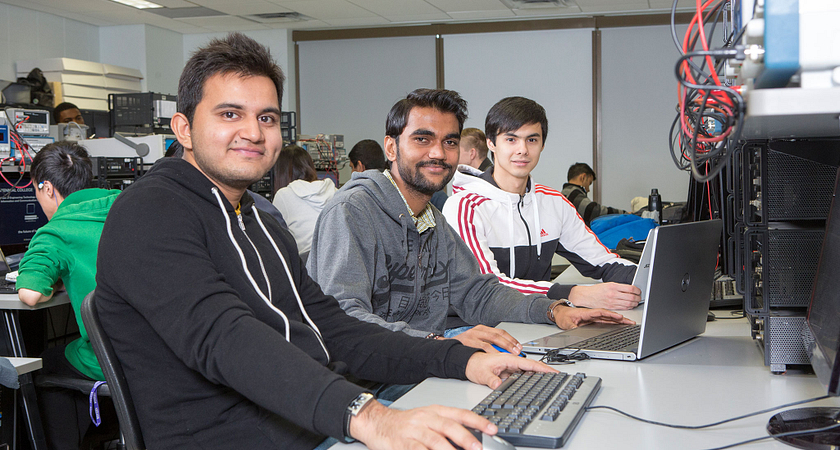 Is your refrigerator running? It's no joke, and if it stops running, do you know how to fix it? What about your stove? Most people can't, and if you become the expert that can repair them, that makes you a rare, valued professional. That's what skilled trades are: In-depth knowledge of something that everyone needs, but most people can't figure out.
Some people think that skilled trades are for people that haven't done well in school. Really, though, tradespeople have to learn a specialized set of skills, and we all need those skills when a broken fridge means our food may go bad. Trades are where the money is, because in that moment, you need someone with those specific skills more than anything else. The world runs on electronics, and if you have the specialized skills to maintain and service appliances that use these electronics, you become a much-needed professional, responsible for keeping the wheels of the world spinning. That's what Centennial College offers you in its Electronics Engineering Programs, turning you into the kind of professional everyone needs.
A strategic partnership
One of our methods for creating new pathways to a career is through partnering with Samsung. If you're enrolled in our Electronics Engineering Technician diploma program, you can take advantage of the Samsung Pathway by participating in two courses, Samsung Systems and Controls and Measurements and Instrumentation in Samsung Service Applications, which provide you with the with the skills needed to specifically service and diagnose Samsung appliances and products. You'll learn how in our Digital Service Lab, where you can get up close with Samsung appliances, which are also updated yearly to keep the technology relevant.
Samsung agents are responsible for specifically going out and servicing Samsung appliances, including refrigerators and stoves. Instead of only specializing in one aspect of an appliance, Samsung agents become a jack-of-all-trades, including getting a G3 gas certification.
The Samsung pathway prepares you for employment as a Samsung field agent, by giving you skills in electronics engineering and a G3 certification.
Samsung needs people who can service their appliances, so as a graduate of this pathway, you're setting yourself up for a specific, useful, needed career. It's a path the college has constructed to give you direct mobility from class to a career.
By Anthony Geremia