International Student Ana Casado makes the team at Centennial College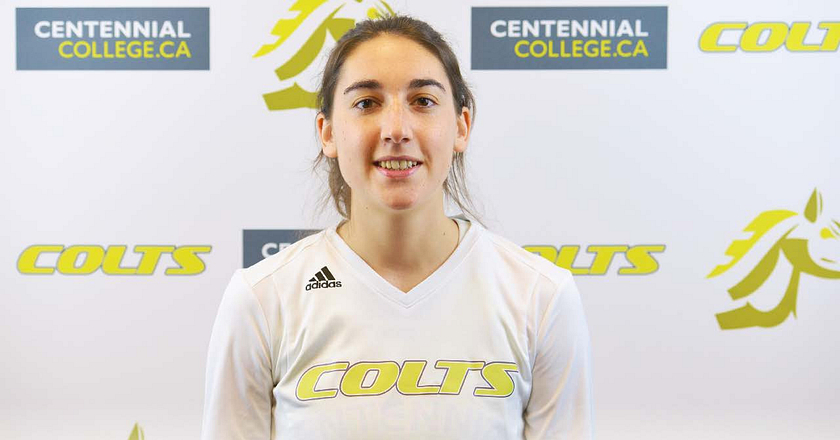 Centennial College is a school of the world, welcoming a variety of international students into our programs with open arms, ready to support them throughout their education and their careers. More importantly, we make them feel at home in Canada, as a part of the college's community.
Ana Casado came to Centennial College from Spain, and is hoping to land a career here in Canada with her degree and involvement with Centennial. While in Canada, she joined our women's basketball team. Her positive experience playing sports for the college left her feeling like a true member of Centennial's community, inspiring her to stay in the country, and even leading to her securing a spot on the OCAA all-rookie team.
Coming to Canada
"I got in on a scholarship from my home university, where I'm still doing my thesis," Ana explains. "I'm an architect, and I'm doing a Bachelor's and Master's together. I obtained a scholarship for the full semester, and when I finished it, I decided to stay in Canada, because I saw there were more opportunities for me."
"I've really enjoyed it, actually," she says of her decision to stay in Canada. The opportunity to work with people from all over the world is a really great experience you're not just going to find anywhere.
Ana is currently taking Project Management at Centennial College, where she's learning how to create her own business and become an entrepreneur. "It's getting to know about a bit of everything," she explains.
"I came here to take Construction Management, then changed it after one semester," she says. "I felt that it was more important to study Project Management, because it was more general, so if you want to find a job, you have more opportunities."
Her favourite aspect of the program? "The people who I work with because the opportunity to work with people from all over the world means you have a better understanding of how people work," she says.
Basketball
"When I got the scholarship, I searched to see if there were any team sports at Centennial," she says. "I discovered that there was basketball, which I used to play in Spain years ago. So I wrote to the coach, and he said to come to the tryouts in September, and in the end I got in, and it was a really, really good experience."
"I joined to meet people," she says, "because when you start from scratch in a new country, city or college, you are looking for friends, mates, whatever, so I said why not? I used to play basketball, I knew that I could do it, so I said why not?"
"The Colts staff and the athletic office were always helping me if I had any problems with my visa, or studies," she continues. "I was looking for jobs, too, and they helped me find them."
Eventually, her skills would get noticed, and she'd get onto the OCAA all-rookie team.
"All the effort you made, your execution, how you played with your team- those kinds of values are what they were looking for," she explains. "The coaches and the teams all over the province brought the best players."
Feeling included
"I feel like a part of Canadian culture now," Ana says. "For me, the basketball team is part of my family, because I didn't have anything here, and they welcomed me." She also felt welcomed thanks to the scholarship she received as a part of the athletics department.
"When I finish my thesis and project management, I want to work here to gain experience and money," she says of her plans for the future, "because I'd like to develop social projects in countries with basic needs, to build essential projects to improve the life of the people who live there, like bringing electricity and water."
"Think outside the box," she says to students contemplating the same journey. "There's life outside your country, and there's a lot of things to experience if you live here."
By Anthony Geremia