Social Justice Through Communication: Margot Van Sluytman and the Sawbonna Project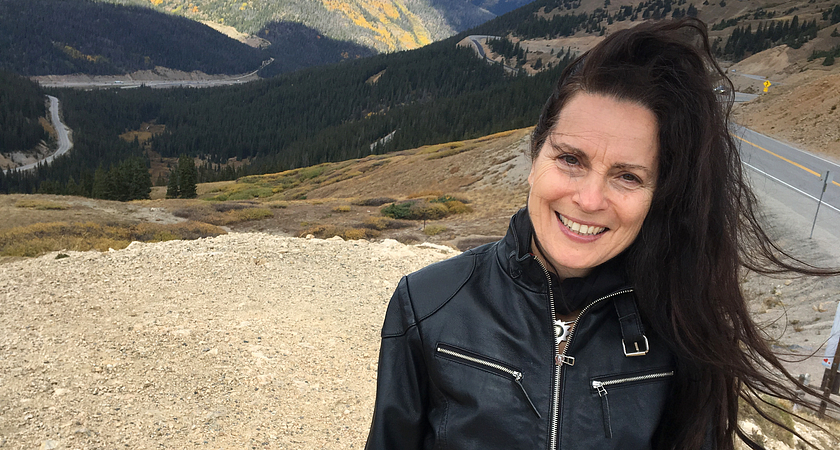 Centennial College stands for social justice, and we enable our students to advance the causes they're passionate about, no matter the route they take. Margot Van Sluytman was a graduate of our Publishing - Book, Magazine and Electronic program, who went on to achieve great things, partially in response to her father's murder. Her publishing and writing career was defined by using writing to overcome the trauma in her own life, and enabling others to use their writing in a similar way. Not only that, but she's extended her respected influence into social justice worldwide, looking to help improve the way we treat our victims and offenders. Here's her story.
Publishing at Centennial
"I'm from what used to be British Guyana in South America," Margot says, "and in Guyana we didn't have television, we had books and radio, so I always loved stories. I started writing when I was 11 or 12. I was given a small journal, and I wrote in there." Eventually, she'd seek to turn it into a career, and Centennial College would be there to help make that possible.
"I decided to go to Centennial after I spent a year and a half at university," she explains. "I went there for English and philosophy, but I didn't really like the vibe of university. I chose Centennial because a friend of mine had mentioned this book editing and publishing program, and it was fairly new when I started. So when I left university, I chose that."
"I've always loved writing and reading, and the idea of publishing my own work just felt right," she says of her decision to take part in the program. "It was a really good program, because we had editing courses, design courses, we took English, photography, art, everything to do with publishing."
Post-school career
"When I graduated, I first worked for a small press, and part of that happened because of Centennial's placements," Margot says of her post-school career. "I was there for about a year."
"I applied to another publishing company, and worked freelance, but it wasn't artistic and personal to me," she continues. She'd work a number of different careers, live in Venezuela for a time, get married, and have children, but eventually return to publishing, starting her own press in 2003. Called Palabras, it was an outlet for her work, and the skills to make it happen came directly out of Centennial College. However, there were also personal reasons for her publishing work that framed her entire life and career.
I See You
"My Dad, Theodore, was murdered in Canada when I was 16, and that's another aspect to how writing has been very important to my life," Margot explains. I wanted to meet the offender who murdered my Father, and that was always a driving factor." This desire would inform her publishing career, which was based around writing as an outlet for trauma.
"I created courses on how to write for healing," she explains, and I published books based on the skills I learned at Centennial. One of the books, Dance With Your Healing: Tears Let Me Begin To Speak, received an international award. Because of that award, the man who murdered my Dad contacted me." His name was Glen Flett, and they then shared an experience she described as "having a very, very powerful healing."
"Since our meeting," she continues, "I've been invited into jails across Canada offering a path to restorative justice and healing: through sharing my personal journey after violent crime. We talk about coping with grief and loss and self esteem."
"So, I did end up writing a book about my process of how I got to the point of meeting Glen," she says. It's entitled Sawbonna: I See You.
"I learned that word from Glen, during one of our conversations" she explains. "It's a Zulu word that means 'I see you: I see our shared humanity.' The way that I spell it is not the most common spelling, but I use it because I learned it from Glen."
"Two years after I met Glen, I published, The Other Inmate: Poetry for Your Restorative Practices," she continues. "It is poetry, with therapeutic writing specifically for victims, offenders, people that work in healing centres, shelters, prisons and halfway houses. Both books are used at universities in criminology courses."
The Sawbonna Project for Living Justice
Margot's story of meeting with Glen has resulted in her being interviewed many times, and travelling around the world; even allowing her the chance, earlier this year, to meet Archbishop Emeritus Desmond Tutu while on a trip to South Africa.
"There I was walking down the street, with Desmond Tutu, for a coffee and a two-hour conversation," she says, proudly. It's all in the service of her goal of social justice for victims and offenders, in the form of the Sawbonna Project for Living Justice. "The Sawbonna Project is the name of the project I created for it. It means I see you, we see each other, and we can navigate the terrain of justice through the place of our shared humanity."
"I'm currently involved in making connections with federal and provincial/territorial governments in order to shift policy from being retributive (tough on crime), to a restorative and reconciliatory framework," Margot explains.
"Through the sales of my books and my talks, I fund the project," she continues. "I'm simply sharing a story that I didn't make up, and sharing a story of possibility; it disarms people."
"We all need to be seen, we all need to be addressed as humans."
By Anthony Geremia