Helping you make career connections: Anas Shaikh and StartupTech Unleashed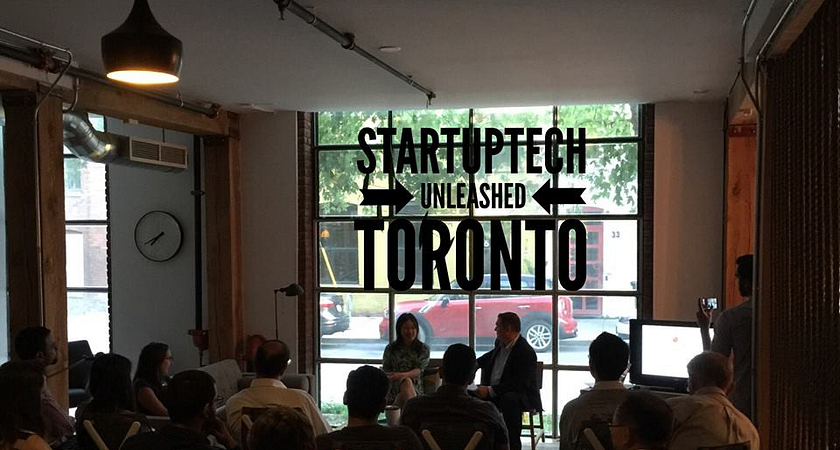 When trying to break into the job market, networking and personal connections are important, as are events where you can make them. Anas Shaikh knows this, and is working to help students make those connections. Anas first came here for our International Business Management program, and now takes a Project Management postgrad. He's also joined up with StartupTech Unleashed, a new event-organizing company that's dedicated to tech startups, and is helping students looking for career or volunteer opportunities by connecting them to successful entrepreneurs. Here's how he went from school to StartupTech, and how they can help other Centennial students make connections.
From school to Startup
"I spent 21 years of my life in India," Anas says, explaining why he came to Centennial College in Canada. "I learned a lot, but there is so much more out there. I want to learn all those different cultures, and I just felt that Toronto would be the best place, because Toronto is like a little planet. You can find a person from every country here. That's what I loved. I wanted to have friends from all over the world."
He had a bachelor's degree in marketing and business development, and when he came to Centennial, he took our International Business Management program.
"There are so many practical things that they teach you in the course that are so helpful," he says about the program. "They want you to get out there, and not just focus on theoretical subjects, but also go to networking events, talk to people, have your elevator pitch, your body language, your posture, and making and leveraging connections when you're looking for a job." Those connections would eventually lead him to his current role in StartupTech.
"That's how I met Brian Prokopowich, the founder of StartupTech, during my IBM course through a networking event," he explains. "We clicked on the basis of marketing and business, and after that, he asked me if I was interested in working with him later."
Anas is currently taking a Project Management postgrad, but splitting his time working in StartupTech as a community development manager.
"I've been working with them for the past six months," Anas says, "and I've learned a lot. I'm one of the core members now, and I'm a part of business development, handling social media, and a part of community development."
Helping students make connections
StartupTech only began in January, but is rapidly growing. It's aimed towards helping business students and engineers make connections in the startup industry by directly linking them to successful people and groups.
"It's an event organization. What we do is foster the entrepreneurial spirit," Anas says, explaining what makes them different. "Other major events can have 200 or 300 people, and you never get a chance to personally talk to the speaker, get some insights from them, and it's kind of hindering. That's where we come in. We try to facilitate our speakers and audience as best as possible."
"We have a feature speaker, then we have a question-and-answer session with them in front of the audience, which consists of venture capitalists, other startups, people looking for jobs or volunteer opportunities, and companies from time to time looking to hire," he says. "Our audience gets to hear from speakers who are already out there and successful. They can share their journey and thought process along the line from where they started, to where they are now."
"After this interview session," he continues, "We have a question and answer session from the audience to the speaker, and we try to make it as personal and intimate as possible."
It's a great opportunity for students to make connections, as well as pick up career and volunteer opportunities, thanks to exhibitors present at the event. If your program at Centennial College requires a field placement, it can be a great place to locate one.
"We're into marketing tech, financial tech, biomedical tech, and program development. It's about both business and engineering, tech-related startups and everything regarding that," he says.
The future
"On November 3rd, we have this massive event in Waterloo," Anas says, about what's next for Startup Tech. "It's a free event, and it's at OpenSky Incubator. We have exhibitors coming in, and we'll give them the opportunity to freely demonstrate their products, and have a chance to reach out to other people."
Startup Tech is also recruiting volunteers of their own. "We need more members in our core team," Anas says, "Because our responsibilities are getting wider and wider as we grow. We're also reaching out to students who would like to blog for us."
The organization's focus, though, will always be on helping students make career connections, thanks to their original vision. "When we started out, our main focus was students, because entrepreneurship is something that starts from a young age," he says.
By Anthony Geremia