Five steps to making an online portfolio in college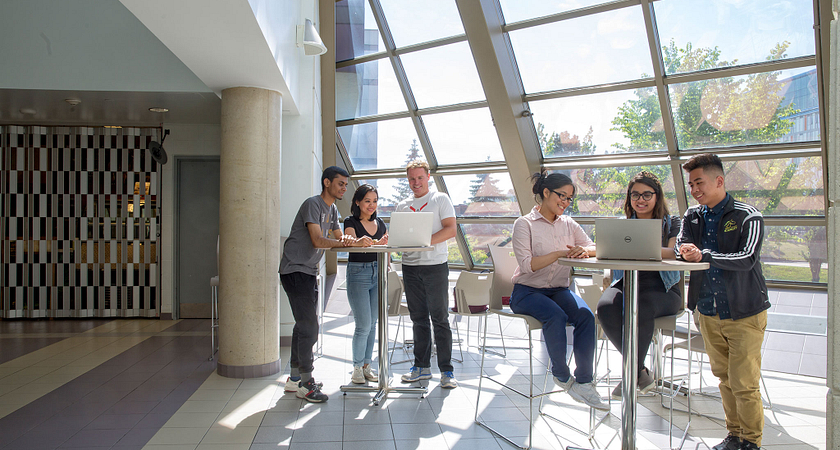 Welcome to your first day of Centennial College's new semester! You're hear to develop the skills and abilities to connect you to a career, and we'll help you make that connection. We've already gone over some steps you can be taking in school to develop your career, but there's also a specific project you can start on now that you're at school: Building yourself an online portfolio, so employers will be able to see what you can do and what you learn in school. The first week is the best week to get this started! Here's what you can be doing:
1. Pick a web host
If you're not involved in web design, your portfolio doesn't have to be elaborate and fancy, just clean and functional. So, instead of designing something from the ground-up, just pick a free web host, like Wordpress or Webs, find a setup that looks good and create your profile. You'll want an "about me" section, a section for your resumé, a photo gallery, and a specific portfolio section (maybe more than one) about what you've accomplished. How do you fill it?
2. Document everything
At Centennial College, no matter your program, you'll be given practical experience, and work on projects that simulate your eventual career. Depending on the program, you'll produce work that you can subsequently post on your portfolio. If you're in a media program, like writing, photography, or film, you'll be making that media, and be able to post it on your portfolio. If you're working in science or engineering, you'll be taking part in projects that you'll have to present and document, and can post those online, too. And if you're doing something less about producing content and more about working hands on, like learning in our nursing lab or fixing cars, snap some photos, do a writeup and post that instead. Another way to get some content for your portfolio?
3. Participate in campus life
The first week is the best time to have a look at our clubs and activities. Is there a club associated with your career on campus? Is your program hosting any additional activities outside of the curriculum? Take part in those, too. Aside from demonstrating your talents, you can also use these events to network with future professionals in your field. As above, snap some photos, and save anything you make.
4. Keep it up to date
A tip for the future: Even after school's done, you'll want to make sure you keep your portfolio current. Having something out of date can be a drawback in a few ways. For one thing, it makes you look like you haven't been up to anything, and a "resumé gap" can be a real job-killer. If you've found your job, make sure to note that.
5. Make a physical version, too
If nothing else, having something you can pull out with a flourish during job interviews is a plus. A good physical portfolio will fit in a folder, and should have printouts of a few projects that you're particularly proud of. When you're doing your job interview, you can use it to prove your points. Don't make it too fancy, though, because you should offer to leave it behind for them to review.
A lot of programs at the college include portfolio and job hunting components, so you may find yourself going over this in class later in the year. But getting started early will put you ahead of the curve, and ready to enter the job market.
By Anthony Geremia