How to stay healthy when studying at a desk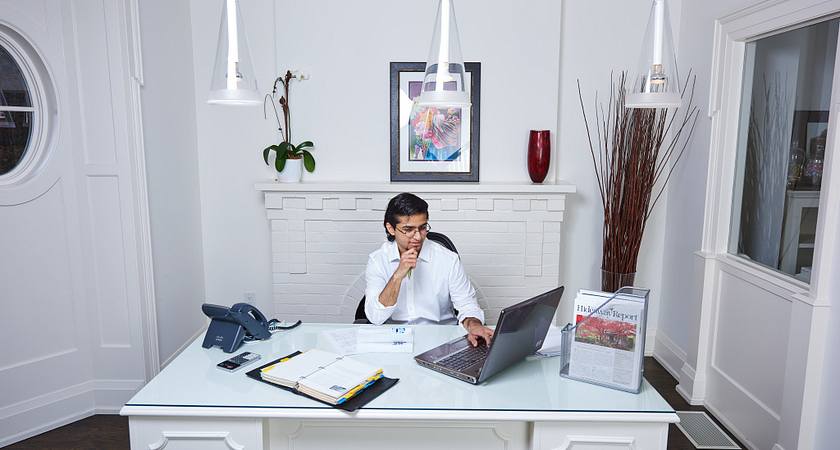 It can be challenging in the modern world to stay healthy when it feels like a lot of things are designed to work against you. If you value health and fitness and want to be one of the ones fighting against modern sluggishness, you can always get into Fitness and Health Promotion through our two-year health diploma program. When you're in school, it's particularly important to apply healthy principles, since you'll be sitting, reading, writing and studying at a desk a lot. These long periods of sitting cut the blood to your legs, increase the risk of diabetes, depression and obesity, so there are real reasons to get up and moving. There's a lot of tips out there on how to make sure you stay in shape when you're stuck at a desk, and here are some tips from the Every Girl, Mashable and Showpo. We all know to take the stairs, I won't say that one again.
Make sure your screen is high enough
Instead of just saying "sit up straight," I'll address the most common reason your sitting posture can be bad. The top of the screen needs to be level with your eyes, so you're not looking down. If you're at a desktop, adjust the neck. If you're on a laptop, put something under it to boost it so it's high enough.
Take frequent breaks
Even if you're in the zone, you should aim for a break once an hour. Not a long one, though, just about five minutes long. You can even set a reminder on your phone to get up for a moment, just to get moving. Do something like take a phone call or have a drink, or even just walk around for a bit. When you're taking these breaks, you can stop and stretch, to get your spine and abs extended. Go for a walk, exercise if you can. Your body will thank you.
Work standing up
If you can stand, do it, even if it's just for short intervals. Find a desk or table that's high enough, and set up shop there. Luckily, standing desks are a trend right now, so you might even be able to get access to one in your workspace.
Have smaller meals throughout the day, and drink a lot of water
Small, frequent meals will increase your metabolism and are better than loading up in one big meal, which will put your body into "survival mode" and make it store carbs it doesn't need. While we're on the subject, bring a big reusable sports water bottle wherever you go and drain it at least once over the course of the day. Sip it literally every time you look at it. It'll chase off headaches and tiredness, and refilling it gives you an excuse to get up. Drinking water can also combat needless snacking.
Get up to eat
If you can go out, or go somewhere for lunch, it'll get a bit of that activity into you, give you some fresh air, and a little bit of exercise. Even if you're just going to the other end of the school or your workplace to eat your lunch, every little bit helps. And if you can, take the stairs.
Centennial College's Fitness and Health Promotion program gives you hands-on practical learning in laboratory and placement settings that'll get you ready for a career helping people achieve wellbeing, be it in the gym, or the workplace, or in school. Fitness and health are always important, so you learn how to apply fitness and health principles anywhere.
By Anthony Geremia