Ever wanted to get into the fashion industry?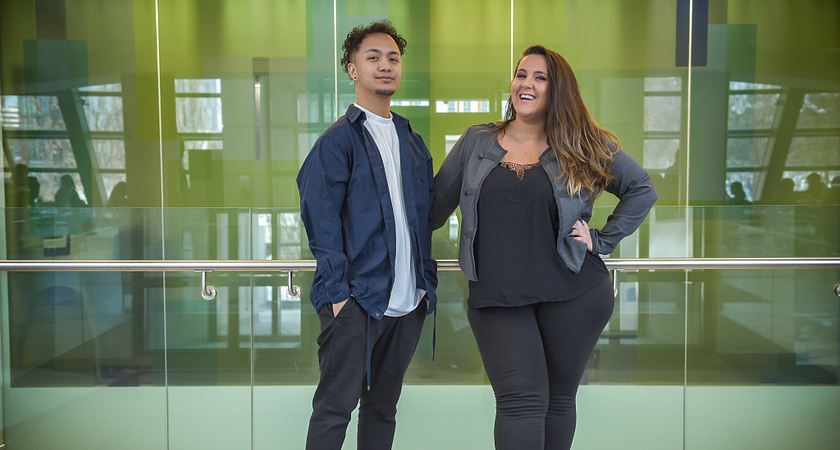 Maybe it's been your life's goal for years, or maybe it's something you've never really thought you could do, since you're not an artist or designer. The good thing about Fashion Business and Management at Centennial College is that it can get you into the industry, no matter your background, thanks to focusing on a different part of it. Instead of learning how to design clothes and accessories, you're learning about how those designs get off the page and into your hands, through manufacturing, marketing, business, and everything else that goes on behind the scenes. You're taught by fashion business professionals, given skills through practical projects and field placements, and provided with the career connections you need to start working before you even graduate.
If you're thinking of joining Fashion Business and Management, you'll want to hear about what other students think. Patricia Feitosa and Noel Fermin entered the program for very different reasons, but it gave them both what they needed. They've almost completed the program, and both are off on their field placements. Here's everything you need to know about their time in the program, in their own words.
On why they wanted a career in Fashion Business:
For Patricia, entering the business side of fashion was something she'd wanted to do for a long time. "One way or another, I have always worked with women-related content and fashion," she says. "I think fashion is a way to express yourself, but also something that we live every day, and we don't even notice. To me, studying fashion was also studying people, culture, and how we express ourselves."
Noel, meanwhile, actually didn't plan for a career in fashion, and changed his mind later in life. "At first, I didn't know anything about fashion," he admits. "I was a nursing student before this. But I put myself in circles with people who are interested in fashion, and I learned from them. That made me think I would actually fit into this community, and I applied the next year."
On why they came to Centennial:
Patricia came to the college from Brazil, thanks to its reputation as being friendly to students from abroad. "Centennial has a history of welcoming international students," she says. "I'd heard wonderful things about it, and that's why I decided to come here."
Noel came to the school because the program focused more on the business of fashion, which he was interested in. "I heard this school taught you more of the business side," Noel says, "and that's what I was more interested in, so the courses in this school aligned with my interests."
On the practical skills they learned:
"Last semester, we put on a fashion talk show, Styled for Success," Patricia says, "which was about dressing professionally. I had the opportunity to be the project manager for that, and I could oversee everything. We also had the opportunity to actually create a company from scratch - from the idea, to the business side, to the marketing, everything."
"People skills are what I have learned the most here," she continues. "When you are from another country, it's always good to learn about who the people here are. Actually learning how to behave professionally, how to network, and getting to know people, I think that's the main thing I have learned, and what I like the most."
On the career connections they received:
"I love how Centennial always emphasizes the importance of networking, and the connections that they help us make," Patricia says. "All our professors are actually professionals from the industry, and they introduce us to some of the people they know as well," Noel adds. "We have a lot of guest speakers, and a lot of them add us to LinkedIn afterwards, and we keep connected to them."
"On one project," he says as an example, "we had to speak to a panel of five different professional people from the industry, and I still talk to the one that mentored us, because that project gave us the opportunity to keep in contact with someone we never thought we would talk to in the first place."
On what they're doing at their field placements:
"I am at the Toronto Fashion Incubator, also known as TFI, which is a non-profit organization that helps young and new entrepreneurs to succeed," Patricia says. "I love the corporate side of fashion, and it's a great place to learn. The TFI has mentors from throughout the industry, from marketing to public relations."
"I figured it would be a place where I would be in contact with professionals in the business in Canada," she continues. "That's why I chose to be there, and that's what's happening. I've been working on their marketing and PR, and especially their social media, and I've gotten a chance to interview all of them, and talk to people. It's perfect, and I love it."
"I'm at Joe Fresh, and I work as a wholesaler and account manager," Noel says. "This week was our marketing week," he adds, as an example of what he's doing, "so we had a bunch of our international buyers come in, and we had to make the showroom for them, describe all of our projects and collections, and how they would merchandise it and sell them in their stores. It was nice to see that process, because I got to work with sourcing, wholesaling, product management, and buyers. I was able to connect with and learn from everyone."
On what they want to do after they graduate:
"I want to be a part of the revolution that I see happening," Patricia says, "the revolution that helps and empowers women and people through fashion. I see myself working at some place that works for a cause, and helps to empower people. Be it through business or through fashion, I just want to be a part of this."
"I was looking into being a buyer, but I got introduced to different sections of Joe Fresh," Noel. "I think I would like to work in allocations after this program, since you're at the centre of everything, you speak to all the teams, and keep everyone on task."
Advice for other students taking the program:
"Do not wait for people to do things for you," Patricia says. "Do it yourself. Don't think that you're coming to school and everything is going to be given to you. If you really want to maximize your experience, you have to be active, you have to do things yourself. If teachers tell you something is happening and you should engage in it, just do it, do it as much as you can."
"Our professors want us to do well and succeed," Noel says. "They're always there to guide you. You need to communicate with your teachers if you have questions, because they will always answer them. They know what they're doing, and we still don't know what we're doing, so if we follow their guidance, and ask them questions about the fashion business, they will help you learn, and help you learn who to talk to, and what you should be doing. That helped me a lot."
By Anthony Geremia