The Pencil Case Project: Fashion Business Students Learn Real Career Skills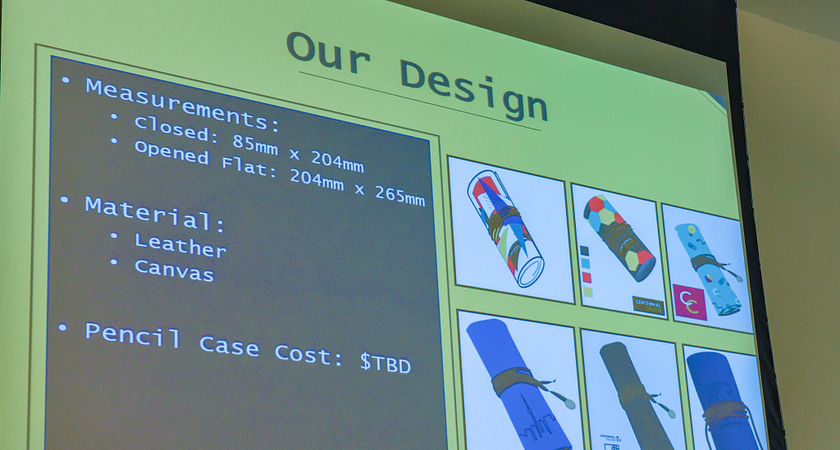 If you want to get a career in fashion or business, there's one thing you need: Real experience. Centennial College's Fashion Business and Management program teaches you about the business of fashion, from making products, to selling them. This program teaches you by giving you real projects to build that experience, and learn the skills that you need to begin that career in Fashion Business once school's over. This semester, one of these projects was about pencil cases. It was a collaborative project with design students at the Story Arts Centre. Fashion Business students were split into teams, and had to source designs for a pencil case from design students, and then find and contact a company to manufacture the pencil cases.
The students then presented what they'd planned out to a panel of judges. Each group detailed their order process, and showed off some designs.
The three judges were Amy Morrell, the Chair of Marketing, Retail and Project Management, Barry O'Brien, the Dean of The Business School, and Sharon Pope, a faculty member. In the end, the winning team would move on to the manufacturing stage, and have their product sold for real in the College store.
This is an example of the kind of project you'll be doing in the Fashion Business program, and the best part is that it's all real. You aren't pretending to design a product and source its production. You're really designing it, contacting companies for quotes, and making it happen under the guidance of industry pros.
After the teams presented, the three judges evaluated each team, based on their product costs, the practicality of their plans, and which designs seemed the best. Group Two (Pauline Gerphagnon, Shannon Kelly, Amun Malik and Liting Xu) would be the winners, based on how well they articulated the requirements of the project, and for pitching a good-looking leather roll-up case for a low price that came from a company the judges liked, and was ethically-sourced.
The best part of this project was the real skills that the students had to use, skills they'll need in their future Fashion Business careers, skills you can also get by taking part in the program.
"I hope that you will see the value as you go out into the working world and can say to a potential employer that you've actually put together a sourcing project, that you've actually sourced something, and all of the work that goes into this," Amy said to the class after the winners were chosen. And if you want to go at it alone as an entrepreneur instead of joining a company, these skills can help you do that, too.
"There's a student that I'm working within another area," Barry said to the class as an example, "and she ran a sourcing project very much like this, sourced and designed it through Alibaba, then drop-shipped it through Amazon, and believe it or not, made $ 40,000 US in three months. This can become real, real work. The only thing holding you back is your own creativity."
By: Anthony Geremia