What you can get out of a College Open House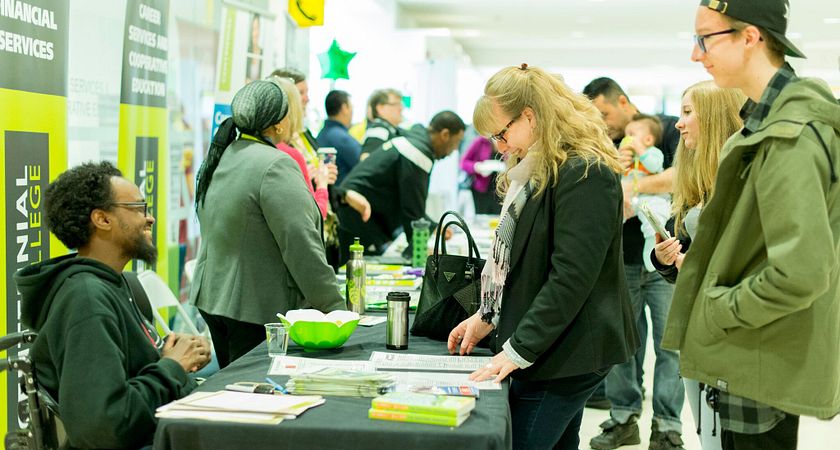 Picked where you're going to college yet? If you haven't already looked into it, attending an Open House is an important part of selecting your next school. It might feel like a lot of work since you're taking time out of a day, you've got to make your way down to campus, you could just look it up on your computer, right? But there's plenty of stuff that you can only learn about a college by coming to campus, and an Open House is the perfect time to do it. Centennial College's next open house is December 1st, at our Progress Campus. Here's what's in it for you if you come.
It's the best way to pick a college.
If you're trying to choose a school, you can do your research online, or with a guidance councillor's help. But there's more to a school than what you see online, and there are things you can only decide by experiencing a campus in person.
You can get a feel for the campus.
Where you're taking your program is just as important as what you're taking. You're going to be spending a lot of time on campus, maybe even a few years, and it'll be like a second home, so you need to make sure you like how it looks and feels. This means you'll want to scope it out to see if they have good, quiet areas to study in. You will also want to check out the commute if you're going to live off-campus and see how long it takes to get there, and where you can park (if you're driving). You can even depart the tour, do some exploring, leave campus and check out the nearby neighbourhood. At the very least, you can see if there's anywhere good to go for lunch beyond the campus cafeteria.
You can have a look at what the college can do for you.
For example, how's their gym? How big is their library? Keep an eye out for unusual facilities, too, like spas, legal advice, and even business clothing stores (Centennial College has all of these.) The more unusual services don't get used if you don't know about them, so the open house is a good time to find out about them. You can also check out their student association, and the events that they organize
Most importantly for you, you can also see what student services they have to make your education smoother, like academic advising, counselling, or disability services.
You can a sense of the people you'll be in college with, too.
After all, if you're surrounded by people you like, the program will be easier. At the open house, you can find some current and future students to chat with, and ask them about the school, whether they do or don't live on campus, what classes are like, why they decided to come here, and other life recommendations. Similarly, most programs will have an instructor there to chat with, so you can see who's teaching you, and who you could be learning with.
You can get some free stuff!
Aside from the typical college swag (books, water bottles, etc.), there's always some kind of contest going on at these things, often for some kind of big prize. At Centennial College's next orientation, for example, you could win $3,000. Your visit to the open house could literally pay off!
If you're deciding your school, or just want to see more about the campus, there's nothing better than visiting an open house. Ours is happening Sunday, December 1st, and one way or another, coming to it will help you out.
Written by: Anthony Geremia